Brenda Myers Receives Visit Indiana Leadership Award
15 Receive Hoosier Hospitality Awards
Steve Bartels and Heather Setser Receive Will Koch Indiana Tourism Leadership Award
Lt. Gov. Suzanne Crouch and the Indiana Destination Development Corporation (IDDC) announced today at the Eiteljorg Museum that Patoka Lake Marina and Winery Co-owners Stephen Bartels and Heather Setser, are this year's recipients of the Will Koch Indiana Tourism Leadership Award.
From beginning as a simple operation in 1998, and becoming a year-round destination today, Bartels and Setser consistently demonstrate extraordinary commitment to supporting Indiana tourism. Although they are running a business, Bartels and Setser have always held family close and treat their customers and employees as such.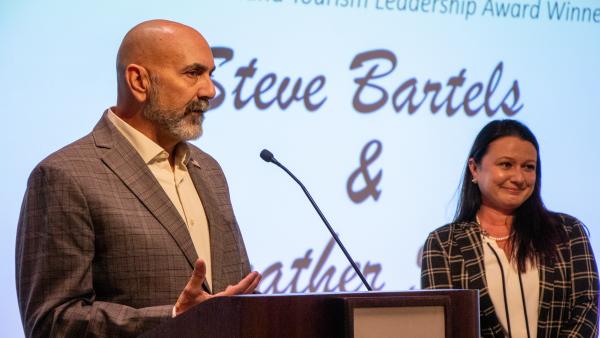 The Will Koch Indiana Tourism Leadership Award is presented annually and is the highest tourism honor given by the state. The award is named for the late Will Koch, long-time owner and president of Holiday World & Splashin' Safari.
Visit Indiana and the Koch family established the honor to pay tribute to Koch's many meaningful contributions to tourism, business and society, recognize outstanding accomplishments in economic and community development through tourism and showcase the economic importance of Indiana's tourism industry. 
"Tourism is an integral part of Indiana's economy," said Lt. Gov. Crouch, Indiana's Secretary of Agriculture and Rural Development. "Indiana is fortunate to have so many tourism venues like Patoka Lake Marina and Winery providing great opportunities to play and stay. Places and spaces are key parts of  'quality of place,' but it is our people that truly make Indiana a more attractive destination."
After Patoka Lake Marina and Patoka Station were up and running, Bartels and Setser constructed floating cabins, the first of their kind in Indiana. They have since continued to expand, offering wine cruises, opening Patoka Lake Winery in 2016, Patoka Lake Brewing Company in Sept. 2023, breaking ground on a 28-room hotel and preparing to break ground on Old Homestead Distillery following the completion of the hotel before the 2024 Solar Eclipse.
"Our goal is to make this area year-round," said Setser. "That's been our goal since we first started. Everybody comes here to have a good time, and we want to help them with that and make memories, family memories." 
"Our employees are the key to our business," said Bartels. "Our philosophy is we want to exceed people's expectations. There are expectations when you come to a facility like ours, and if we can at least exceed them a little bit all the time, people are happy."
Nominations for the Will Koch Indiana Tourism Leadership Award are submitted by community leaders and members of Indiana's travel, tourism and hospitality industry. A panel reviews submissions. 
A video of this year's Will Koch Indiana Tourism Leadership Award can be found here.
Brenda Myers Receives  Visit Indiana Leadership Award
Lt. Gov. Crouch presented Brenda Myers, President and CEO of Hamilton County Tourism with the Visit Indiana Leadership Award.
For over 30 years, Myers has dedicated her career to Indiana's tourism industry in several capacities from marketing director at Conner Prairie Museum, to her most recent position as President and CEO of Hamilton County Tourism.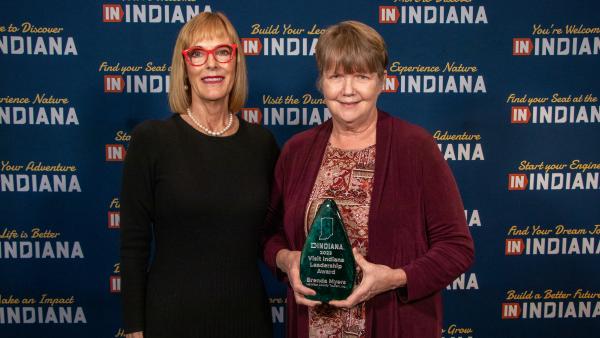 Myers initiated the organization's first tourism product development grant and technical assistance program that has helped to reinvest $10 million into surrounding communities. She was pivotal in providing desperately needed communication and research support during the Covid-19 pandemic. She spent time assisting other DMO leaders to help develop data and research programs, tailored to their uses and needs.
Myers is slated to retire in 2024 but leaves a legacy grant program called BEST (Business of Entertainment, Sport and Tourism) that will serve the community's needs for years to come. She was also a founding leader of the White River Vision Plan, promoting river health and responsible development. Through these astounding achievements, her dedication and so much more, Myers has inspired a higher standard of tourism marketing and development.
"Tourism in Indiana has come so far in the almost 40 years since I first joined the industry," said Myers. "The industry team is really a family, and like healthy families, we support each other. As a result, there has been such growth. It has been rewarding to be a part of it."
15 Receive Hoosier Hospitality Awards
Crouch and IDDC also presented 15 tourism industry representatives with a Hoosier Hospitality Award for their high level of service in tourism-related jobs at hotels, restaurants, attractions and other destinations.
"Hoosier hospitality is at the core of this ceremony," said Elaine Bedel, IDDC Secretary and CEO. " We see it and feel it every day in Indiana. In hospitality and tourism, we take great pride in our communities and recognize the importance of going the extra mile and how much it makes a difference."
The 2023 Hoosier Hospitality winners are:
Viridiana Amaya, Breakfast Server, The Inn at St. Mary's
Tracy Bohler, Owner, Farm Girl Mercantile
Beth Breymier, Sales and Events Manager, Indiana State Museum and Historic Sites
Maria Dejesus, Housekeeper, Hampton Inn & Suites Valparaiso
Danielle Dempsey, Events Sales Representative, Luke Family of Brands
Dull Family, Owning Family, Dull's Tree Farm
Brian Eckstein, Guest Services Manager, Indianapolis Airport Authority
Cody Flagler-Lee, Guest Services Supervisor, Honeywell Arts & Entertainment
Jay Harkness, Guest Services Representative and Guide, Eiteljorg Museum
Tyler Ingram, Director of Events, Dunes Pavilion Restaurant
Jerry Paul, President, Howard County Memorial Corporation
Lindsey Skeen, Former Executive Director, Indiana Foodways Alliance
Lupe Troyer, Information Specialist, Visit Shipshewana/LaGrange County CVB
Sarah Withrow, Historical Interpreter, Conner Prairie Museum
Ashley Wright, Director of Sales, Courtyard by Mariott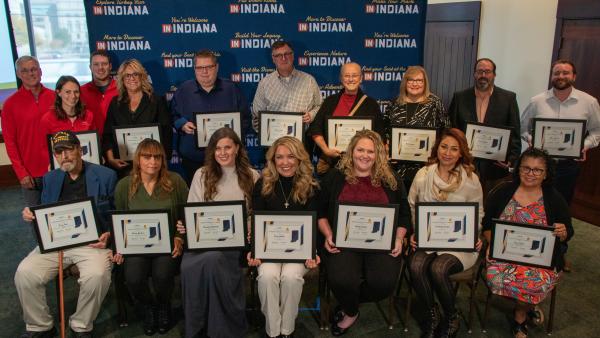 Nominations for Hoosier Hospitality Awards are submitted by community members and destination patrons and are reviewed and selected by IDDC. Outstanding service is a significant factor in determining whether a person returns to an individual business or destination.
Access the media gallery here.
###