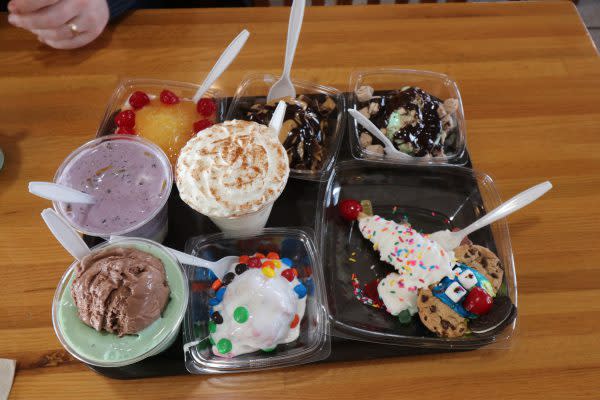 Ivanhoe's Ice Cream and Sandwich Shoppe is a legendary Indiana restaurant known for its ice cream treats. With summer right around the corner, nothing is better than a yummy frozen snack to cool you down.  Just two minutes away from Taylor University in Upland, Ivanhoe's has served up fresh ice cream creations for over 50 years. What puts Ivanhoe's on the map is their "100 Club", made up of 100 different shakes and 100 different sundaes! From a peanut butter smash shake to a crackerjack sundae, they have every single creation you can imagine.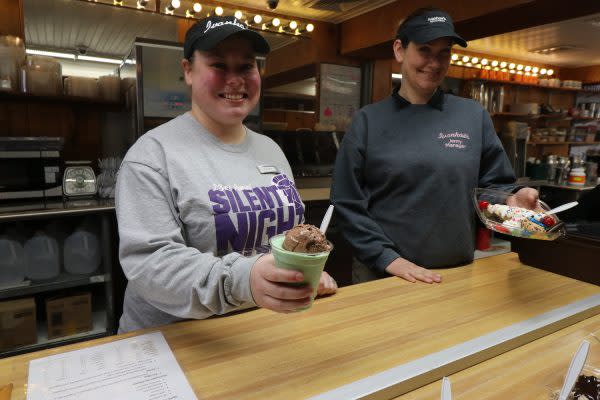 Once you've tried a taste of all 100 shakes or sundaes, you become a member of the exclusive Ivanhoe's "100 Club". Members receive a free t-shirt and have their names added to a plaque. We've heard the chatter for years and decided it was time to see if Ivanhoe's could live up to the hype. Luckily for us, we are now on our way to becoming members of the iconic club.  You can see 10 of their best concoctions below!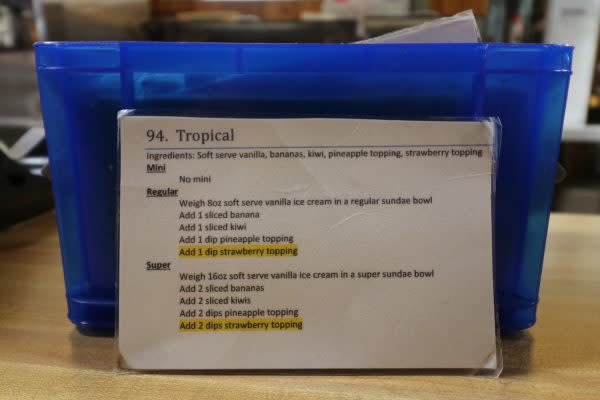 Two-hundred shakes and sundaes would be a lot to remember. So, each treat has its own classic ingredient card for employees to use!
Do you think you have what it takes to join to try all 100 of their shakes or sundaes?
Unique Ivanhoe's Shakes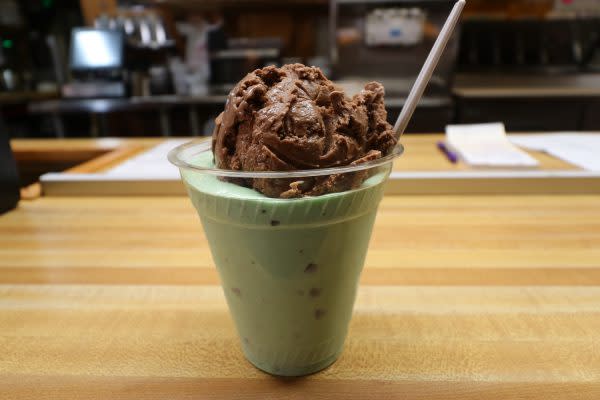 Trojan Two
We have to start with the shake named after Taylor University, just a short drive away. The Trojan Two is a mint chocolate chip shake with cookie dough pieces. It is then topped with a dip of chocolate ice cream.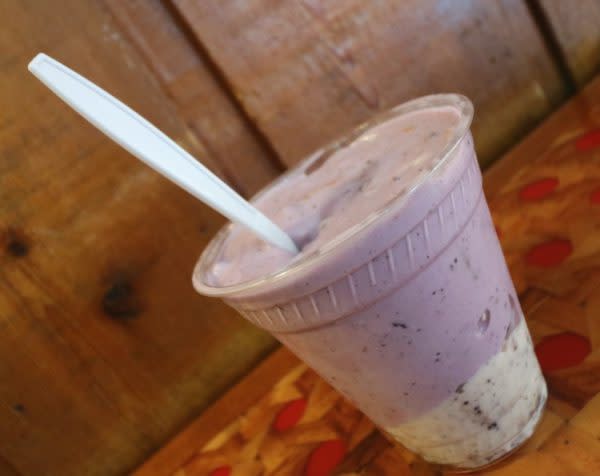 Shipwreck
A blueberry shake with pretzels poured over a dip of cookies and ice cream. After you sadly get to the bottom of the Shipwreck, you might be screaming, "ARGH!".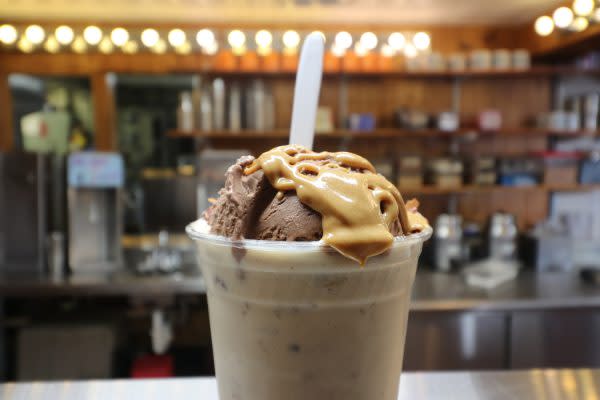 Peanut Butter Crazy
The Peanut Butter Crazy is a shake with a dip of chocolate ice cream, peanut butter topping, chopped nuts, and Spanish peanuts. This one tastes just as good as it looks. I wouldn't call it crazy; I'd call it amazing.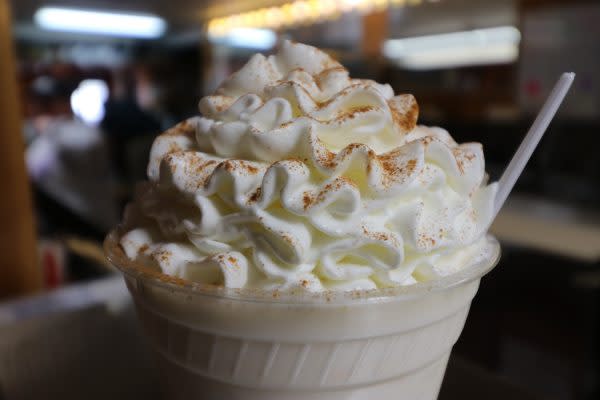 Peach Cream Pie
A peach shake with graham crackers then topped with whipped cream and cinnamon. With a perfect amount of whipped cream and peach, the Peach Cream Pie shake quickly became one of our favorites.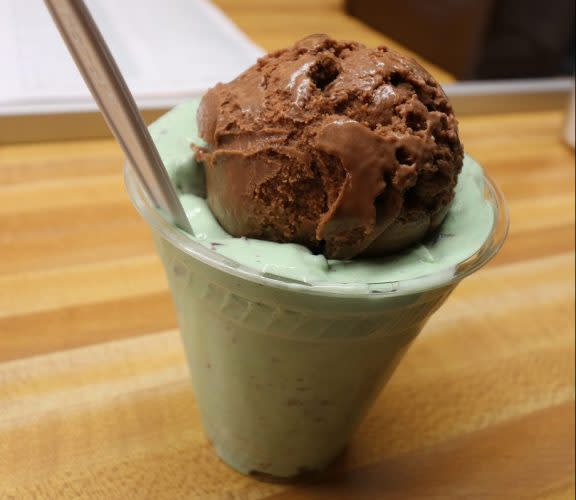 Grasshopper
Here you will find mint chocolate chip ice cream combined with mini marshmallows and chocolate wafers. Then, it's topped with chocolate ice cream. The Grasshopper looks similar to the Trojan Two, but the marshmallows and wafers give it a distinct personality.
Unique Ivanhoe's Sundaes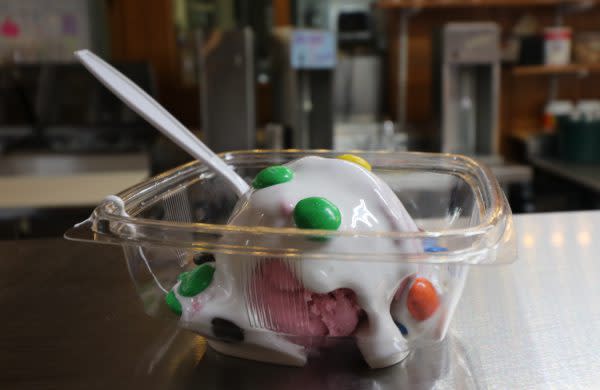 Lady Bug
The Lady Bug, affectionately after the bug it looks like, is made with hand-dipped strawberry ice cream, M&M's, and marshmallow topping. Who knew M&M's and strawberry went so well together?
Pineapple Upside Down
This is a new and improved version of the classic pineapple upside-down cake. The Ivanhoe's take is full of soft vanilla ice cream with maraschino cherries, shortbread cookies, and pineapple topping.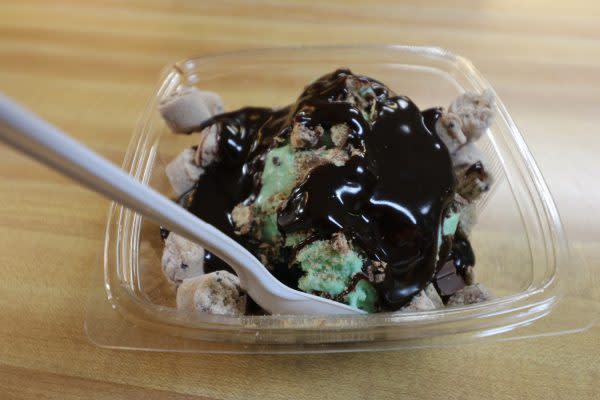 IWU 2
The IWU 2 gets its inspiration from students at Indiana Wesleyan University. This dessert has hand-dipped mint chocolate chip ice cream with a Kit Kat bar, cookie dough pieces, and hot fudge.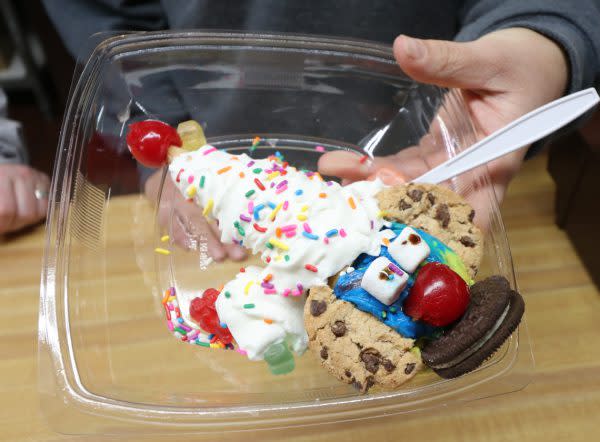 Crazy the Clown
Your favorite ice cream with a sugar cone hat and a funny clown face. This would be the perfect substitute for a birthday cake. Actually, who am I kidding, this would be a perfect substitute for any type of food.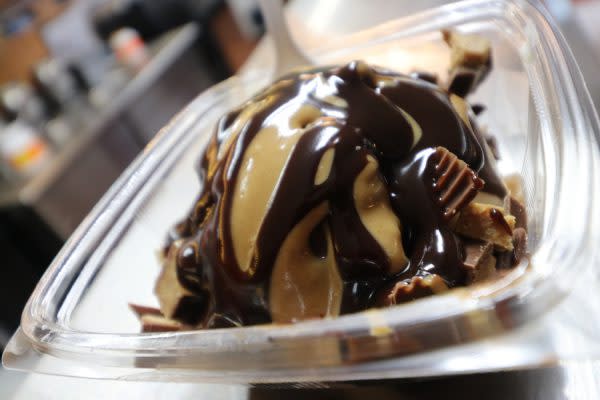 Moose Tracks
The classic moose tracks sundae consists of fat-free vanilla yogurt with chocolate shell, Reese's cups, peanut butter topping, and hot fudge. What could go wrong when mixing those ingredients?