Several weeks ago, Andy Klotz told me he thought we would never beat 2009's record attendance of nearly 974,000.
"School starts early, and the weather was really nice that year," he said. "Plus the Coliseum is under construction. I don't know if we'll ever beat 974,000."
Except we did this year. The 157th edition of the state fair smashed a new attendance record of 978,296 people. That's just 21,704 people less than 1 million!
Thanks to the weather and below normal temperatures, as well as several new exhibits and promotions (like an awesome Styx concert!), there were nearly 4,394 more people who came this year than in year's past. It's a 15% increase over last year's crowd of 853,941.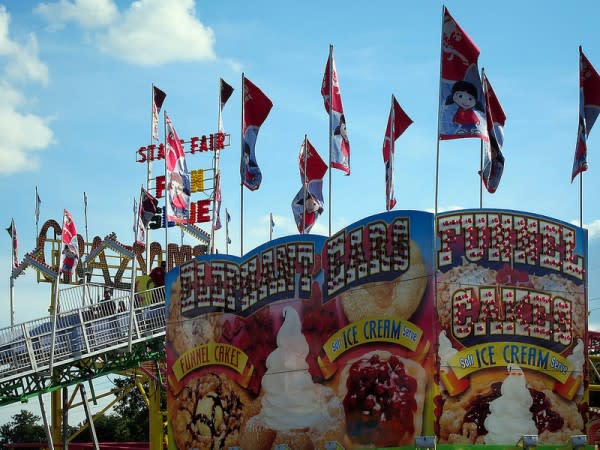 According to the state fair organizers, the fair broke three daily attendance records with 70,331 on the first Sunday (Aug. 5); 67,702 on the first Tuesday (Aug. 7); and 80,634 on the second Tuesday (Aug. 14). Organizers also believe the Turkey Hill Dairy $2 Tuesday promotion and the new $5 Friday with Fair Foodie specials were also big draws and contributed to the overall records.
There were some pretty memorable moments and exhibits at the fair. Since 2013 was the Year of Popcorn, there was a 6,510 pound (that's 3.25 tons) popcorn ball in the Ball State Agriculture and Horticulture building. This was a world record breaking ball, beating the-now second place ball by 1,500 pounds.
The new 4500 square foot Glass Barn, which was built and programmed by the Indiana Soybean Alliance, taught fairgoers about modern agriculture, and was a major attraction for everyone. And the new Kiddie Land midway and Youth Arena were also very popular for families with young children, as well as people who wanted to see livestock shows and horse-and-pony events.
Weather reports during the fair showed that we got less than an inch of rain, and the average temperature was around 84 degrees.
Next year's State Fair is from August 1 – 17, 2014, so mark your calendars.
Photo credit: Jim Grey (Flickr)