You could easily spend days eating and drinking your way through Bloomington, which has a terrific food scene that you'd expect to find in a larger city. But let's say you have just 24 hours in this college town. Maybe you're visiting for an IU basketball game and you want to make a day and night of it?
Here's your itinerary for the best cocktails, coffee, meals and beer in Bloomington: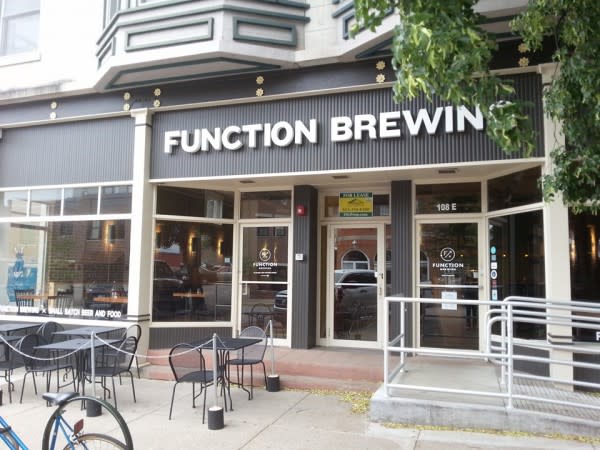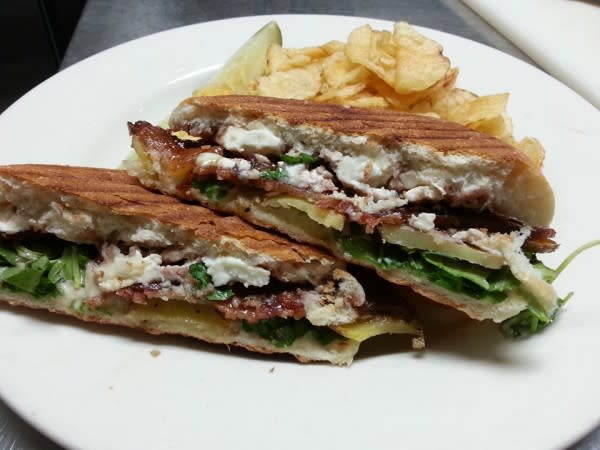 Photos from Function Brewing
Noon - Lunch at Function Brewing Function made 102 unique beers last year — the hustle keeps this taproom feeling experimental and exciting. As far as food, instead of fried brew-pub favorites, you'll find amazing, hearty sandwiches that are way fancier and more flavorful than any sandwich you'd make at home. Same goes for their from-scratch soups. This airy, industrial place just off the downtown Square has a ton of seating.
What to eat and drink: The velvety Milk Stout is one of Function's fantastic staples, but keep an eye out for specialty limited-edition beers like Periodic, an amber with cocoa nibs and Belgian candi sugar. The Jean Elizabeth sandwich hits the spot on a cold day: aged cheddar, smoked gouda, fig-onion jam and arugula on a toasty roll.
Details: 108 E Sixth St., 812-676-1000, functionbrewing.com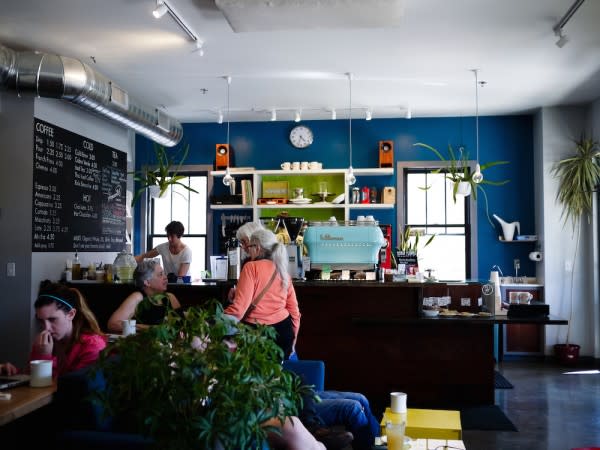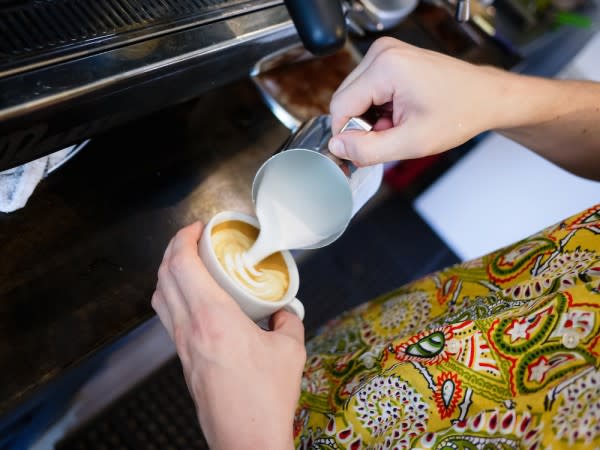 3:30pm - Coffee and a snack at Hopscotch Coffee This stylish coffee shop a mile south of downtown roasts its own beans in small batches — 10 pounds at a time — and then transforms them into the smoothest drinks ever using a gorgeous blue La Marzocco espresso machine. Meanwhile, the bake case is stocked with treats from local sweetspots: doughnuts and cupcakes from the all-vegan Rainbow Bakery and Italian pastries from Piccoli Dolci. Stay a while and soak up the charm of this highly Instagram-able shop.
What to eat and drink: Warm up with a latte flavored with Honey Blossom Creme, a lovely homemade syrup from a local food truck called Bea's Soda Bar. To go with it, a lemon tart from Piccoli Dolci — so light and fluffy, it's practically a souffle.
Details: 235 W. Dodds St. #102, 812-369-4500, hopscotchcoffee.com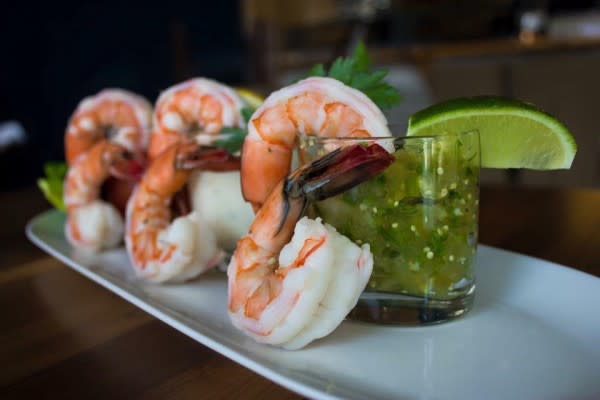 Photo from No Coast
7pm - Dinner at Noco If you're the kind of diner who likes to order a little of everything and share with the table, you're going to dig this seafood-focused spot called No Coast, or Noco for short. It's not new, but it did recently relocate from Bloomington's east side to the downtown Square. The menu is heavy with sophisticated snacks and appetizers that you won't find elsewhere in town, plus a raw bar, offering oysters, clams, king crab legs and shrimp cocktail with vibrant sauces to mix and match. A small list of excellent entrees satisfies the non-sharers.
What to eat and drink: First things first, oysters and bubbles are a must. Order a couple of sauces for the briny bivalves, like Louisiana bloody mary and French mignonette. Vietnamese meatballs and a lobster roll or two will be hits at the table, too.
Details: 105 N. College Ave., 812-822-1341, nocoastreserve.com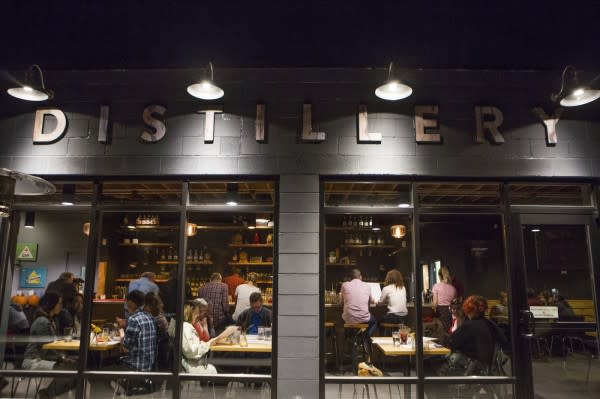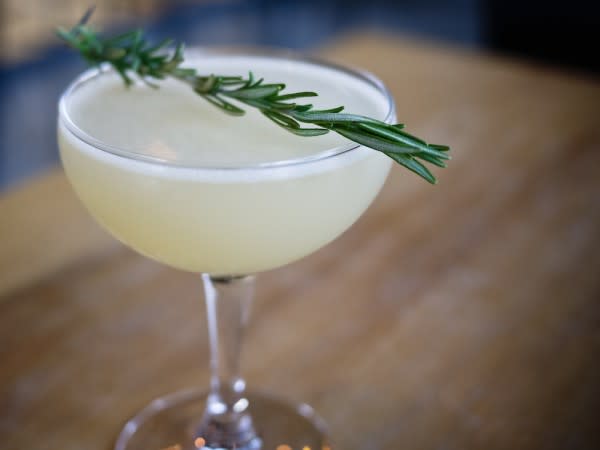 Photos from Cardinal Spirits
9pm - Cocktails at Cardinal Spirits Cocktails don't get more local than this. Bloomington's only craft distillery makes premium, small-batch spirits like vodka, gin, rum and botanical liqueurs — and uses them all in their cocktail bar right on site. Every spirit in every drink on the menu is made in the next room over, making it pretty different than most bars. The menu has a mix of familiar classics and original libations from the skilled bar crew. The clean-lined, modern bar is a mile south of downtown.
What to eat and drink: Sip on the smooth Café à l'Orange cocktail, made with the distillery's Songbird Craft Coffee Liqueur and a misting of orange oil. For a two-bite dessert, order the vodka-filled chocolates, made by local chocolatier Blu Boy. La Poblana food truck in the parking lot fulfills late-night cravings.
Details: 922 S. Morton St., 812-202-6789, cardinalspirits.com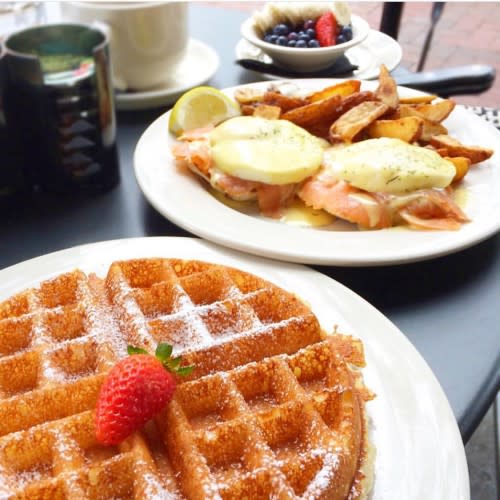 Photo by @annaabarness
10am - Brunch at Uptown Cafe Snag a table on the newer bar side of this longtime downtown Bloomington restaurant for the ideal place to refuel. Uptown proves that brunch doesn't need to be complicated or reinvented — it serves up well-executed classics, ranging from the venerable Michael's potato omelet to cheddar-jalapeno grits with eggs on top.
What to eat and drink: To start, order the cinnamon roll coffee cake and the trifecta of brunch beverages: mimosa, coffee, water. You can't go wrong with the omelets and eggs Benedicts here. The Popeye omelet, with sautéed spinach, mushrooms, onions, bacon and melted cheddar, is excellent.
Details: 102 E. Kirkwood Ave., 812-339-0900, the-uptown.com