I don't ever see myself retiring and becoming a snowbird, as we call those who leave our state for warmer climates in the winter. My husband says it's cliche, but I truly do love having all four seasons. Where we live, we can go sledding on the hill behind the dam and sometimes we can skate and play on the ice if it's cold enough for the lake to freeze. But there's even more fun in Indiana if you bundle up and head out to our State Parks and Inns.
Recently I ran across a listing from Indiana State Parks - 40 Reasons to Love Winter in our State Parks. I would add the indoor water park at Abe Martin Lodge in Brown County State Park. That way you can have the great outdoors and warm up with indoor fun, as well!
Take a look for yourself. Then be sure to enter the Indiana Winter Getaway Giveaway before February 13 for a great Indiana State Park prize package!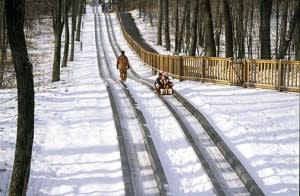 Now - here are the 40 reasons:
1. The refrigerated toboggan at Pokagon State Park lets you head downhill at up to 45 mph, snow or no snow!
2. Winter birds at nature center and inn restaurant feeders!
3. Two-nights-for-one winter lodging special Sun-Thurs at Indiana State Park Inns.
4. Muffled silence and crisp beauty of a fresh snowfall at our state parks.
5. Winter wildlife surprises along the 600+ miles of trails.
6. First Day Hikes - a great way to start the new year outdoors.
7. Ice fishing!
8. Holiday Gift Packages for friends and family. Gifts to last all year long.
9. Ouabache State Park's Wonderland of Lights.
10. Visiting Sunset Point at Turkey Run State Park in the snow.
11. Dreaming about summer camping. Ready, set, go camp!
12. Eagle Watch Events!
13. Winter camping. Some properties have heated restrooms open all winter. Not ready for a tent? Some cabins are also available.
14. Winter birding surprises!
15. Upholding winter hunting traditions at our 8 U.S. Army Corps of Engineers lakes and Hardy Lake, too.
16. Breakfast with Santa at an Indiana State Park Inn. (plan for next year)
17. Beautiful winter snow scenes of iconic places that we all love in our Indiana State Parks.
18. Winter sunrises and sunsets.
19. Winter reenactments (Battle of the Bulge at Fort Harrison State Park and Civil War Winter Battle at Spring Mill).
20. Winter sledding when there is good snow.
21. Celebrating the holidays at Indiana State Park Inns. People gathering around the fireplace for laughter and talking and kids running around in their pajamas - great family atmopshere.
22. Following animal tracks in the snow to discover where they've been and what they were doing.
23. Shelf ice that forms on Lake Michigan at Indiana Dunes State Park. Watch it safely from shore - it is not solid!
24. Turkey Run State Park with the suspension bridge and Rocky Hollow Nature Preserve in the snow and ice.
25. Dreaming about spring fishing and kayaking with a 2015 lake permit ready to go on your boat.
26. Winter picnics! Bundle up, pack a thermos of soup and head outdoors. The picnic tables are waiting - they miss you!
27. Cross-country skiing on the trails. Pokagon rents skis.
28. Building snow people. Fun for kids of ALL ages, right?
29. Christmas Bird Counts, which have been happening across the country for 115 years in Dec.-early Jan.
30. Curl up with hot chocolate and watch the DNR YouTube Channel.
31. Orion..The Pleiades..Sirius..Castor & Pollux - winter stars!
32. Holiday feasts at our Indiana State Park Inns with no fuss or mess.
33. Time for Outdoor Indiana magazine's new outdoor calendar. Get yours with a subscription to the magazine.
34. Snowmobiling on the trail at Salamonie Lake!
35. Winter mountain biking where there are trails.
36. A season of giving to organizations we care about.
37. Watching Ouabache State Park's bison in the snow.
38. Snowshoeing - snowshoes help distribute your weight so you can walk in snow without sinking in.
39. Great winter programs hosted by interpretive naturalists, inn staff and volunteers.
40. Time to dream about spring and the great birds and wildflowers we will be able to enjoy along our state park trails.