There aren't many things in Indianapolis older or more revered than the Indiana Black Expo Summer Celebration. It's the largest African-American event in the nation, and they're expecting more than 300,000 people. They have a wide range of special events, themed days, music, movies, and summits.
There's live music at the Music Heritage Festival, the Youth Entrepreneur Seminar, Youth Leadership Summit, and the Family Fun Zone. There's a job fair, health fair (with free healthcare checkups), cultural pavilions, all downtown at the Indiana Convention Center and other nearby locales.
General admission tickets are:
$8 in advance
$7 in advance for senior citizens
$19.99 in advance for three-day general admission
$10 after July 19
I also received a press release from Downtown Indy with a list of many of the different Summer Celebration events. You can get the full calendar of eventsat the IBE website or by calling 317.925.2702.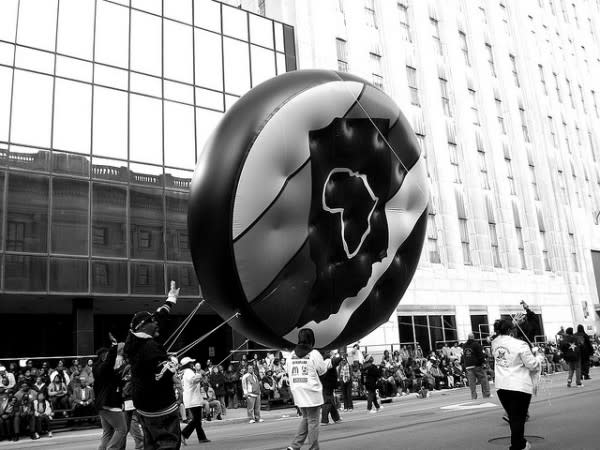 July 13 & 14
IBE Film Festival Experience moving films and eye-opening documentaries spread over two days. The lineup includes The Lower 9: A Story of Home, a film showcasing four residents trying to reestablish their lives after the destruction of Hurricane Katrina and the ongoing struggles of their neighborhood seven years later. Another film, Reel Black Love, highlights Black Love on screen and the social impact it has had on culture. For the full list of films, visit the IBE website. Location: Indianapolis Art Museum, Tobias Theater Time: Saturday, noon - 5 p.m.; Sunday 1 - 5 p.m. Price: FREE
July 16
Children's Day Presented by Anthem Blue Cross & Blue Shield This popular event kickoffs the opening of Family Fun Zone presented by Indiana University for children ages 4-11. Attendees participate in a day of entertainment, education and activity with exhibitors including Kenya's World, Cummins Inc. LEGO® Engine Replica, Pacers Fan Van, Colts PLAY60, Marion County Public Library Bookmobile. Location: Indiana Convention Center, Hall B Time: 10 a.m. – 3 p.m. Price: FREE
July 15 - 17
Black Business Conference Series The conference series occurs throughout the week and provides workshops, symposiums, receptions and networking opportunities. Location: Indiana Convention Center Time: Various times Price: FREE (Register online at http://ibeonline.com/ibebbc/bbconference.aspx)
July 16 & 17
Youth Entrepreneur Seminar (YES): The Making of a Mogul YES: The Making of a Mogul gives 50 motivated youth, ages 13-19, an opportunity to receive hands-on training to develop and showcase their business idea through a two-day on-site interactive experience. The first place winner not only receives a $500 investment but an exhibitor's booth during the annual Summer Celebration Weekend to market and sell their business service or product. Location: Indiana Convention Center, Rooms 109-110 Time: 8 a.m. – 5 p.m. Price: FREE (http://www.ibeonline.com/App_downloads/MakingOfAMogul2013_4-18-13_writable%20PDF.pdf#sthash.ek0QwtcD.dpuf)
July 18
WTHR-TV 13 Employment Opportunity Fair WTHR-TV 13 is hosting one of Indiana's top career fairs with more than 100 employers on-site, ready to recruit qualified candidates. Click here for a full list of employers. Location: Indiana Convention Center, 500 Ballroom Time: 12 p.m. – 5 p.m. Price: FREE (Register online here)
July 18 - 21
INshape Indiana Black & Minority Health Fair INshape Indiana hosts the country's largest Black & Minority Health Fair. Attend the fair for FREE health screenings and education. Time: Thursday, opening reception, 3 - 4 p.m. (Invitation only); Thursday, Seniors Night, 4 – 8 p.m.; Friday noon - 8 p.m.; Saturday noon - 8 p.m.; Sunday noon - 6 p.m. Location: Indiana Convention Center, Hall D Price: FREE
July 19
Pacers Sports & Entertainment Corporate Luncheon presented by Hoosier Lottery & State Farm The signature fundraiser of Summer Celebration attracts a sold-out audience each year where top corporate, government and community leaders enjoy unique networking opportunities and an awards ceremony that recognizes some of the nation's most outstanding leaders. This year's awardees include Billy Dee Williams, Tisha Campbell-Martin, The O'Jays and Spike Lee. Time: 11 a.m. - 1 p.m. Location: Indiana Convention Center, Hall J & K Price: $60/Table $600
July 19
Music Heritage Festival Outdoor Free Concert This year's FREE concert features The O'Jays with special guest Midnight Star. Please be aware Meridian and Pennsylvania streets from Michigan Street to St. Clair Street may be closed for public safety during the concert. Time: 6 p.m. Location: American Legion Mall Price: FREE; $40 VIP seating available
July 19 - 21
Youth Leadership Summit This event is for student leaders who want to see and affect change in their community. Network with and learn from youth statewide. Experience a fun and interactive introduction to Purdue University. Location: Hyatt Regency Downtown, Cosmopolitan Ballroom Time: Friday 9 a.m. – 10 p.m.; Saturday 9 a.m. – 10 p.m.; Sunday 9 a.m. – 11 a.m. Price: $15 Friday only; Friday & Saturday (day only) $30; $200 Full weekend (Register online here Note: If you're using a mobile phone, that link goes to a PDF.)
July 20
All White Affair Party The annual party brings out Indy's new and cool generation. Top entertainers and celebrity guests keep the party going. Featured entertainment includes DJ Kid Capri & Kevon Edmonds from After 7. Time: 8 p.m. – 2 a.m. Location: Indiana Convention Center, Sagamore Ballroom Price: $25
July 20
Amateur Boxing Amateur boxing is back for the 43rd Summer Celebration. Dual competition of top amateur boxers from Indiana and Ohio will compete from all weight classes. Time: 2 p.m. Location: Indiana Convention Center, Hall G Price: Included in exhibition hall admission
July 21
IBE Fashion Show "Fashion Here & Now" Presented by Macy's See all of Indy's premier, black-owned fashion boutiques and fashion designers showcase their latest works on the runway. Time: 3 p.m. Location: Indiana Convention Center, 500 Ballroom Price: Included in exhibition hall admission
For complete information on Summer Celebration, visit the website or call 317.925.6624.