I love the 4th of July. Part of it is because my birthday is the fifth so there was always a parade, festival and of course fireworks near my birthday. It was a built-in party every year. As I grow older (and birthdays mean less and less) I love the fourth for celebrating America and enjoying a great summer tradition!
Looking for some fun this 4th of July? Here are events - all over the state - sure to provide an excellent holiday:
Northern Indiana: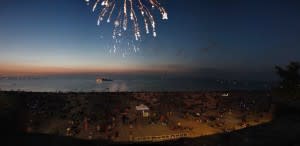 Photo by Jon Aros
Fireworks on the Lakefront (Indiana Dunes National Lakeshore - Porter) - July 2: A family-friendly event featuring fresh food merchants, a live rock concert and fireworks! $5/car for Indiana resident and $10/car for out of state resident.
Cedar Lake Summerfest - July 3-7: Nightly entertainment, two nights of fireworks over the lake, amusement rides, parade, crafts, scavenger hunt and kids' games. No admission charge.
Bremen Firemans' Festival - July 3-7: Free admission that includes parade, carnival rides, craft vendors, corn hole tournament and 3-on-3 tournament.
Central Indiana: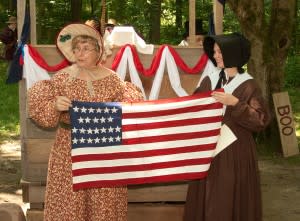 Photo courtesy of Conner Prairie
Conner Prairie's Glorious Fourth - July 4: Take a trip to the past and participate in authentic Fourth of July fun straight from the 1800s. Admission charge.
Connersville Bicentennial - June 28-July 7: Celebrate Connersville's 200th birthday! Ten days packed with activities of all ages. Live music, classic cars, fireworks, historic exhibits and artisans. No admission charge for most events.
Haynes-Apperson Festival (Kokomo) - July 4-6: Celebrate Kokomo and America's first automobile! Fun, food, fireworks, parade, car shows, sports and entertainment. No admission charge.
Southern Indiana:

ShrinersFest 2013 (Evansville) - July 3-7: Street festival (w/local food vendors), rides, nightly entertainment, Grand Prix racing, fireworks and let's not forget about the air show!
Limestone Heritage Festival (Bedford) - July 1-4: Located on the courthouse square you'll find a parade, ice cream social, free concert, BBQ cook-off, fish fry, pancake breakfast and of course fireworks!
Madison Regatta - July 5-7: 200 mph racing with world's fastest boats. Air shows, parade, fireworks and three nights of music!
Of course there are PLENTY more events all across the state. Be sure to visit the events page on VisitIndiana.com for more activities and details.