My kids and I recently spent the day in Kokomo and despite it being a horribly rainy day, we had a fantastic time exploring the city and it's treasures. Prior to the trip, I was guided to a lengthy list of things to do from the local visitor bureau that would appeal to my two kids and my tastes. Armed with our itinerary, we set out for this Indiana city north of Indianapolis off of US 31. Kokomo is Indiana's 13th largest city with a population of around 57,000 but despite its larger size, we found it quite easy to find our way around and parking was not a problem.
1. Goodies from J. Edwards Fine Chocolates and Gourmet Cakes 
Voted best stop of the day by my kids, we were quite impressed with the local chocolate shop, J. Edwards. The shop is filled with all sorts of candies, toffees, caramels and other gourmet food items. They have a great selection of house-made chocolates and we picked a selection to taste test later. They are also known for their cakes and cupcakes. We missed cupcake week by a few days which only gives us another reason to head back at another date.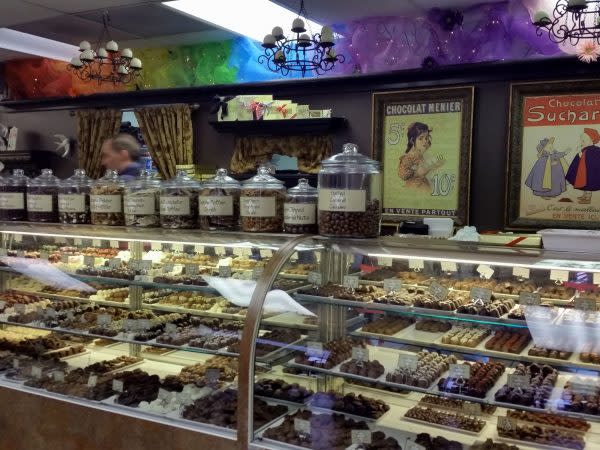 J. Edwards Chocolates - 2106 W. Sycamore St. Website
My kids and I tested the chocolate covered espresso beans, orange cream filled chocolates, the sea salt caramels and turtles - they were soft and fresh and the chocolate was of an excellent quality. Honestly the pieces we purchased were some of the best I've had in a while. Very impressive. Make sure if you visit on a Saturday that you hit there early as they close at 1 p.m. Luckily, they also sell their goodies online so I see an internet purchase coming up very soon.
2. Shopping in Downtown Kokomo
We spent part of our time in Kokomo hitting the shops around the county courthouse. The downtown area is very welcoming and they have a good selection of boutiques, eateries, and shops.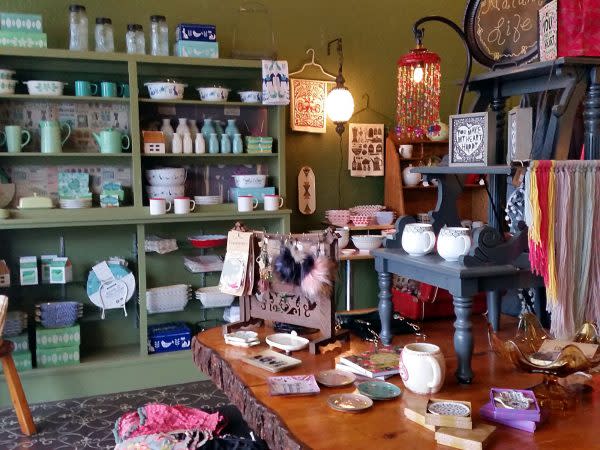 Jitterbug & Company- 119 W. Sycamore St, Facebook
Our first stop was Jitterbug, which had a mix of charming gifts, housewares, novelty items and jewelry. It's one of those places where you can find interesting and quirky items. To illustrate my point, my daughter ended up purchasing  a llama pencil case.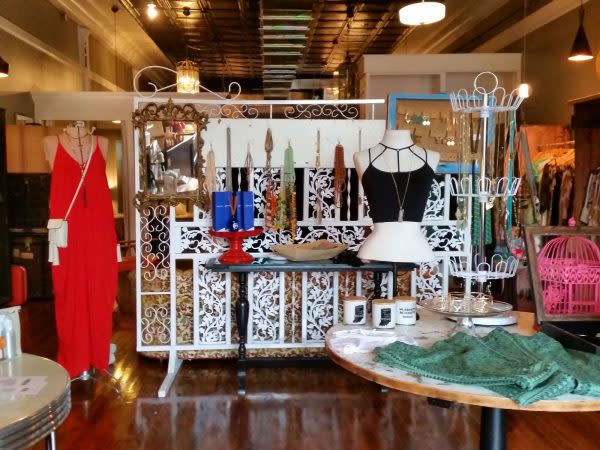 Lux Boutique - 102 West Walnut St., Website
From there we headed to Lux Boutique, a posh shop that was filled with a selection of reasonably priced trendy clothing items and accessories.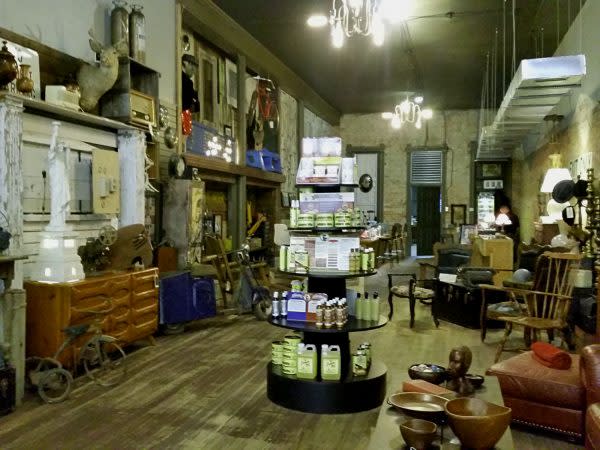 Studio Black Antiques - 107 E. Sycamore St., Website
I have to say that I loved Studio Black Antiques. They have hand-selected items from their other Kokomo store location (2004 Apperson Way) and have blended them into this hip, swanky eclectic shop that is located just a block up from the courthouse. They have a selection of antique and vintage furniture, decor and estate jewelry.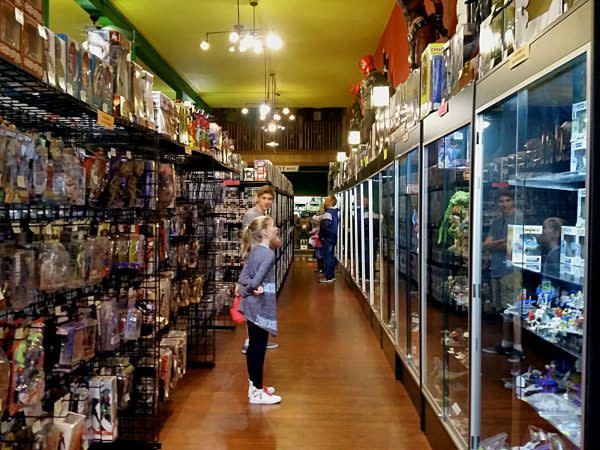 Kokomo Toys and Collectibles - 111 E. Sycamore St., Website
The highlight of our downtown shopping experience was Kokomo Toys & Collectibles. This place is filled with nostalgic toys and action figures such as G.I. Joe and Star Wars. One of the highlights of the store is a huge Millenium Falcon and other Star Wars ships from the original trilogy. The merchandise varies from rare prototypes to collectors' items to things that your children can enjoy.
Any super hero fan will be in paradise at Kokomo Toys and Collectibles.
3. Martino's Italian Villa
What's not to love about Martino's? From the gondola in the lobby for fun photos to the friendliest owners this side of Italy, this place has it all. Did we mention that they were recently added to the Pizza Hall of Fame?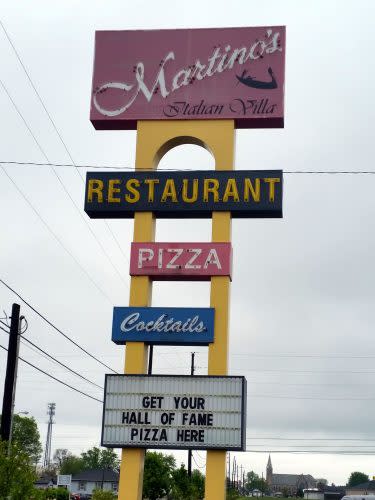 Martino's Italian Villa - 1929 N Washington St, Website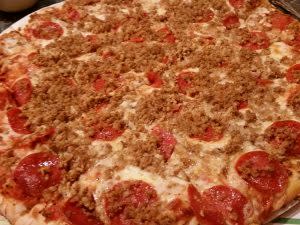 Pepperoni and sausage pizza
They make their dough and all of their sauces from scratch and the owner also told me that they make their own sausage. The menu features pastas, surf and turf and their hall of fame pizzas. The pizza is a medium thickness crust and if you have a hungry crew, we recommend the "Family" size.
4. Original Treasure Mart Antique Shop
We pulled up to this mega-sized antique store and immediately got excited. The shop is located in the old Diamond Plate Glass Building and it's four floors of antiques, collectibles, housewares and so much more. Just when you think you've reached the end, there's another whole floor of merchandise. Plan to spend a lot of time in the Treasure Mart - at least 60 to 90 minutes or longer depending upon how you shop. If you are an antique lover, this is worth the trip to Kokomo by itself.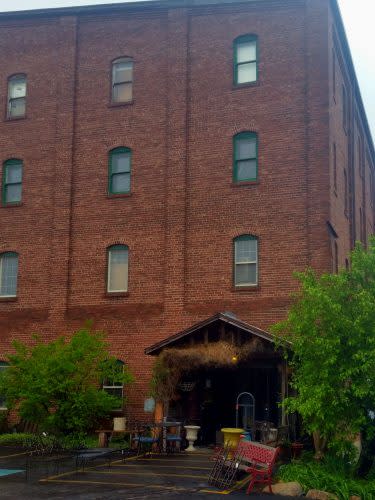 The Original Treasure Mart - 1201 E Vaile Ave
Website
5. The World's Largest Sycamore Stump
Everyone loves a good roadside attraction. We saved the trip out to Highland Park to see the World's Largest Sycamore Stump and the World's Largest Steer to the end of our day. It's just a few minutes out of the downtown area and was easy to find. Both the steer and the stump were impressive but I have to say WOW to the size of the Sycamore Stump. It's ginormous at 57 feet around and 18 feet wide. At one point the stump was used as a phone booth and could hold a dozen people inside. It's now on display in an enclosed pavilion to help preserve this massive treasure. You gotta see it to believe it.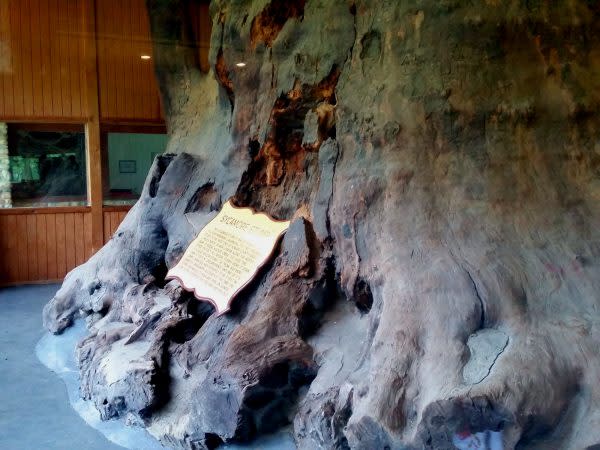 World's Largest Sycamore Stump - 1402 Defenbaugh St
Consider your trip to coincide with one of Kokomo's First Fridays.