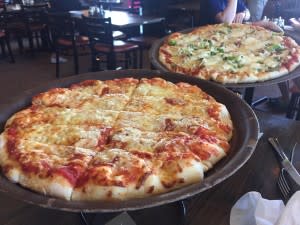 Do you ever have a meal where after you think, "Thank goodness for great food!"? Every time we make a visit to Bruno's Pizza and Big O's Sports Room in West Lafayette, Indiana, we have this feeling of jubilation! Since 1955, Bruno's has been serving hand-tossed pizza, famous Bruno dough, fresh garden salads, and house specialties (veal, bratwurst and manicotti, just to name a few).
The pizza! Bruno's pizza is different than any style of pizza I have ever eaten. It is a medium-thickness crust that would be considered more New York Style. Bruno, Orlando (brothers who own the business along with their sister Tina) and their team of master pizza creators toss the crust into the air, then pat it out onto pizza wood boards. They add a homemade, rich, red pizza sauce, a hearty brick-style cheese and all the toppings. (My daughter loves to watch them make the pizzas from their huge glass window as you enter the restaurant.) The pizzas get placed in their massive, hot ovens and are baked together to pizza deliciousness.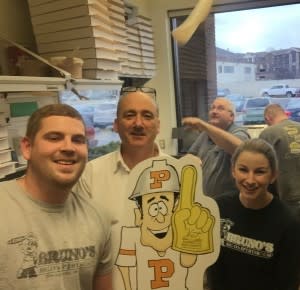 You may ask, what makes Bruno's pizza so special? In my opinion, it's four things: the crust, the sauce, the cheese and the love that is thrown into it. There is no other pizza around that tastes like it, and I have traveled throughout the United States and abroad, including Italy. The love comes from a family that has worked together for over 60 years. Bruno Itin Sr. immigrated to Indiana from his home in Switzerland. Bruno Sr. passed away in 2006, but his two sons and daughter run the restaurant along with six granddaughters who all work at the restaurant. It is truly a family business
Bruno's is a comfort to many, from locals to Purdue college students to alumni and visitors. I would say it is a Lafayette-West Lafayette trademark. If a visitor wants authentic Midwest Hospitality, delicious food and a true local experience, he or she needs to visit Bruno's Restaurant in West Lafayette, Indiana.
Please share with us your favorite pizza place that makes you go, "Thank goodness for a great pizza!"
Whether you are looking for delicious dining, interesting attractions and shops, enticing events or home away from home lodging, a getaway to Lafayette-West Lafayette, Indiana, is sure to satisfy. For more information about this restaurant and others in the area, visit our website at www.HomeOfPurdue.com
Save
Save
60 Years of Delicious at Bruno's Famous Pizza is a post from The Indiana Insider Blog. Check out more great content from the Indiana Insider.
The post 60 Years of Delicious at Bruno's Famous Pizza was written by Sara Erickson for the Indiana Insider Blog and can be found at The Indiana Insider Blog. If you read this post somewhere other than the link above, please contact us and let us know: https://visitindiana.com/contactUs.aspx