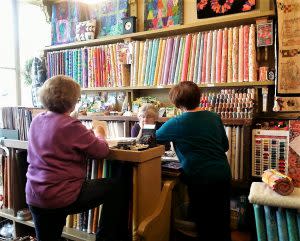 I love quilts, I have collected vintage quilts for years, I have quilted, I know quilters, I appreciate their talent, I love fabrics, but I do not quilt! This said, I do enjoy amassing supplies so I was happy to tag along with a bona fide quilter to 6 quilt shops in southeastern Indiana.
Every shop we visited was fully stocked with supplies, had customers shopping, and great customer service. I think it's a "quilt thing".
The Quilter's Nook, 82 Hill Street, Versailles We got here early but didn't beat several ladies already quilting. There's a nice work space and everyone is welcome to bring their machines and join in. These ladies make Quilts for Kids for Riley Hospital and sent 85 quilts to Gatlinburg after the fires.
The Quilter's Nook offers classes for all levels of quilters, including Thread Painting, Machine Appliqué, Precision Piecing and more. There's a nice selection of fabrics, lots of notions, patterns and books. FYI, I got a great pair of scissors!
Great Selection!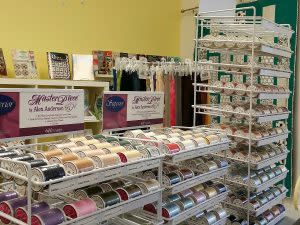 I Love Thread!
Tree City Stitches, 125 E. Main Street, Greensburg This shop is filled to the brim with fabrics, rolls of batting and everything you need for your next project. They make their own kits and there are lots of stunning quilts on display to inspire you. They offer a wide range of classes throughout the year, including a Block of the Month.
I was especially taken with the variety of pre-cut pieces. I could quilt without cutting out all those pieces, who knew! While we were there, a lady came in with her almost finished quilt but she needed help to trim the edges before adding the border. No problem, the staff was happy to help.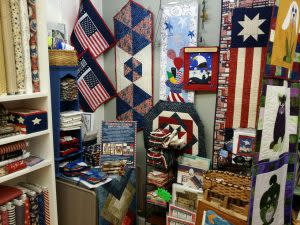 So Many Choices!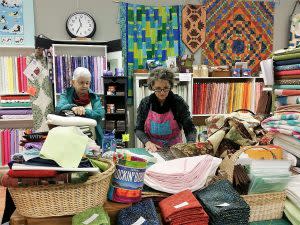 Help!
Sharynn's Quilt Box, 890 S. State Street, North Vernon Sharynn recently moved her shop to a new location with more space for more fabrics, a huge selection of threads, notions and a large classroom area. Sharynn's sells and services Jenome embroidery and sewing machines, Handi Quilter long arm machines, Accuquilt cutting machines (interesting, no cutting – do you recognize a theme here?) and more. They are all on display for you to check out.
Classes are available throughout the year including new owner's classes for Jenome sewing machines and Kimberbell Embroidery classes. April 7-9, there's Sharynn's Clifty Falls Quilt Retreat, a weekend of sewing with new and old friends.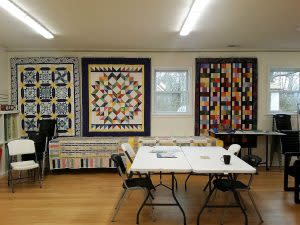 Large Classroom Space!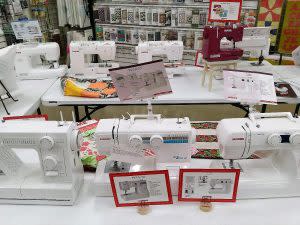 Machines!
Margie's Country Store, 7214 W. Main Street, Madison The grande dame for quilters, Margie has been catering to quilters and crafters for 46 years. And, she is still going strong. They have a lovely selection of fabrics, patterns, quilting tools and books and hand embroidery patterns. My quilting friend was very happy to find the civil war style print fabric she needed to finish her quilt.
While you are there, take a trip downstairs to the Cellar Gift Shop. You'll find kitchen accessories (love these!), indoor and outdoor rugs, candles, purses and home accents.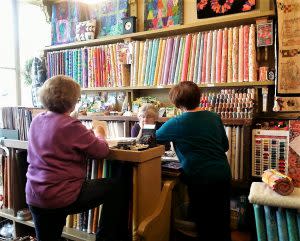 Still Great After 46 Years!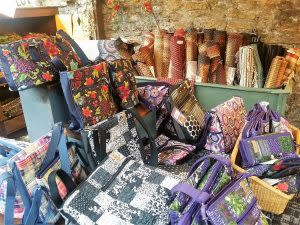 Cellar Gift Shop
Cardinal Quilts, 106 E. Main Street, Vevay Fabric, fabric everywhere: and, only $5 a yard! Stock up and get what you need because it might not be there the next time you come back. Minimum cut is 1 yard but what a deal. At Cardinal Quilts, the fabric selections are everything – notions & books, not so much.
The other notable thing about Cardinal Quilts is Helen and her 3 long arm quilting machines working away in the back. Helen has 30,000 patterns from which to choose and adds more monthly. She will quilt your top or build your quilt from scratch in your choice of colors & patterns. Her turn-around time is typically 10 days but she often has them finished early. Helen is a whirlwind with her quilting machines!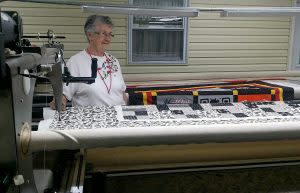 Helen, a Quilting Machine!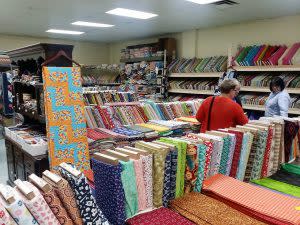 It's All About the Fabric!
Quilters Garden, 9 E. Center Street, Lawrenceburg This shop carries more than 2500 bolts of fabric, notions, batting, kits, books and everything you'll need to complete your project. They offer classes, small group projects, one on one tutoring and long arm classes. In 2017, they are planning more classes in Thread Painting, clothing and dolls.
What intrigues me about this shop are the retreats, bus tours and the Southeast Indiana Quilt Expo that they organize. These include trips to the Paducah Quilt Week, Missouri Star Quilt Company and a Summer Retreat in Nashville, IN. This year, the Southeast Indiana Quilt Expo is September 7-9, 2017 in Lawrenceburg.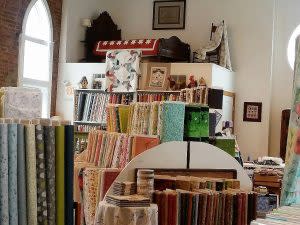 Love the Displays!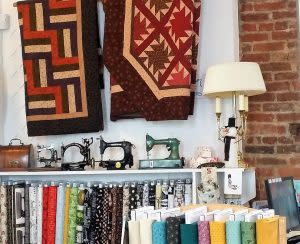 Vintage Sewing Machines!
TIP: This shop is at 9 East Center Street and easy to find if you don't follow the Google map that sends you about 2 blocks away.
Find more quilt shops and the Shipshewanna Quilt Festival in Northern  Indiana.