If you had asked me whether my kids would have loved A Beef & Boards Christmas, I would have had to think about it for a minute.
My kids are older — teenagers, or nearly so — and they have their own lists of things they like. A Christmas concert was not what I would have put on that list.
It turns out, they loved A Beef & Boards Christmas.
My wife, Toni, and I were invited to the Christmas review as part of their media package, and we decided to take the kids with us, thinking they would enjoy the show and help get them ready for the Christmas season. My son and youngest daughter were already ready for Christmas music. In fact, my daughter had been checking our local Christmas music station, B105.7, to see if they had switched from their regular format to their Christmas one. She checked every day, starting a week before Thanksgiving, to see when they switched. So if anyone was ready for Christmas music, it was her.
As always, the Beef & Boards cast did an outstanding job of bringing our Christmas favorites back, singing songs that everyone in the audience has heard and loved, many of them from our own childhoods.
There was Frosty the Snowman and The Grinch for the TV generation, or Boogie Woogie Santa Claus and I'll Be Home For Christmas for the seniors, or even O Holy Night and Silent Night, if you've been around for a while.
This was also veteran performer Kenny Shepard's 20th year on a Beef & Boards stage, as he co-hosted the program with fellow performer Deb Wims. I remember those two from last year's Christmas program. Also outstanding was soloist Kelly Teal Goyette, who made her B&B debut in this year's Les Misérables.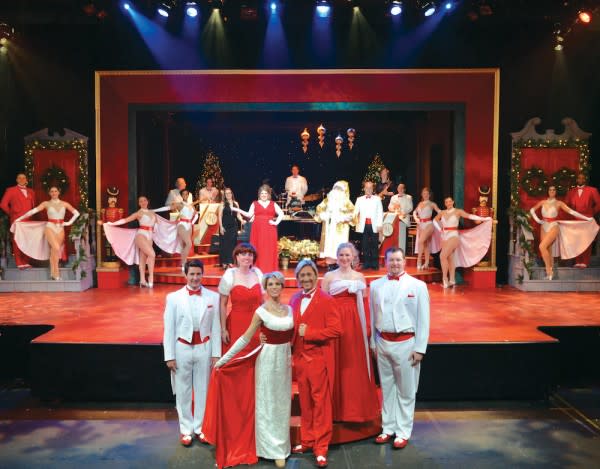 The cast of A Beef & Boards Christmas 2013Other Les Misérables alums include Bobbi Bates, Peter Scharbrough (his wife Sally was one of the dancers), and Dominic Sheahan-Stahl.
My family and I were especially impressed by the show's orchestra. While there were only seven musicians on the stage, including Kristy Templet who pulled double duty as a keyboardist and conductor, they filled up the room and made it sound like so many more musicians.
As always, the Beef & Boards cast put us all in the Christmas spirit, and it was all my kids could talk about on the way home. And once we walked in the door, my youngest daughter went straight to her room, turned on her radio, and started singing along with her new favorite Christmas songs.
You can find more information on the Beef & Boards Christmas program, or the other Christmas favorite, A Christmas Carol. You can find ticket and show information at the Beef & Boards website.