A few weeks ago I was able to visit one of my favorite restaurants in SoBro, Zest! Exciting Food Creations. Zest! was featured on Diners, Drive-Ins and Dives in 2009 and is one of my favorite locally-owned restaurants in Indy. First, the layout of the restaurant features an open floor plan, kind of like a funky renovated house, with tables set up along the way. Cute features like old window panes on the wall for decoration and glass jars for flowers on the table make the ambiance flawless for any meal. They also have a jar of crayons on each table, perfect to draw on the reams of white paper that they use to cover the tables. You can see my fantastic penmanship below!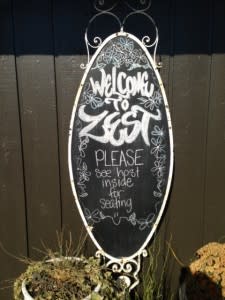 Welcome to Zest!
I opted for the daily special and ordered the lightly breaded fish sandwich with pommes frites and roasted bell pepper aioli. The serving of fish was huge for a really low price! Yet even with the reasonable price, all of the food tasted so fresh and had that perfect zip of flavor that I've found in every item I have ever ordered from Zest! The fish came with a house remoulade that was creamy and made the perfectly cooked fish pop. The shredded lettuce under the toasted bun also added a nice crunch to the sandwich.
I also tasted the side mac n' cheese, which is one of the sides that comes with many meals. It is delicious! The little bits of crum over the noodles are buttery and add the perfect bit of crunch to every bite. I'm excited to head back and try some of the drinks from the "Pick Your Poison" menu. The "Potions" menu includes drinks with titles ranging from the "Old Man & The Sea," and the "SoBro Long Island." Overall, Zest! Is a great place to try new flavor twists on your classic favorites. I have tried the special for each visit and I have never been disappointed!