Get ready for a hot summer to visit Fort Wayne!  Sometimes it's hard to plan where to stay, what to do, and what to eat when you visit.  Fortunately, we've done the work for you!  When you visit Fort Wayne, take advantage of these great package deals that combine great hotel accommodations with passes and gift certificates to Fort Wayne attractions and restaurants.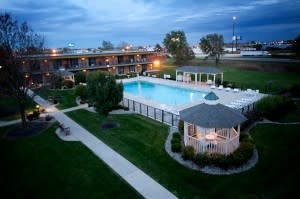 Try a Fort Wayne Adventure Hotel Package and stay at Don Hall's Guesthouse.
During the summer, families want to spend as much time outside as possible enjoying the sun and nice weather.  The Fort Wayne Adventure package includes a four-hour rental of a canoe, kayak, or bicycle from Fort Wayne Outfitters through sixty-eight miles of trails and rivers.  Check out the great scenery as you travel around the city, or grab lunch at one of our great downtown restaurants.  After a day on the trails, cool down in Fort Wayne's largest outdoor pool.  This package includes a room at Don Hall's Guesthouse Hotel and dinner at its Grille Restaurant.
Other great packages include room accommodations and tickets to the award-winning Fort Wayne Children's Zoo, voted Indiana's #1 "Gotta-Do Summer Attraction" last year.  Families can get close to animals from Africa, Australia, Indonesia, and many other areas at one of the nation's Top Ten Zoos for Kids.  Talk to an underwater SCUBA diver about caring for the Great Barrier Reef, feed sea lions, and learn even more with live demonstrations almost every hour around the zoo.  This year, the zoo has two new Sumatran tigers, viper boas, and a swamp monkey that visitors can meet.
For the serious sports fan, stay downtown and enjoy a TinCaps game!  Be right near the action at Parkview Field with a package from Courtyard by Marriot Downtown Fort Wayne.  Sample the tasty food at the game, and watch live entertainment like performers or fireworks during the game.  There's even a kids area within the ballpark where the younger children can play.  Other packages for families include hotel accommodations and a movie, pizza, or dinner at a local restaurant.  These packages are great to beat the heat, as many Fort Wayne hotels have pools for visitors.  The "Stay and Play Kids Package" from the Hampton Inn and Suites North includes passes to Crazy Pinz and Science Central.
Visit our website for a full list of hotel packages and prices and to learn more about things to do in Fort Wayne.