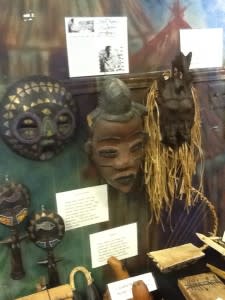 Displays reflect African culture at the museum.
I love learning about cultures around the world. While I don't have the finances to visit most of the areas that interest me, I do the next best thing – visit museums.  Recently, I visited the African / African-American Museum on Douglas Street in Fort Wayne. It is located in a 20-room structure built in 1890, south of Fort Wayne's downtown district.
According to Executive Director Dr. John Aden, this is the largest public collection of African art in Fort Wayne.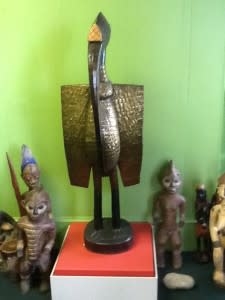 Senufo bird conveyed wisdom and hope to African slaves.
Dr. Aden, who has a degree in history, was available during my visit, so he gave me an impromptu tour. The museum's front room introduces visitors to the Middle Passage, the route in which hundreds of years ago millions of people from Africa were shipped to the New World as part of the Atlantic slave trade. Photos and drawings depict the life of slave aboard ship during those years. A Senufo bird sculpture is part of the display in this area. Why place the bird there? "Birds live a long time in Africa," said Dr. Aden. "They convey wisdom and their ability to fly offered perspective and hope to the slaves being forced to leave their homelands."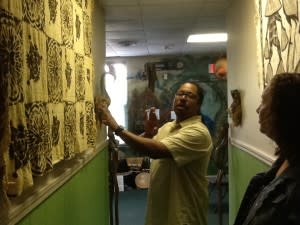 Dr. John Aden shows mud cloths to a visitor.
Past a hallway of mud cloths hung on walls, I entered the Pre-Colonial African Arts Exhibit. As part of his experience of living in Africa while pursuing his education, Dr. Aden has positioned sculptures from every region of Africa in this room except northern Africa.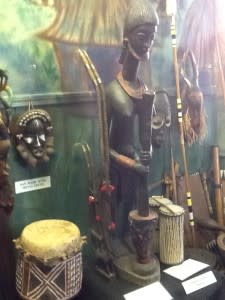 Antelope mother & son statue stands beside the talking drum.
I loved the story he told of one sculpture of an antelope mother that carried her son on her back. Dr. Aden said the sculptor designed it as a lesson in the economic and relational culture of the people. With its long graceful neck and adorned with four shells from Indonesia her appearance contrasts with her son's -- he only wears two shells. The statue represents how these African people taught monetary and societal responsibility to their young people by not giving the son as much as his elder. A talking drum from Nigeria would have been used for defense purposes or to call the people together for a meeting.
At other times in African history women were power brokers of their societies. This figure of a wealthy Nigerian woman may have been modeled after one. We know she had prestige because her hair shows she has six types of braids, meaning she could afford to pay six stylists. All of this combines to show that the African continent is an urban space, not just rural.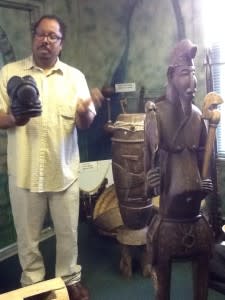 Dr. Aden discusses the lives of Africans using scultpures in the museum.
Men had special roles. A master hunter is reflected holding an axe and an antelope he has killed hanging over his shoulder, along with a musket on his back.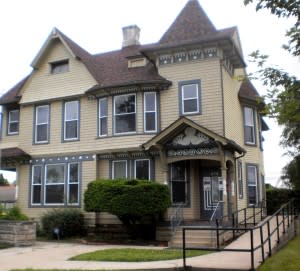 Dr. Aden has renovated the museum's gift shop and is making plans to create school visits and summer programs. In 2015 he is planning a special display called 'Black Wings American Dreams of Flight'.
I especially loved Dr. Aden's closing remarks to me as I left the museum: "This is the city's museum, not just the community." I daresay he would expand that statement to say it is the state's museum too.
$5.00 -- children
$7.00-- adults
HOURS OF OPERATION: 10am-2pm Tues, Thursday, Saturday
The End