Amish Acres offers fun sites in fall.
Nappanee in Elkhart County (www.nappaneechamber.com) is a fun place to visit in fall.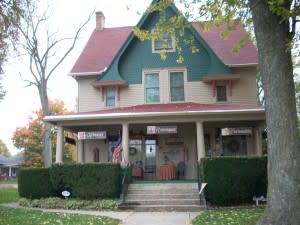 Homespun Country Inn in Nappanee is historic and comfortable.
My husband and I started our tour by checking in to the Homespun Country Inn (302 N Main St, www.homespuninn.com) in downtown Nappanee. We just had time to drop our bags in this lovely home before driving 5 minutes to Amish Acres (www.AmishAcres.com) for dinner and a show.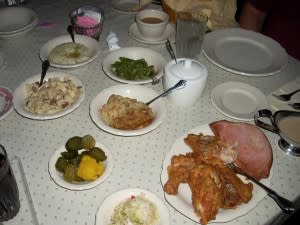 Thresher's Dinner at Amish Acres.
While Amish Acres is listed in the National Register of Historic Places, the restaurant is renowned for its hefty Thresher Dinners. We had a choice of fried chicken, ham, mashed potatoes, slaw, green beans, pickles, and dessert. It was good down-home eatin'!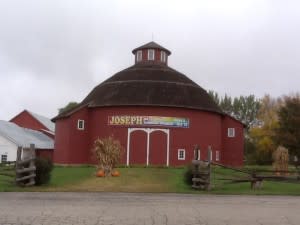 Amish Acres barn is restored and hosts live theatre shows!
We walked a short distance to the Round Barn Theatre to see 'Joseph and the Amazing Technicolor Dreamcoat' performed with a live cast.
A brochure said more than 20,000 productions of Andrew Lloyd Webber's musical about the story of Joseph in the Bible have been produced. I believe none could be better than this.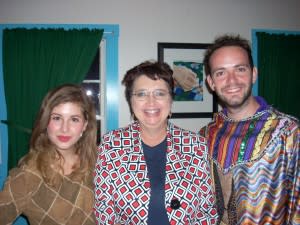 Cast of Joseph & Amazing Technicolor Dreamcoat pose with audience.
Everything from acting to singing and costuming was well done. We hummed the catchy tunes for days afterward. I have to say, having been raised on a farm, it was fun to sit in an actual restored round barn to watch this fast-paced, family-oriented show.
There's time to take the family to the Round Barn to see Shrek! The Musical which will be performed until December 31.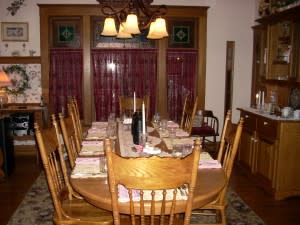 Dining room table is set for breakfast at Homespun Country Inn.
After a restful night at the inn, we were treated to a delicious full breakfast by innkeepers, Dennis and Dianne Debelak. They have owned and managed the inn for several years and their experience at hospitality shows. We were served at an elegantly set dining room table with china and glassware. It was lovely to be treated so well. The inn was full with guests and we shared the seating with eight who were also visiting the area.
We paused while checking out to sit on their front porch which was large enough to host a party!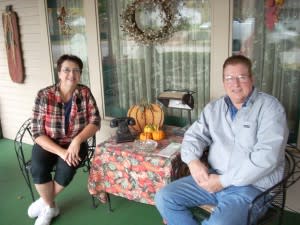 Front porch of Homespun Country Inn is welcoming!
Later, we toured the Quilt Garden of Nappanee. This supersized floral pattern was created to resemble a traditional design.
Other quilt gardens can be viewed in season in northern Indiana locales – Bristol, Elkhart, Goshen, Middlebury, Shipshewana and Wakarusa. It was created with 7,000 12" eye-popping mums. I can't imagine the work that goes planning and plotting these magnificent works of art!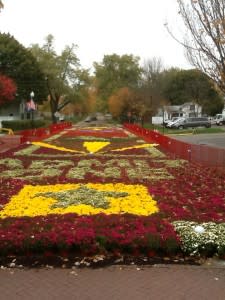 Flower quilt at Nappanee contains thousands of eye-popping mums.
There is plenty more to see in Nappanee – antiques, homemade chocolates, country shops -- that will require another trip. I could envision this place as the perfect get-away locale for girlfriends, families or couples. Give it a whirl and see what treasures you'll find!
Elkhart County CVB 219 Caravan Dr Elkhart 574.262.8161 www.AmishCountry.org