Make your way to Nappanee, Indiana to visit Amish Acres, a historic Amish farm that serves up a relaxing day of shopping, theater, Amish traditions and plenty of culinary delights. There's no way you'll leave hungry from a visit to Amish Acres so bring your A-game for eating and a sense of adventure.
Amish Acres is located right off of US 6 and is an easy drive from many northeast destinations (about an hour northwest of Fort Wayne, 50 minutes west of Shipshewana or 30 minutes north of Warsaw) which makes it perfect for a day trip or as part of a weekend stay in the area.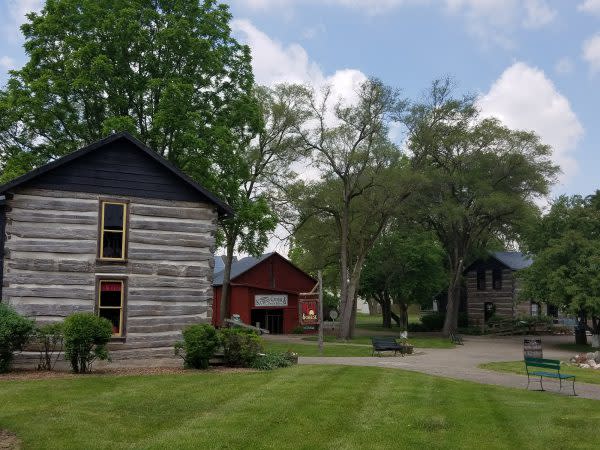 The minute you pull into Amish Acres, you will not only be transported back in time to this 1840's Amish Farm, but you will notice how well the property has been maintained. It's a gorgeous location and on the day of our visit it was the setting for an afternoon wedding reception. The 80-acre farm was the home of Indiana's first Amish pioneers and is the only Old Order Amish Farm listed in the National Register of Historic Places. Amish Acres as it is now called, is filled with various buildings and plenty of activities including the farm house, school, Round Barn Theater, Greeting Barn for shopping and purchasing tour tickets, the Restaurant Barn, the Fudge/Soda Shop, Bakery and the Meat/Cheese shop.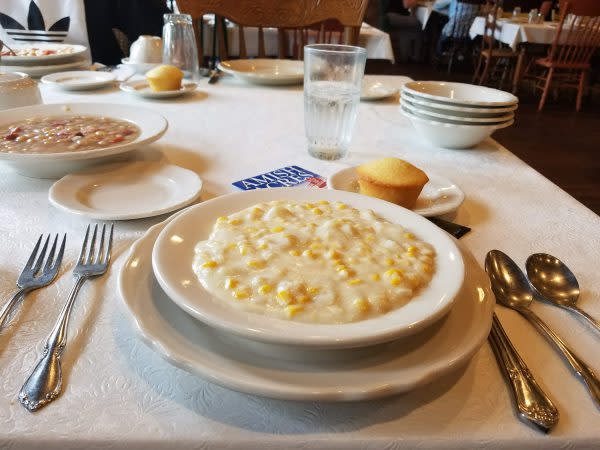 This corn chowder was thick and delicious and the accompanying corn bread was fresh from the oven and heavenly.
On our first visit to Amish Acres,  my kids and I decided to do more of an exploratory day and headed right to the restaurant for lunch. They are known for their threshers dinner which includes family style favorites like fried chicken, roast beef, corn, mashed potatoes, noodles and all the fixings. Our bellies weren't quite up for the challenge, but no worries, we ordered off the lunch menu and rejoiced at the home style favorites like fried chicken, corn chowder and ham and bean soup. We also finished off the meal with freshly made peanut butter and apple pie slices. Fantastic!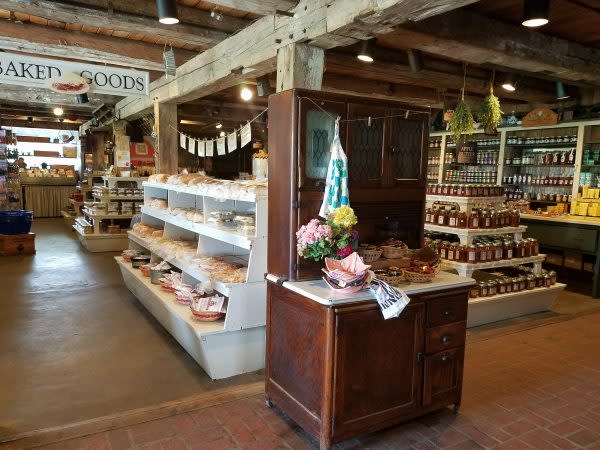 Make sure you take home favorites like cookies, pies and jams from the bakery located just inside the doors of the Barn Restaurant.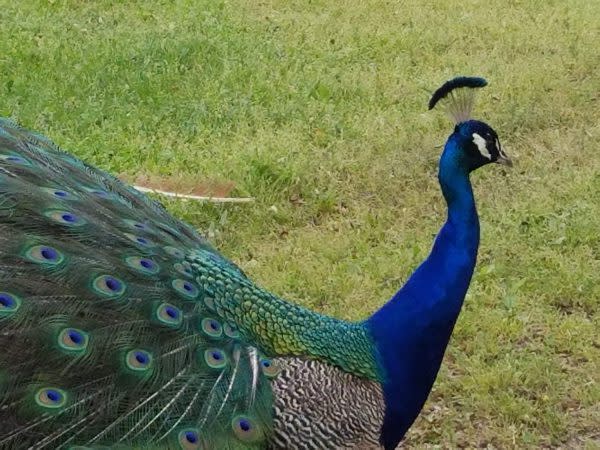 The resident peacock loves to show off to guests.
Needing some time to digest our lunch, we headed out to the main area where we were greeted with pet rabbits and a resident peacock showing off his beautiful plumage. We hopped aboard one of the wagons for a relaxing ride around the property. It was one of the highlights of our visit. Additional tours included a guided tour of the farmhouse, which provides an up close view into Amish life.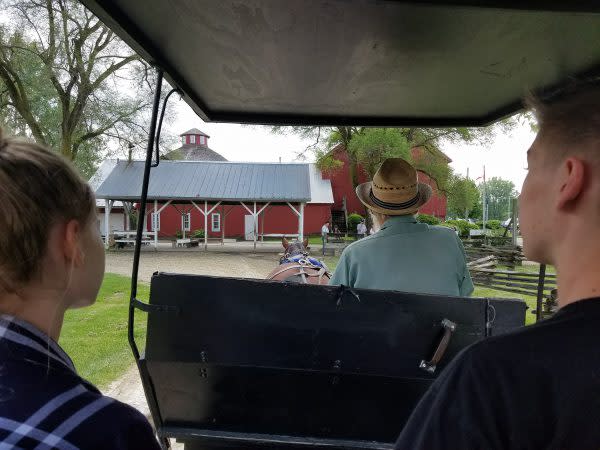 We loved the wagon ride through the property. Our guide pointed out the many attractions along the way.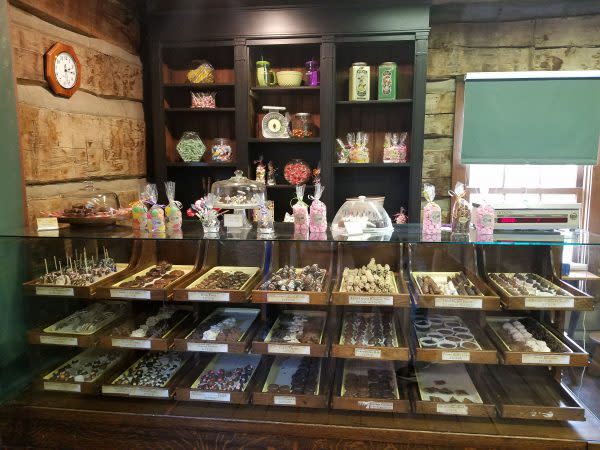 You'll have a hard time selecting from all the goodies that includes fudge, chocolates, candies, ice cream and sodas.
The day was warm so we decided to cool off and headed to the Soda Fountain/Fudgery for old fashioned sodas.  The shop is rustic with a soda shop charm. We had a great time visiting with the staff and would highly recommend that you stop in and have one of their ice cream sodas - which are hard to find places that still make them these days. FYI they were kid-approved.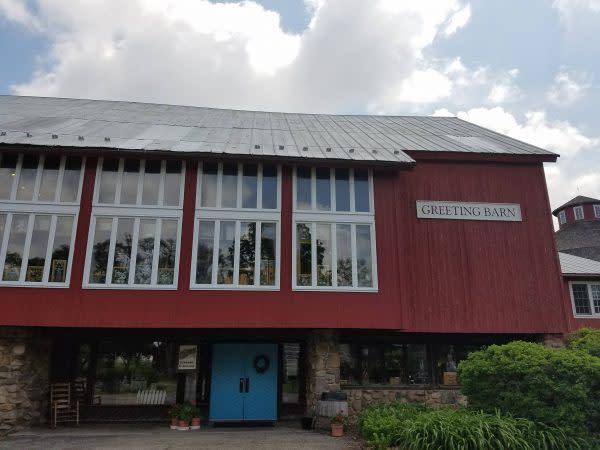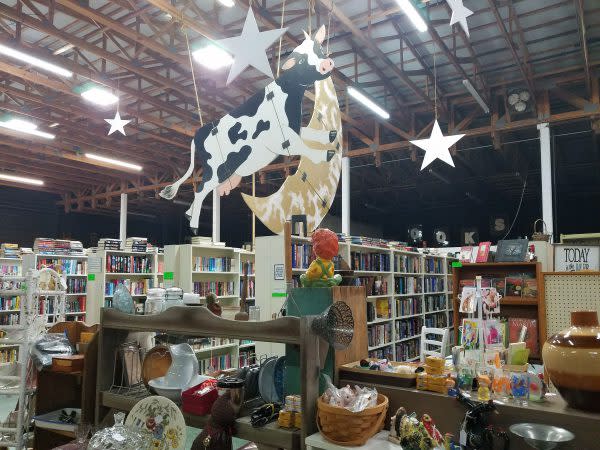 Shop for antiques, crafts, furniture, used books, vintage and primitives at the Cow Shed.
More shopping included a stop in the Meat/Cheese Shop and a visit to the Greeting Barn.  Just to the west of the property is a large antique mall called the Cow Shed and it's filled with a lovely mix of antiques, vintage and primitive items, used books and crafts.
The Round Barn Theater at Amish Acres is a must-do part of any visit. Productions are fun for all ages and this summer's schedule includes Mamma-Mia, Barry Manilow's Copacabana, Annie and many other favorites. They offer packages that include threshers dinners and overnight stays at their inn which make the experience an overnight hit for the family.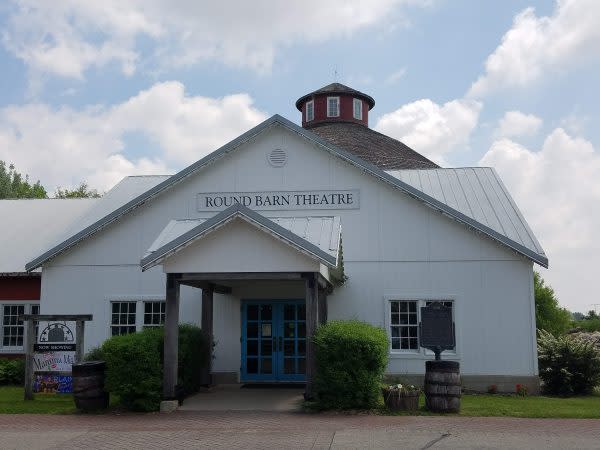 You must see a production in this historic round barn.
Amish Acres is a great Indiana destination for all ages and visitors come from across the country to enjoy it's old world charm. It's also a popular field trip location for students with plenty of hands on learning opportunities. We can't wait to get back for another visit to the area. For information on Amish Acres, visit their website or Facebook page. They are also one of the attractions along the Heritage Trail in Elkhart County. Amish Acres is a seasonal attraction so check dates to avoid disappointment.