It's easy to visit the Azalea Path Arboretum & Botanical Gardens and be awestruck. Most people who visit - even smartphone entranced children - are mesmerized.
But there's a story behind the 60 acres and 2000 azaleas in Southern Indiana that's just as beautiful as the flora and fauna that unfolds before your eyes.
Beverly Knight, along with her husband Steve, became inspired by the gardens she encountered as a driver for UPS and eventually began collecting starts of plants and trees from customers on her routes. She became acquainted with noted azalea hybridizer, Dr. Henry Schroeder, and thus began what is now one of the largest collections of azaleas in the Midwest.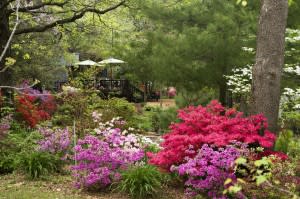 The Azalea Path now hosts 37 out of the 38 hybrids of Schroeder Azaleas plus the complete collection of Buddy Lee's Encore Azaleas. In 2011, the Azalea Path was honored to host the national convention of the Azalea Society of America.
The attraction straddles the Gibson and Pike County lines in Southern Indiana and directions there can be found on the website. Peak bloom time for the azaleas is typically the end of April through the first two weeks of May, but the park is beutiful right now and will fold up in October.
Wood carvings created from trees damaged by straight-line winds in 2004, and chainsaw carvings adorn the path and photography is allowed, with some caveats. Visitors are encourage to contact the Azalea Path regarding policies for professional photographers, wedding and special events reservations.
General Admission: $2.00/person (children 2 yrs. & under – Free)
Guided group tour: $4.00/person; self-guided tour - $2.00/person
School field trips – Free
Groups of 6 or more requesting a guided tour must make advance reservations; call for motorcoach group tour pricing.
Bus parking available.
Donations accepted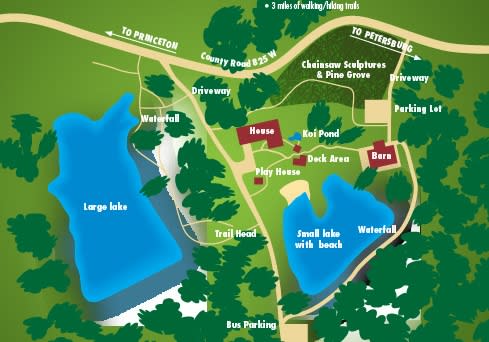 A map of the grounds highlights the wonders of the attraction