Shopping for antiques is a long-time favorite activity of my family's. My mother and I have taken many trips to shop for antiques over the years and it's always fun to reminisce while finding items from your past like a lunch box identical to the one I had in third grade "Charlie's Angels" to be exact or a bowl just like grandma's. Now, my children have discovered the same love of cruising through the aisles of antiquity to find all kinds of treasures.
So this past weekend we headed up to Angola in Steuben County which is located in the most northeastern part of the state and is accessible via I-69 or the Indiana Toll Road. Angola is a mid-sized city that draws in crowds in the summertime with it's 101 lakes but also has a great selection of antique shops that are busy year-round.
What we enjoy most about antiquing in Angola is that there are several good quality shops in very close proximity to each other, so despite the cold we were able to quickly move from shop to shop. Our trip consisted of a total of six shops of varying sizes and a quick sit down lunch in a cozy downtown deli. The first stop is located directly off the interstate so you don't have to wait long to start shopping once you reach the exit. The remainder of the shops are just a few miles up the road near the main circle downtown that also features boutiques and restaurants that you can add to your trip.
Homestead Antiques 185 N. Hetzler Facebook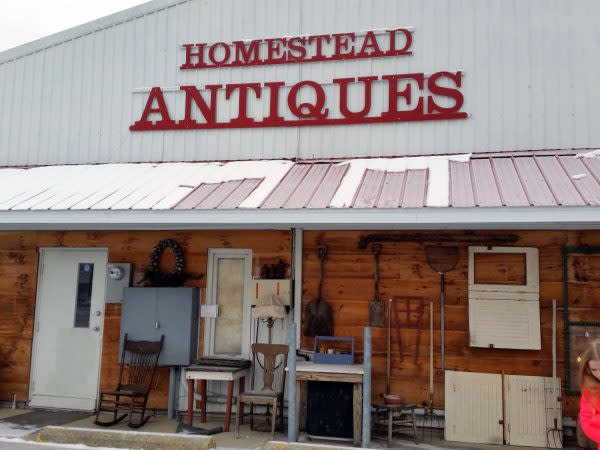 This antique mall is located directly off I-69 exit 348.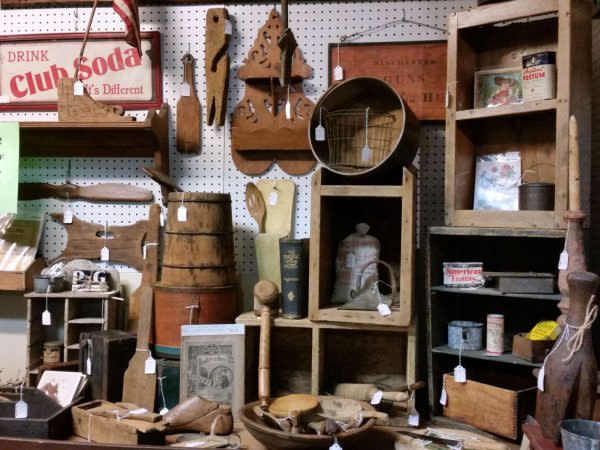 We were impressed with how gorgeous this shop is decorated and the merchandise is well displayed. They have a great selection of primitives.
Then and Now 200 West Maumee Street Facebook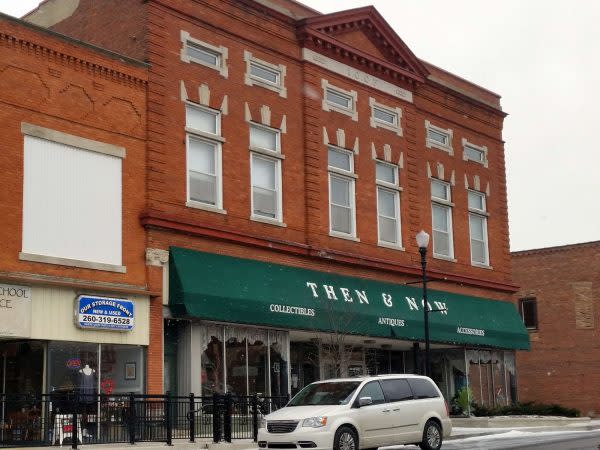 This antique mall is located just a few blocks off the circle. You are going to want to allocate a large amount of time to get through this store. We spent at least 90 minutes here.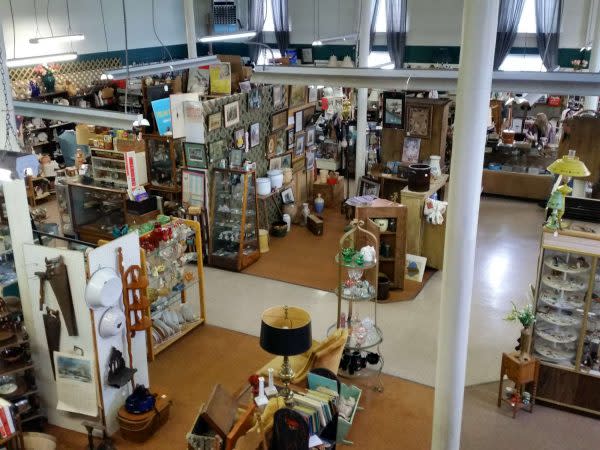 View of the back room from the stairs to the second floor. This place goes on and on with three full floors of antiques. I'm not sure we saw everything.
Sassafras & Sage 208 W. Maumee St. Facebook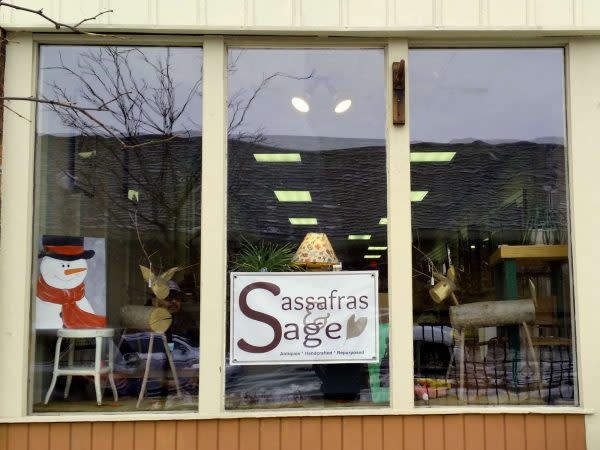 Sassafras and Sage is located just two doors down from Then and Now.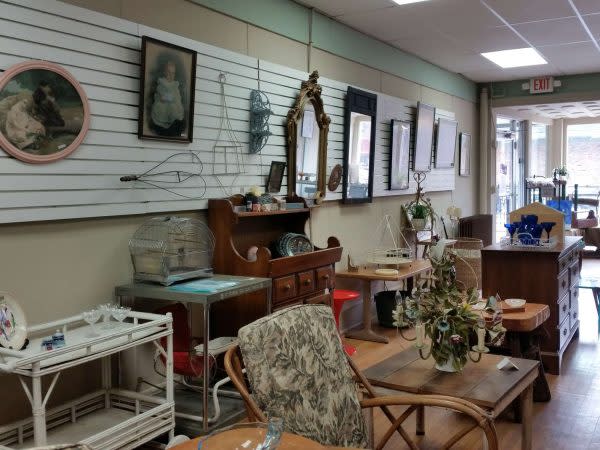 The shop is bright and cheery and features antiques/vintage items as well as a selection of little girls items i.e. tutus, jewelry, bath bombs etc.
MJ's Uptown Antiques 101 West Maumee Street (260) 668-6182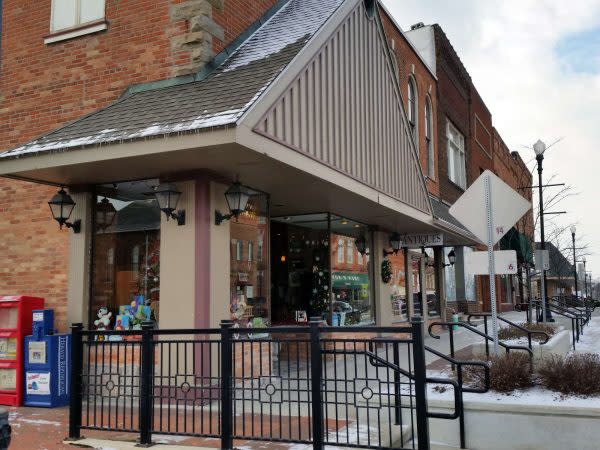 Located right on the circle, we were easily able to find parking right in front of the shop. There's an entrance right off the side of the building.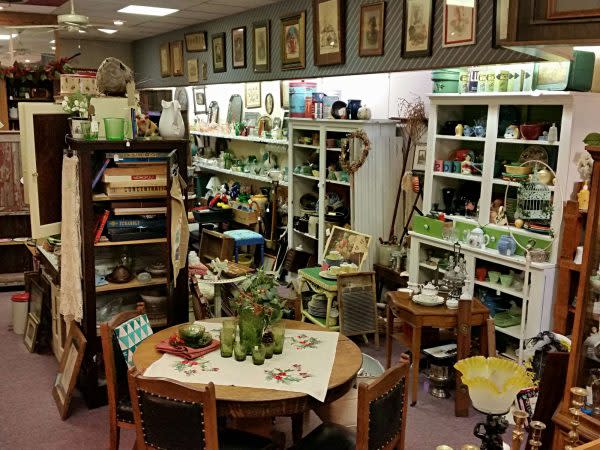 This is another beautifully decorated shop that has multiple floors and multiple store fronts. This was one of our favorite stops.Not Just Antiques 25 South Public Sq. Facebook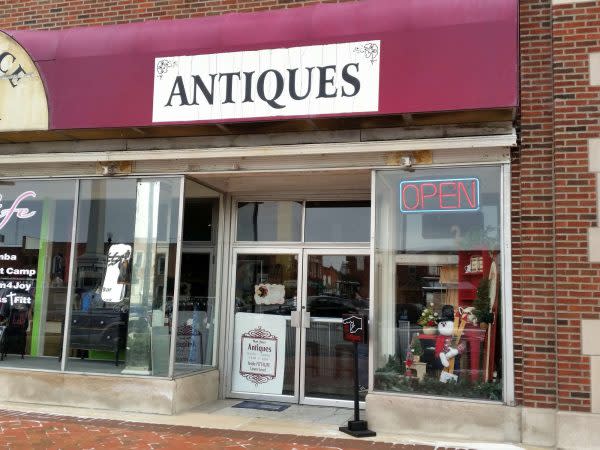 Enter the main doors and Not Just Antiques is located in the basement. The upper floor has clothing items, a juice bar and a fitness studio.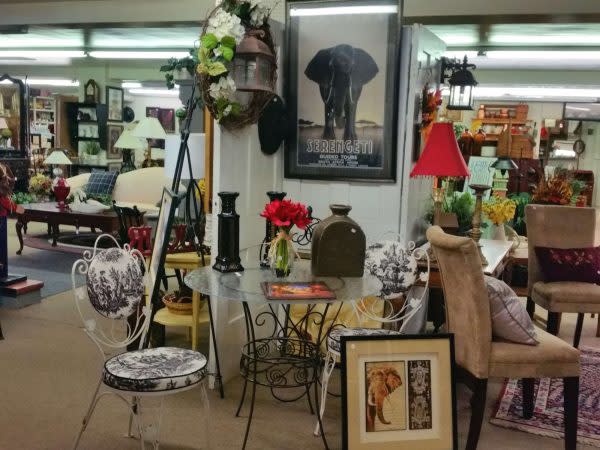 They have a great selection of antiques, gently used furniture/decor, clothing and shabby chic items. Not Just Antiques also had some adorable painted furniture.
A Wild Hare Antique Mall 401 N. Maumee St. Facebook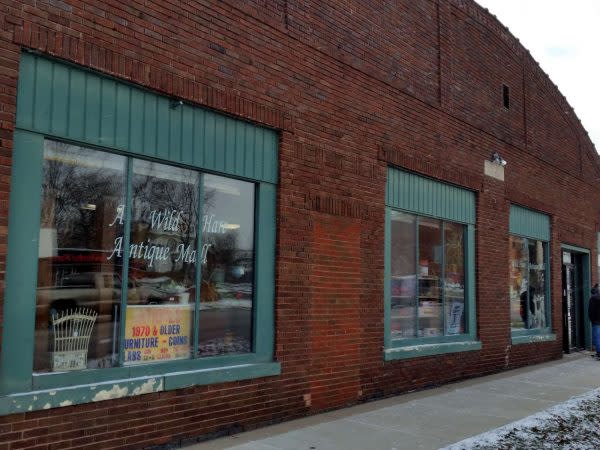 This shop just a few blocks from downtown specializes in items prior to 1970. Located in an old dealership, they've been selling antiques for over 24 years.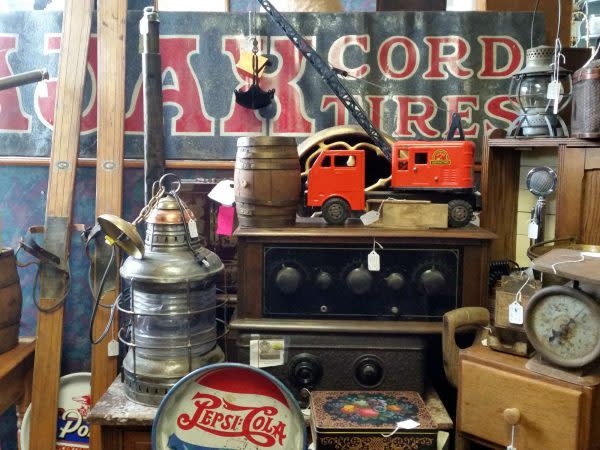 The shop has several rooms filled with furniture, decor, collectibles and coins. My son found a Russian medal and several coins that he added to his collection.Sutton's Deli 140 Public Sq. Website
We had to mention our lunch because this was our first time experiencing this downtown deli and we were very impressed. The restaurant features soups, subs/sandwiches, deli items, brick oven pizza and baked goods. The meat for our subs was cut fresh and there was no skimping on the amount. It's casual, just step right up to the counter to order your food and then grab a seat or carry it out. Our only regret was not ordering one of the brick oven pizzas which was a popular item among many of the other customers at the tables around us. We will be back and we will be ordering pizza and taking peanut butter cookies to go.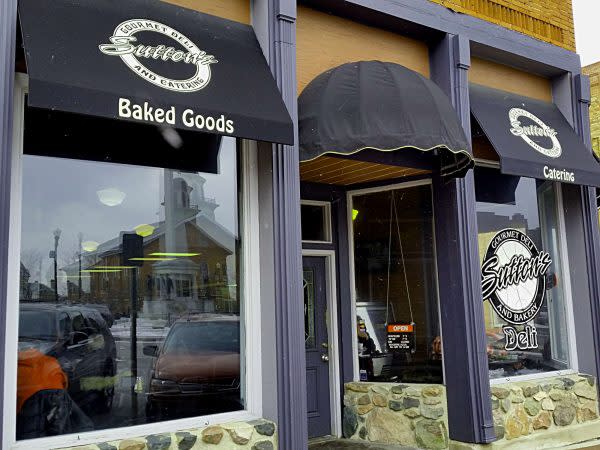 Sutton's Deli is located on the monument circle and is a great place for a quick delicious lunch.
At the end of a long day of antiquing you might want to take a break on the way home for a sit down dinner. Check out this Insider Indiana blog that features restaurants located directly off the Interstate I-69, including one nearby in Steuben County. "Five Must Stop Restaurants in Northeast Indiana."