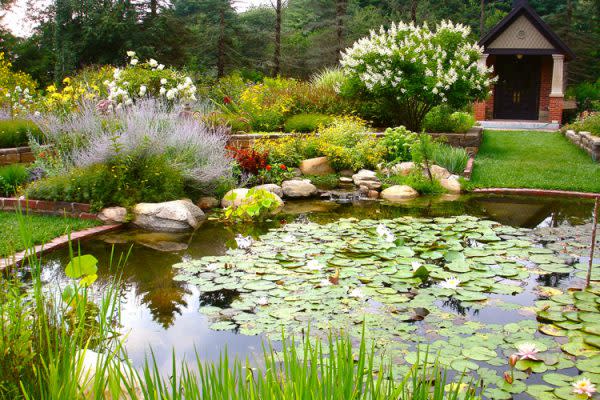 DeFries Gardens southeast of Goshen is a stunning display beauty nestled along the Elkhart River. It is one of the many discoveries visitors can make on the Heritage Trail driving tour.
By Sara Wakefield
The Heritage Trail driving tour in northern Indiana was named one of America's most scenic drives by the editors of LIFE. The 90-mile loop is a gateway to the urban-rural fusion in the Elkhart region, from the trendy shops, galleries and restaurants in downtown Elkhart and Goshen to the parks, trails and rivers or Amish artisan shops, country-fresh cooking and farmland vistas of Amish Country.
Here are the top 10 places along the Heritage Trail that I (and my friends) think more people should know about. While these Heritage Trail gems are not exactly hidden, they're definitely off the beaten path.
In the order of the Heritage Trail driving tour, which starts at the Elkhart County Visitor Center, 219 Caravan Drive, Elkhart: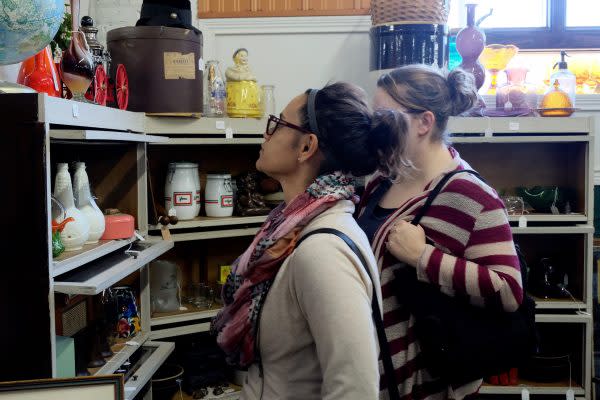 You can easily while away an afternoon antiquing in Elkhart. (Photo By Sara Wakefield)
Elkhart
Beardsley Avenue Antiques District — If you're into antiquing you must hit up Elkhart's antiques district. These five antique shops and malls are all conveniently located in the Beardsley Avenue Historic Neighborhood close to the Ruthmere Museum. You can pick up a handy guide to the Antiques District at any one of the five antique shops: 820 Antiques, Birds Gotta Fly Vintage, Antiques on Beardsley, Tchotchkes, Antiques & More, and Heart's Desire Antique Mall.
Bristol
Fruit Hills Winery & Orchard — The Muir family owns and operates this seven-year-old winery, located on the fruit farm they've owned since 1852. They offer a wide variety of wines including their Traminette, which recently won the Silver Medal at the Indy International Wine Competition. (Fun Fact: Did you know that the Traminette is our state's Signature Wine? Yeah, me neither.) Start out in their cozy tasting room, then take a glass of your favorite out to the relaxing deck that overlooks the vineyards and orchard.
• Details: Open Tuesday-Saturday 11 a.m. to 5 p.m., Sunday noon to 4 p.m. (Yes, they can sell wine on Sundays). Address: 55503 S.R. 15, Bristol, IN 46507
Middlebury
Yup's Dairyland — I'm not the only one celebrating the start of summer with a trip to Yup's. This classic small-town ice cream stand has been serving frozen custard and hard pack ice cream at the corner of S.R. 13 and S.R. 120 since 1959. My boyfriend loves them because they put more (and bigger) candy chunks in your flurry than any other ice cream place.
• Details: Cash or checks only. Open Monday-Saturday 11 a.m. to 8 p.m., Sunday 2 to 8 p.m. Address: 53018 S.R. 13, Middlebury, IN 46540
Shipshewana
Dutch Creek Animal Farm is a cool Amish-owned petting zoo in Shipshewana. My friends with kids love coming here because it's a guaranteed good time for kids of all ages – even if it's raining. In the petting zoo, you can touch baby bunnies, ducklings and chicks. On their safari-style wagon ride you get to feed farm animals and exotic animals such as camels, zebras, buffalo, and reindeer.
• Details: Open Monday-Saturday 9 a.m. to 4:30 p.m. Closed Sundays. Seasonal. Address: 6255 N. 1000 W., Shipshewana, IN 46565.
Goshen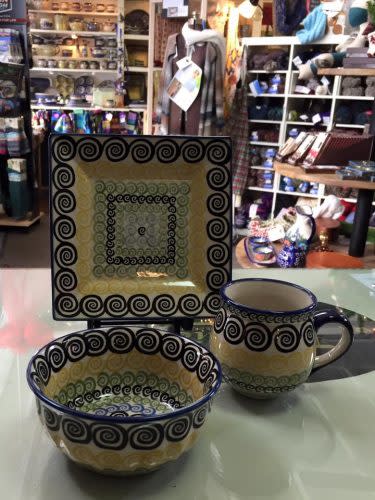 Find a delightful gift for a friend (or yourself) at Reverie Yarn, Decor and Gifts, Goshen. (Photo Courtesy Reverie Yarn, Decor and Gifts)
Reverie Yarn, Decor and Gifts — Located smack in the middle of downtown Goshen, this cheery yarn and fiber shop also has great gifts, especially for young children (including THE BEST British stuffed animals — so tasteful, so cuddly).
• Details: Open Monday-Friday 10 a.m. to 5:30 p.m., Saturday 10 a.m. to 3 p.m., closed Sundays. Address: 201 S. Main St., Goshen, IN 46526.
The Wiener Shack — Sometimes you just really want a good hot dog. If you're in Goshen around lunch time, check out this gourmet hot dog cart right on the northeast corner of Main Street and Lincoln Avenue. You can get ice-cold sodas, chips, classic all-beef dogs, and artisan hot dogs — all made to order. Cross the street and eat your lunch on one of the many maple-shaded benches on the courthouse lawn.
• Details: Open late spring to fall, in good weather. Hours are Monday-Thursday 11:15 a.m. to 2 p.m., Friday and Saturday 11:15 a.m. to 3 p.m. Location: 102 N. Main St., Goshen, IN 46526.
The Depot Thrift Shop — This extensive and orderly thrift store is right next to The Old Bag Factory. It's really three stores: a furniture and hardware store, a clothing and linens store, and a general housewares store. Staffed by friendly Mennonite volunteers. The sensible prices and ultra-organized inventory bring locals here on a weekly basis.
• Details: Open Monday-Friday 9 a.m. to 5 p.m., Saturday 9 a.m. to 4 p.m. Address: 1013 Division St., Goshen, IN 46528.
New Paris
Instead of heading to Nappanee from Goshen, you may consider going southeast on U.S. 33 to New Paris, where you'll find:
DeFries Calendar Garden — You have to see this adorable, free, public garden to believe it. It's lovingly designed and tended; there's no more perfect place to bring a picnic lunch.
• Details: Open daily 9 a.m. to 7 p.m. Address: 17477 C.R. 46 (1.25 miles east of New Paris)
Nappanee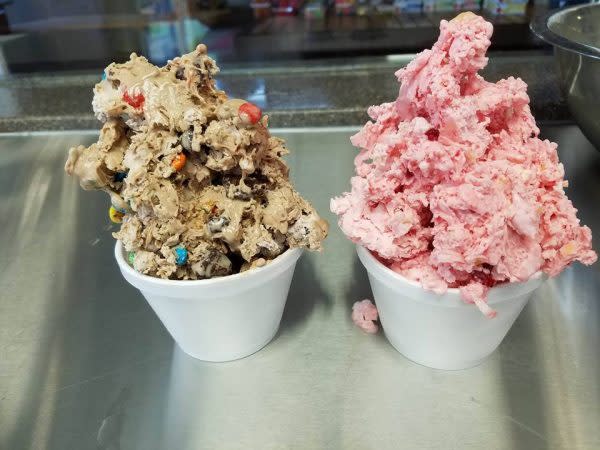 Rocket Science Ice Cream
Rocket Science Ice Cream — Smooth, velvety ice cream flash-frozen by SCIENCE! You choose the ice cream flavors and mix-ins, and then your order is mixed and frozen right in front of you under dramatic clouds of liquid nitrogen. Kids love the gummy worms, I love the fresh strawberries.
• Details: Open Tuesday-Saturday noon to 7 p.m. at Coppes Commons, 401 E. Market St. #14, Nappanee, IN.
Wakarusa
Wakarusa Produce Auction — Here's where you should get that carload of perfectly ripe fruit for canning. This bustling midday flower and produce auction runs three times a week, April through October. In the spring they start out with pallets of flowers in pots, flats and hanging baskets. In the summer and fall you can bid on trolleys, pallets and bushels of in-season fruits and vegetables. And then there's always the concession stand with fresh home-baked cinnamon rolls, breads, cookies and pies.
• Details: Auctions start at 1 p.m. on Mondays and 11 a.m. on Wednesdays and Fridays. Address: 65460 C.R. 9, Goshen, IN.