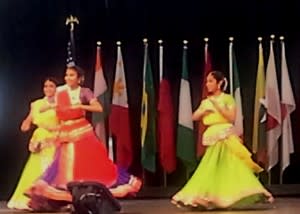 Indian dancers at Indy International Festival sway to music
If your passport has expired like mine, you'll find an easy to experience world diversity at the Indianapolis International Festival. Held this past weekend at the West Pavilion, Indiana State Fairgrounds, it was a wonderful opportunity for anyone to experience dozens of cultures without dealing with airports, crowds or weather.
I love that the Indianapolis International Festival was a family-friendly event. Its low cost provides entertainment and educational value. When my kids were young, the educational element was always a factor in choosing events to attend. Displays from dozens of countries around the world contained items from those countries and representatives dressed in native garb. The costumes were colorful and the people informative. I learned something about countries as diverse as Iran, Egypt and the Bahamas.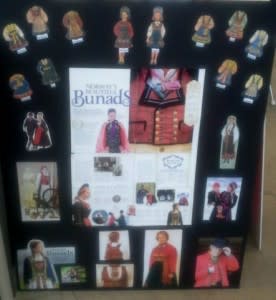 Norwegian costumes The cultural handicrafts for sale in the International Marketplace offered gifts from around the world. These could be great Christmas gifts!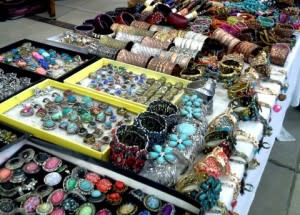 Middle Eastern and Asian dancers featured adults and school-aged children. Their gorgeous costumes swayed and entranced me with the dancers' movements. I especially loved the Tudor Rose Players present ing the Court of Henry VIII.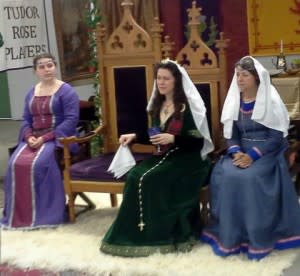 Of course, I had to experience culinary diversity. My Liberian meal consisted of rice with a mild but flavorful sauce. Cassava cake and German Lebkuchen, similar to a gingerbread cookie, made for cool desserts!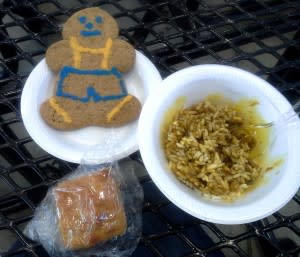 Most portions were small which encourages sampling. Some vendors even offered free samples. Food cost between $1-$5.00 for desserts or snack items and $6-9.00 for full meals.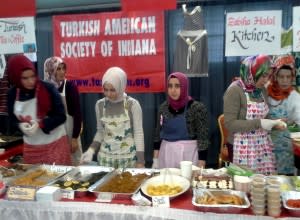 Children sampled foods new to them. What an opportunity to cultivate appreciation for around-the-world flavors. This should be on every Social Studies teacher's list of field trips! The Festival ran from November 21-23, 2014. Hours: Friday, Nov. 21st 2 PM – 9 PM Saturday, Nov. 22nd 10 AM – 9 PM Sunday, Nov. 23rd NOON – 6 PM Admission: $8 advance/$10 at the door.
Although Indianapolis International Festival is done for 2014, I highly recommend making this a stop on next year's calendar!
Go to IndyInternationalFestival.org for more information.