When it comes to arts and culture, my knowledge base is limited. But I do know talent when I see it.
And I've found that there is plenty of it in Hendricks County, where the arts and culture scene continues to blossom.
Coming up July 12-14, a first-time event called Art on Fire will give participants a chance to experience a portion of what Hendricks County has to offer while introducing them to the Indiana Glass Trail.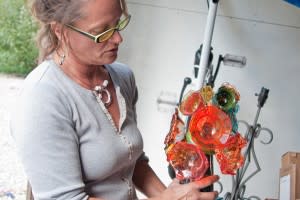 Lisa Pelo, owner of Hot Blown Glass, Ltd., in Clayton finishes up one of her glass creations.
A number of local and even regional hot, warm and cold glass artists will gather for this inaugural three-day event to meet and greet visitors, demonstrate their craft and have their works available to purchase. Lisa Pelo and her Hot Blown Glass, Ltd., workshop will host the event.
I've witnessed Lisa at work, and it truly is a sight to see. I can't even put into words what it is like to watch her and other artists mold a hunk of glass into a work of art. In fact, that is why she and other artists want to host this event to allow visitors to peek behind the curtain and see the magic happen.
The weekend begins with a cookout and informal meet and greet session with the dozen or so featured glass artists from 5 to 9 p.m. Friday, July 12 at Hot Blown Glass, 3717 S. County Road 200 East in Clayton, about five miles southeast of Danville.
On Saturday, July 13, the real fun begins as each of the artists demonstrate their craft, answer questions and leave guests amazed from 10 a.m. to 7 p.m. at Hot Blown Glass. If you can't make it on Saturday or just want to see more on Sunday, demonstrations will continue from 11 a.m. to 4 p.m. on July 14.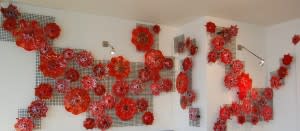 While you're in Hendricks County, you can also see finished glass art in an exhibit setting at three locations:
Artistic Designs Gallery (152 E. Northfield Drive, Suite K, Brownsburg) – On display through Aug. 24.
Gallery on the Square (51 S. Washington St., Danville) – On display through Aug. 3.
Plainfield-Guilford Township Public Library Art Gallery (1120 Stafford Road, Plainfield) – On display through July 31.
You also can explore more Hendricks County cultural offerings by taking a trip on the Rural Routes to Main Street Cultural Trail, a self-directed, self-guided driving tour with more than 30 stops in both Hendricks and Morgan counties. Some of the stops include a couple of wineries, a brewpub, galleries, studios, shops featuring handcrafted gifts and more.
For more information about the cultural trail, visit the Rural Routes to Main Street website. For more information about Hendricks County events, accommodations and more, visit TourHendricksCounty.com.