Indianapolis has countless options to choose from when you have a sweet tooth, but one of my favorites is The Flying Cupcake bakery. The bakery has won a number of awards such as best cupcakes in Indianapolis and was named a top 50 cupcake bakery in the USA.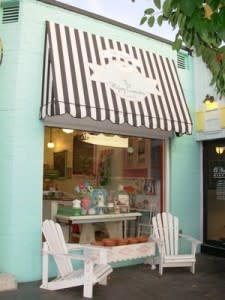 With the bright and cheery design, you can't help but to be drawn into the store from the busy street. Upon walking inside, you want nothing more than to give yourself a pat on the back for deciding to walk into the magnificent palace of cupcakes. The smell of sweet cupcakes creates a wonderful aroma that is hard to resist. With a plethora of cupcakes to choose from, an unusual happy frustration comes over me because I know I can't go wrong with any decision. One of my favorite times to go to Flying Cupcake is for a special occasion such as a friends birthday. Flying cupcake has this awesome deal where you can get a sugary, mouthwatering cupcake for free on your birthday. What better way to celebrate your birthday than that?!?! Flying Cupcake offers a cupcake with a clever name for all cravings. A few of my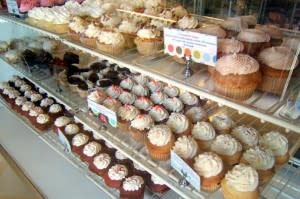 favorites include, "Auf Wiedersehen", a classic German chocolate cake topped with classic coconut pecan topping, and "Caramel Apple Spice", apple spice cake filled with French apples, caramel cream drizzled with, yes you guessed it, more caramel! No matter what your taste buds desire, there is a cupcake waiting for you at The Flying Cupcake! Check out the menu and get ready for the best cupcakes in Indianapolis.