Zombies are certainly in vogue these days. Who knew fresh and lovely would give way to pale and undead?
This time of year, zombies tend to be more than a bit sinister – wielding angry chainsaws and growling incoherent threats. But at Holiday World, the zombies sing, dance, and pose for pictures with audience members.
Indeed, the cast of Graveyard Smash is a rather congenial bunch.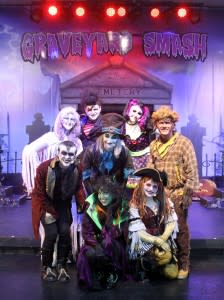 What other shows are performed during Holiday World's Happy Halloween Weekends?
Well, let's see. There's Gourdon the Talking Pumpkin, Kitty's Dance Party and even a Wild & Wacky Halloween Magic Show.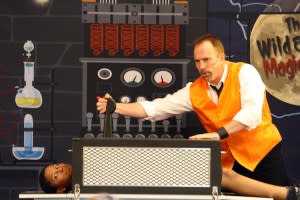 In addition to nearly all of Holiday World's rides (coaster enthusiasts love the after-dark rides!) there are also amazing mazes.
Start with Holidog's 3D Halloween Adventure and then head over to Mummy's Treasure Maze. And be sure to take the hayride to the 12-acre corn maze.
How does Holiday World create its huge maze? Just watch this video to see the process, from "Corn"cept to Completion:
Holiday World's 2013 Corn Maze: From "Corncept" to Reality
If you visit on a Saturday, be sure to stay for the Halloween Laser Light Show. All the shows, attractions and rides are family-friendly. Because, well, it's Holiday World! (And soft drinks, parking and sunscreen are free, just like during the summer months.)
Here's a quick video showing a little bit of everything this Happy Halloween Weekends event has to offer:
And speaking of offers, if you purchase your Happy Halloween Weekends tickets from Holiday World's website, they're available for the discounted price of $24.95 for General Admission and $17.95 for Guests-under-54" and Seniors (60+).
And in case your children ask how many pumpkins are used to decorate the park - we counted for you: the answer is 2,913 pumpkins. Orange you glad we told you?