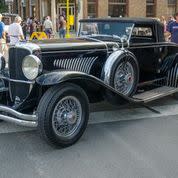 If you thought the world's greatest classic collector car show and sale took place in California, London, or Monte Carlo, you'd be wrong. It takes place 20 miles north of Fort Wayne in Auburn.
The Auburn Fall Collector Car Auction takes place at the Auburn Auction Park (5536 County Road 11, August 27 - August 31.
Every Labor Day Weekend, car enthusiasts from around the world arrive in Auburn to examine and bid on thousands of classic, celebrity, high-powered sports and race cars at the historic Auburn Auction Park. The auction features a diverse roster of classics, hot rods, exotics, muscle cars.
Cost: Weekend passes are available for $50 (including parking) with daily admission available for $15 /person. Children 12 years and under have free admission throughout the weekend.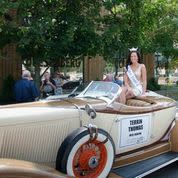 Auburn has been known as the 'Classic Car Capital of the World' since the early 1900s when the renowned Auburn boat tail speedsters and the front-drive Cords were manufactured there. The Auburn Automobile Company owned Duesenberg, Inc., the builders of Americas' finest and most luxurious motorcars. Workers at those plants lost their jobs when the factories were shut down during the Great Depression of the 1920s and '30s.
In 1956, 42 owners of these makes of cars formed a club to honor their beloved automobiles and the workers who made them. They chose Auburn as their annual meeting site and drove their classic cars through town, nearly unnoticed to passersby. That event gave rise to the annual Parade of Classics and the ACD Festival that has grown up around it.
This year The Cord L-29, Duesenberg J and 1931-1933 Auburns are featured in the parade.
The Parade of Classics is one of my favorite events of the festival. At 1:00 pm on Saturday, August 30, you'll find me standing along the parade route, ogling over those big, shiny classic vehicles as they proceed through the tree-lined streets of Auburn.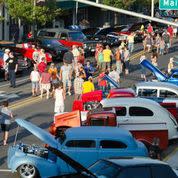 Afterward, I stroll to the Courthouse Square where the car owners have parked their vehicles to allow spectators opportunities to admire their famous cars from yesterday. As fun as it is to watch the cars inch along during the parade, it's really cool to stand along side them and have your photo taken.
Other events for the festival include 5k run, antique, art and craft shows, historical home tour, car raffle, concerts, food truck mobile tour and ice cream social.
A new event this year at the festival is the Next Gen Education Summit, held at the National Automotive and Truck Museum , Friday 1:00 to 5:00 p.m. Automotive experts from around the world and Worldwide Auctioneers who participate interest weekend's auctions will offer students a hands-on opportunity to learn about this industry. Contact Worldwide Auctioneers for more information and registration. What a cool way for future engineers or mechanics to learn tricks of the automotive trade!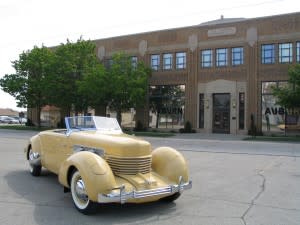 If you desire to see even more classics up close and personal, visit the Auburn Cord Duesenberg Automobile Museum, 1600 S. Wayne Street in Auburn.
More than 120 vintage antique, classic, prototype and one-of-a-kind cars are housed in the former administration building of the Auburn Automobile Company. The building itself is something of a marvel for architecture and is listed as a National Historic Landmark.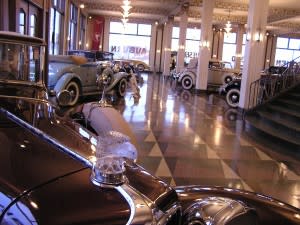 Hours: Monday - Friday 10:00 am - 7:00 pm, Saturday - Sunday 10:00 am - 5:00 pm.
Admission: $12.50 adults; $7.50 students; children under 6 years free; group and family rates available.
This is only one of several museums in the area, many automotive-related. You may want to extend your trip to Auburn a day or two to see them all!
The Auburn Cord Duesenberg Festival continues for several days, which means there still time to feast my eyes on some gorgeous vehicles. If I see you at the courthouse after the Parade of Classics, will you take my photo with a Deusy?
The End