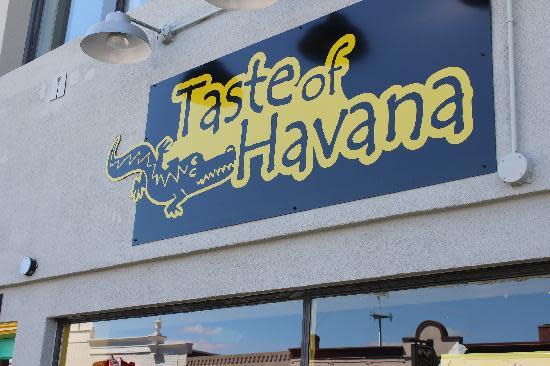 It is difficult now days to find truly authentic experiences. In today's world of knockoffs and spinoffs it is easy to be fooled or bamboozled into believing something is the real deal. Well, if you are looking for a genuine slice of Cuban cuisine/culture make sure to stop by 815 Broad Ripple Ave, Indianapolis and grab yourself a bite to eat and a Jupiña or an Ironbeer to drink.
I am proud to call myself a Cuban-American. I was born and raised in Miami, Florida surrounded by the Cuban culture and brought up by my grandparents who were 28 and my mother who was 4 years old when they left Cuba as political refugees. They made it a point to make sure that myself and my brother and sister would grow up as Cuban as possible.
I grew up on Cuban sandwiches, Pan con Lechon (pork sandwiches), Pan con Bistec (steak sandwiches), Pastelitos de Queso y de Guayaba (Cuban pastries filled with deliciousness), and café Cubano (Cuban coffee aka rocket fuel). And it was to my extreme delight when I arrived back to campus this August and saw this little hole in the wall Cuban café on Broad Ripple Ave.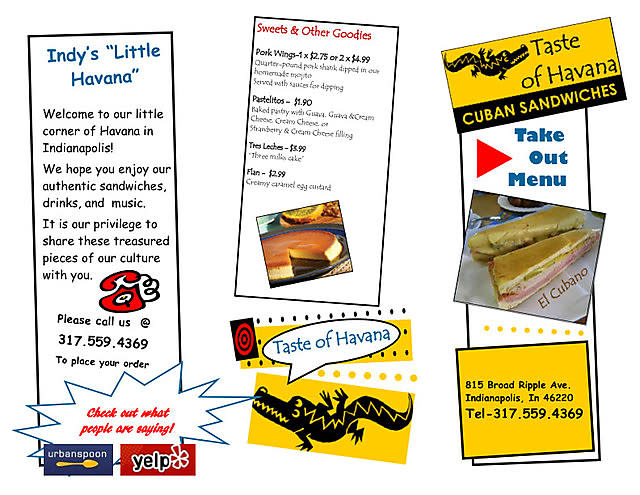 Menu
I walked in very skeptical and did not introduce myself, ordered, and when I was asked for my name changed it to Ryan to not give the Cuban owner and his daughter at the cash register any idea that I was of Hispanic descent, just in case the food wasn't up to standards.
After my first bite, I picked up my phone and called home and told my mom I needed some more money in my debit account, as I was going to be eating outside of the school cafeteria more often.
The food took me back home faster than any car, bus, or airplane ever could. It was perfect from the sandwiches, to the drink selection, to the music being played.
If you want authentic Cuban, go get yourself a Taste of Havana.