If there's one show that I absolutely clamor for at Beef & Boards Dinner Theatre, it's the Church Basement Ladies. This month, Beef & Boards is showing A Mighty Fortress Is Our Basement, bringing Mrs. Snustad, Mrs. Gilmerson, Karin Engelson, and Pastor Gunderson back to their subterranean abode of Jesus, love, and food.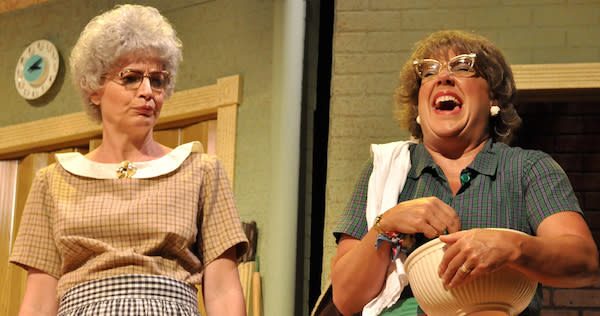 Vivian and Mavis of the Church Basement LadiesIt's 1960, and 15-year-old Beverly Engelson is going through confirmation, Karin is learning how to drive, Mrs. Snustand and Mrs. Gilmerson want to raise money by selling food at the county fair, and Pastor Gunderson is getting married, much to the displeasure of Mrs. Snustad (who, frankly, is displeased at everything).
Everything is changing, and like every good Lutheran did in the mid-20th century, the CBLs do their very best to resist change and keep things the way they always were. But time, like dripping water, wears away the rock, and our heroines learn that they're just going to have to (slowly) roll with the changes, and (reluctantly) learn new lessons.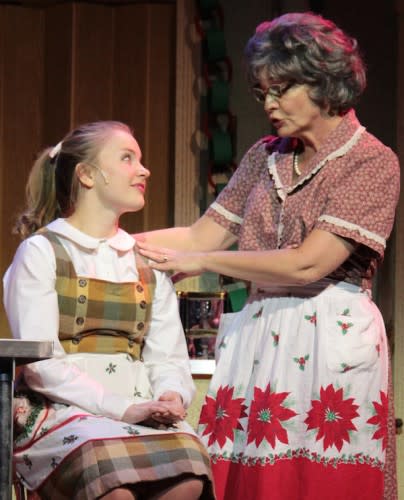 Beverly Engelson (Hillary Smith) and her mother Karin Engelson (Carrie SaLoutos)If you're a fan of Church Basement ladies, you'll be pleased to learn that many of your favorites have returned to reprise their roles: Licia Watson (Vivian Snustad), Karen Pappas (Mavis Gilmerson), Eddie Curry (Pastor Gunderson), and Hillary Smith (Beverly Engelson). Carrie SaLoutos, who was actually on the national tour of A Mighty Fortress Is Our Basement, shows up as Beverly's mother, Karin.
There are a total of 52 performances at the Beef & Boards Dinner Theatre, with tickets ranging from $38.50 to $63.50. All tickets include Chef Odell Ward's dinner buffet and select beverages.
Beef & Boards is located on the northwest side of Indianapolis at 9301 N. Michigan Rd., near The Pyramids. For reservations, call the box office at (317) 872-9664 between 10 am and 7 pm (or 10 am – 5 pm on Mondays).
For more information, including complete show schedule, visit beefandboards.com.
Photo Credit: Beef & Boards