The time is drawing near. Soon women (and a few men) from all over the country will be gathering in Fort Wayne, Indiana for one grand event. It's an event like no other. An event that brings over 60,000 people to the Allen County War Memorial Coliseum.  What is it that draws everyone in? The Vera Bradley Outlet Sale.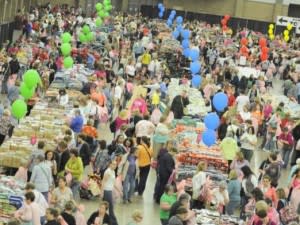 The sale is a true "bucket list" experience.
That's right, Fort Wayne is expecting over 60,000 people to attend the Vera Bradley Sale April 9-14 at the Coliseum.  Tickets for the event went on sale (they're $5 each) February 1.  If you want to attend the during the first three days of the event, you'll need to purchase a $5 ticket.  Visitors can save the $5 admission fee by attending the event between April 12-14 when it's open to the public.
We've asked some veteran attendees for some tips on getting the most out of the sale.  Here are there tips:
Bargains are better shared There's nothing better than bragging about your bargains to your friends.  Bring friends with you and plan to have fun!  You'll see fun groups of friends in matching t-shirts, decorated cars, and lots of creativity.  A company as fun and beautiful as Vera Bradley is sure to inspire a little creativity among shoppers.  This is your chance to let loose and have a little shopping fun.
Be ready to explore The products available at the sale are not part of Vera Bradley's current line.  They're former favorites that will be available for a substantial discount (up to 65% in some cases).  This is your chance to find a pattern you love at a great price or discover one you had forgotten about.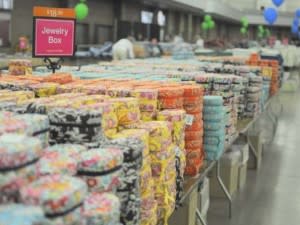 Amazing deals are in the bag!
Jennifer Daniels, a veteran sale shopper from Detroit, tells me that she makes a list and has an idea of what she wants.  "While they don't list the patterns that will be available or the types of bags, have a list of what bags you want and/or want to look for," she says.  "If you are going the second day or later, definitely check blogs and online forums.  People will post what is available, prices, and often photos."
Patience is a virtue, especially at the sale. "There's plenty of product to go around, so try to be patient," says Stephanie Jones of Valparaiso, IN.  Stephanie's a veteran sale goer who typically brings her mom with her to the sale each year making it a fun mother daughter outing.  Stephanie assures us there's more than enough product for everyone so a little patience and a friendly smile can go along way when navigating 60,000 people.
Leave the strollers and little ones at home The sale is very busy and very crowded.  While Vera Bradley does not prohibit either one, strollers and little ones will make it hard to navigate the crowd.  Leaving your favorite little people in the care of a loved one will provide you ample time to shop and enjoy yourself.
Comfort and nutrition is key You're going to be on your feet a lot at the sale.  Whether you're in line to get in (the wait could be up to 45 minutes) or you're inside shopping you're going to be on your feet.  While Vera Bradley is all about fashion, fashionable comfort will give you the patience to go the distance at this event.
Don't forget some high protein snacks too.  Some nuts or a protein bar along with some water will help you stay focused on finding that deal you've been waiting all year for.
Consider your favorite Vera Bradley cross body bag instead of your standard large tote.  This will leave you hands free and provide you with plenty of room for a cell, credit cards, and snacks.
Where to stay and play when you're not at the sale If you're turning your trip into an overnight stay, check out the Holiday Inn at the Coliseum. It's just across the street from the sale and will offer free shuttle service to and from the sale. Other hotels offering discounts for sale shoppers include The Country Inn and Suites, Hampton Inn and Suites, Fort Wayne Hampton Inn Southwest, Residence Inn, Hilton Fort Wayne at the Grand Wayne Convention Center, Baymont Inn and Suites, Hampton Inn, and Hotel Fort Wayne (formerly the Marriott at Coldwater & I69). Find the right place for your group on the Visit Fort Wayne website.
Why not relax and enjoy a massage or a pedicure after the sale? Check out Intouch Salon and Spa, Massage Envy, or Woodhouse Day Spa to enjoy a little "me" time while you're in town.  Reservations are required at all locations.
You'll need to stay nourished after all of that shopping so head on over to some of Fort Wayne's great restaurants.  For a wonderful steak dinner near the sale make reservations at Cork and Cleaver or Baker Street.  If you're looking for something a little more casual check out Triangle Park Bar and Grill, Applebees, or Ruby Tuesday's. For a quick bite there are great eateries such as Five Guys, Chipotle, and Penn Station nearby.
If you're not shopped out from the sale, check out Fort Wayne's great malls.  Glenbrook Mall is just down the street from the sale with stores such as Macy's, JCP, Lane Bryant, and Eddie Bauer.  Jefferson Pointe mall is located on the southwest side of Fort Wayne and will provide shopping at stores such as Von Maur, DeBrands, Williams-Sonoma, Black House White Market, and Vera Bradley's flagship store.
Why not enjoy the outdoors while you're in town with the TinCaps home opener at Parkview Field on April 11 at 7:05.  This is a great opportunity to enjoy downtown Fort Wayne and grab a ballpark dog, cold beer, and their amazing apple dumplings. Other downtown must-sees are the Fort Wayne Museum of Art and the Botanical Conservatory.
For more information, check out this detailed FAQ page. I'll see you at the sale!