Last month we had tickets to a concert downtown and it gave us the perfect excuse to try a new restaurant - Barcelona Tapas.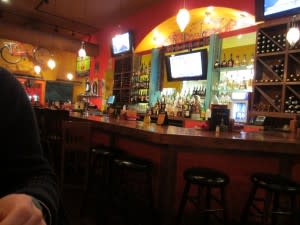 The service is designed to give you an traditional tapas experience you might find in Spain. If you are like me and you aren't familiar with the tapas term, let me help. The food is prepared to order and delivered to the table plates at a time. And bonus ... the sizes are meant to share.
I highly recommend starting with a pitcher of the sangria. Definitely adds to the dining experience! We got the white. Yummy.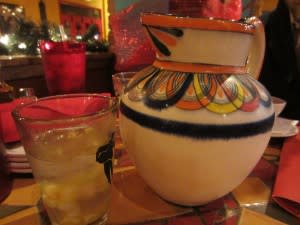 We had a very difficult time choosing what to order. (See menu below.) Plus, we weren't sure how full we were going to get. Which is completely fine since you can order as you go with no pressure!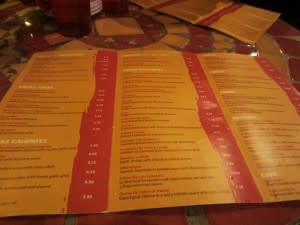 My husband is a huge gazpacho fan. Me ... not so much. Not only did I not taste a bite, I didn't even get a picture. But, he did make the comment that if the pitcher was full of the gazpacho he would finish it all. I guess it was good!
We each took turns choosing what to order so I decided to start with Bacalao - crispy codfish and potato cakes. I was sad I had to share mine ...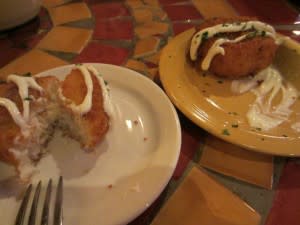 My husband's next pick was Albondigas - or Spanish meatballs. Excellent choice.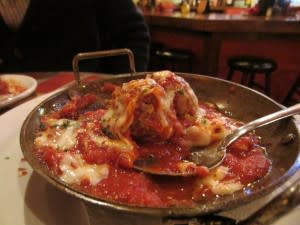 At this point we still had several things left on the menu we wanted to try, but were quickly getting full. We ordered the Macaron Y Queso - fancy mac-n-cheese.
You probably guessed it, but after that serving we were stuffed. We even had to get a to-go box.
Needless to say, we already know what we want to order next time: artichokes, calamari, and the list goes on.
If you are downtown and looking for a unique dining experience, check out Barcelona Tapas. Our only complaint was that we didn't go with friends which would have allowed us to order and share more!
For more information on events, attractions and lodging downtown, be sure to check out Visit Indy.