I hadn't visited Batesville for a while and wanted to see the new renovations at The Sherman, so I picked up a couple of friends and headed up SR 129 to check things out. A theme of sorts began to develop as we explored the downtown. We visited four businesses that have been in operation for 387 years - what a fantastic accomplishment!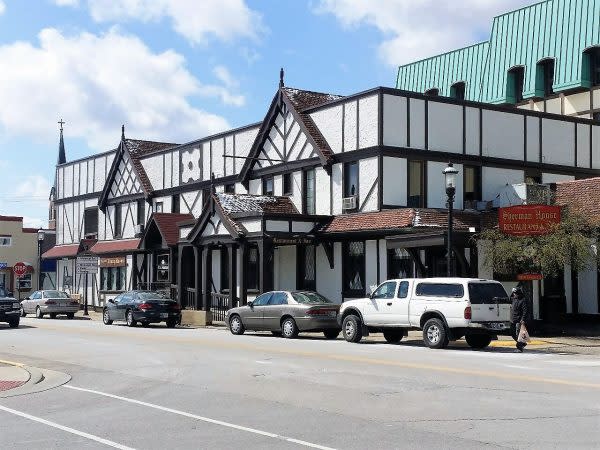 The Sherman
The Sherman House in Batesville has been a landmark for 165 years. It is one of the oldest buildings in town and was built by John Brinkman in 1852 and is known as The Brinkman House. Around 1865, the name was changed to The Sherman House to honor General Sherman's service in the Civil War. 1923 John Hillenbrand purchased the building and began acquiring the surrounding properties. In the early 1950s, celebrating the community's german heritage, Hillenbrand began remodeling the properties to reflect a German Tudor theme. Doug Bessler became the owner in 2006 and operated the restaurant & inn until January 2015, when it was closed.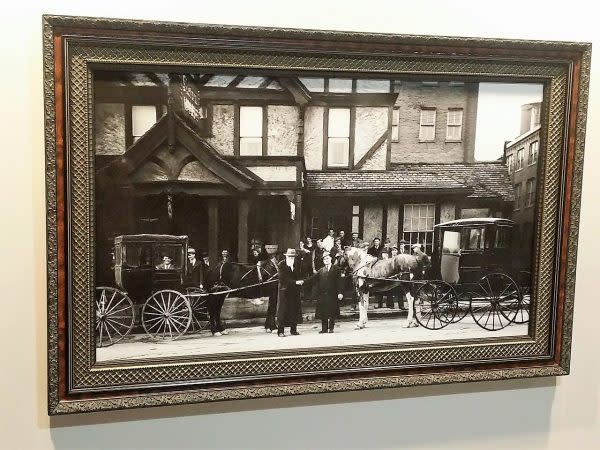 A Look Back in Time
In 2016, The Sherman House was purchased by HPH Hospitality. The new owners began a total renovation while retaining the property's historic integrity. They also acquired the four-story American Furniture Factory building next door, and plans include turning the first floor of the furniture factory into a traditional German Gasthof (pub). The goal is to offer a place with something for everyone and where everyone is welcome.
The name has been changed to The Sherman, but the old-world charm, traditions and heritage of The Sherman House remain. The hotel rooms are currently under renovation and expected to reopen soon.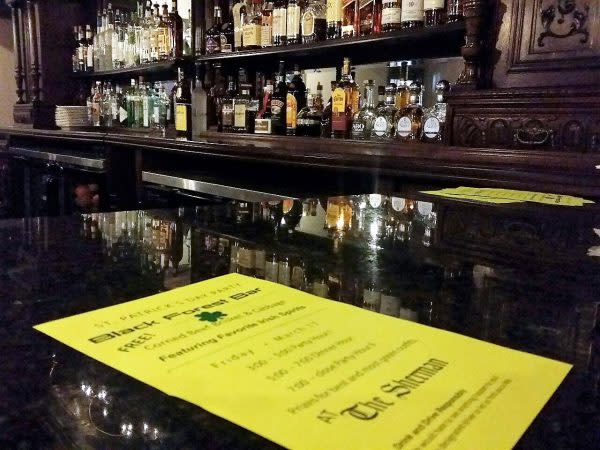 Beautiful Black Forest Bar
The restaurant is now open, and there is a new Black Forest Bar, including a beautiful authentic bar imported from the Black Forest. While there, check out the tremendous historical pictures that decorate the walls. The new owners are working with a chef from Germany to perfect additional authentic German dishes that will be added to the menu over time.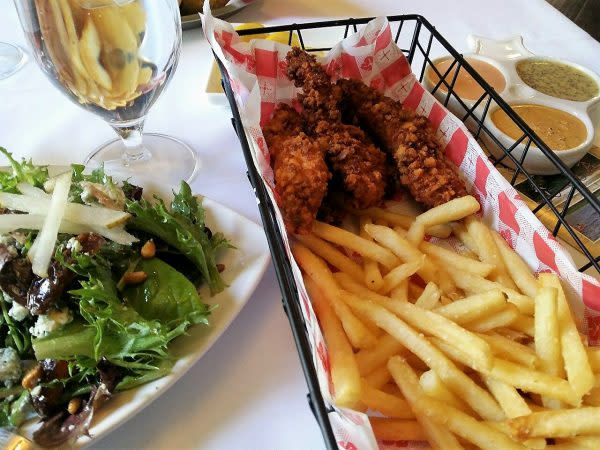 Delicious & All For Me!
"What about the food?" Of course, we had lunch! The lunch menu included appetizers, burgers & sandwiches, salads (love that you can order half and full size), entrees and desserts. We tried the Caesar salad, the date, blue cheese & pear salad (my fave!), hot creamy crab dip, pretzel-coated chicken strips with three dipping sauces, the Reuben sandwich (Martha's fave!), and spaghetti bolognese (Katherine's fave!). Desserts were tempting (7-layer lemon cake, four-layer midnight chocolate cake, cheesecake and more), but we couldn't do it. Next time, for sure.
Rediscover The Sherman or try it for the first time; it is an excellent place for the family, a romantic dinner (little dining nooks for just the two of you) or a fun time with friends. They are open daily and easy to get to, just a short hop from I74 or SR 129.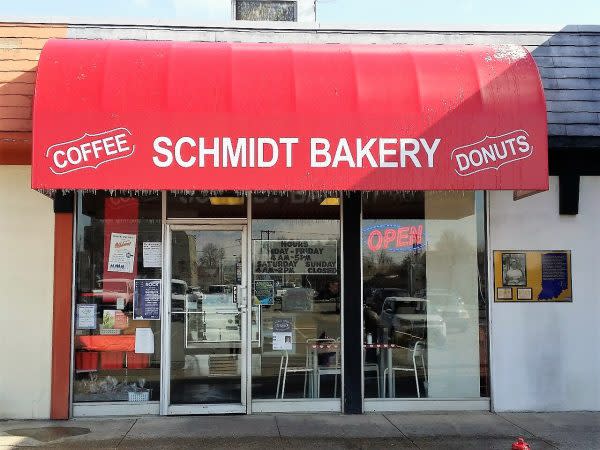 Indulge Your Sweet Tooth
We had to stop at Schmidt Bakery (within easy walking distance of The Sherman), a family-owned, full-service bakery in business since 1963. Martha's granddaughter, Sally, couldn't resist the large selection of doughnuts, and I talked Martha into buying one of the yummy coffee cakes because I didn't want to eat a whole one by myself. The truth is, I did want to, but I've matured! I did get a luscious cream horn to take home.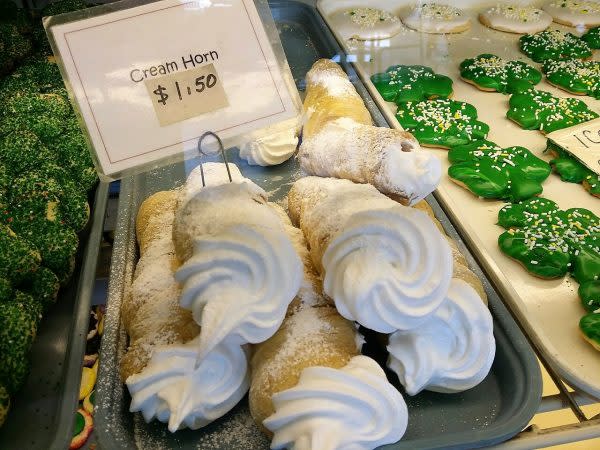 Come to Mama!
Cakes, cupcakes, buns, coffee cakes, doughnuts (said to be the best in town), pastries, cookies and even doggie treats!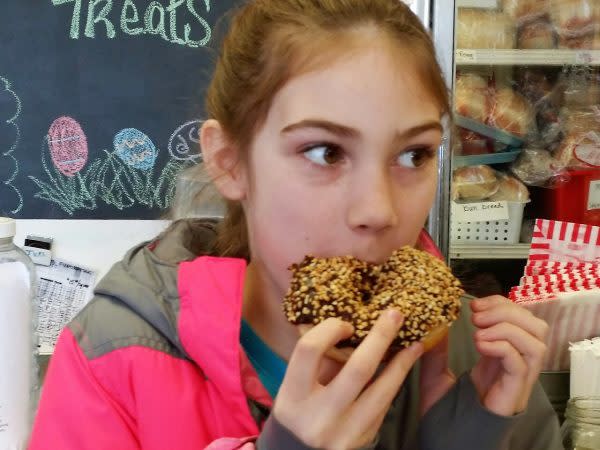 Donut Heaven!
If you want a once-a-year special treat, mark your calendar for President's Day, Feb. 16-19, 2018. Schmidt Bakery is famous for its Cherry Thing-a-Lings, which they only sell this weekend. In 2017, they sold 82,908!  That's a lot of Cherry Thing-a-Lings!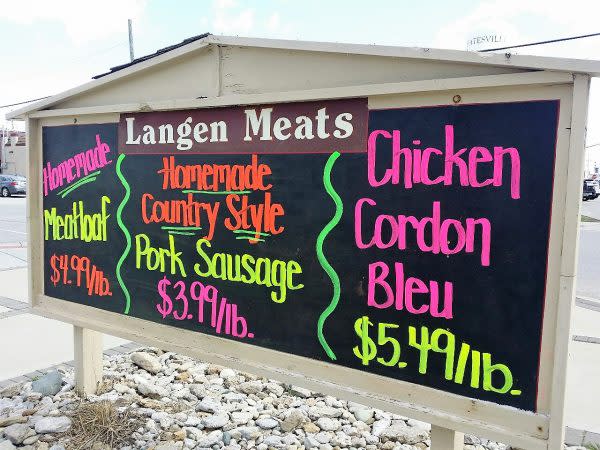 Bring a Cooler!
Just across the street, we saw Langen Meats, and we had to check it out. If you love to cook and appreciate beautiful ingredients like I do, this must stop. When you step inside, it is apparent why this 1924 family-owned and operated butcher shop is celebrating its 30th year in its Batesville location. The first things I noticed were the delicious spicy aromas, the vast selection and beautiful displays of meats and the friendly atmosphere.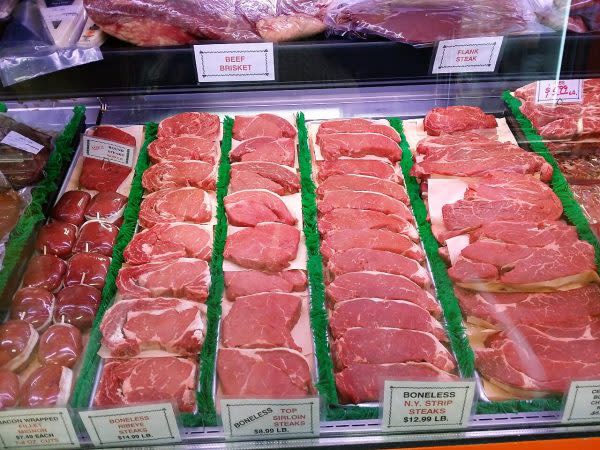 Fire Up the Grill!
They hand cut, smoke in-house, prepare salads & sides, hand make soups & stocks, make their sausages/goetta/bacon/some lunch meats and more. They even offer smoked potatoes!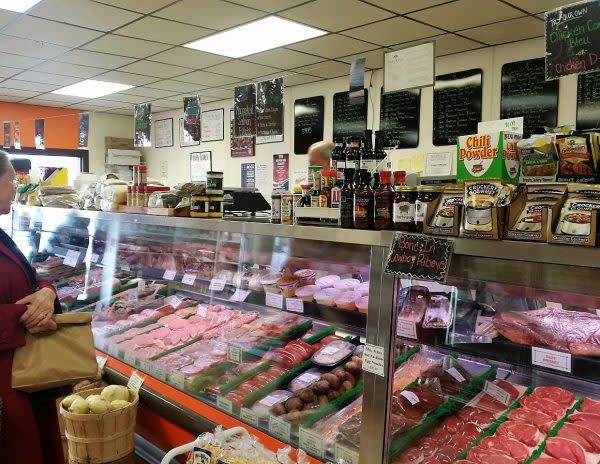 Too Much Temptation!
I love finding places like this and taking home culinary ingredients. Throw a cooler into the car, make this your last stop before heading home and indulge your love of cooking.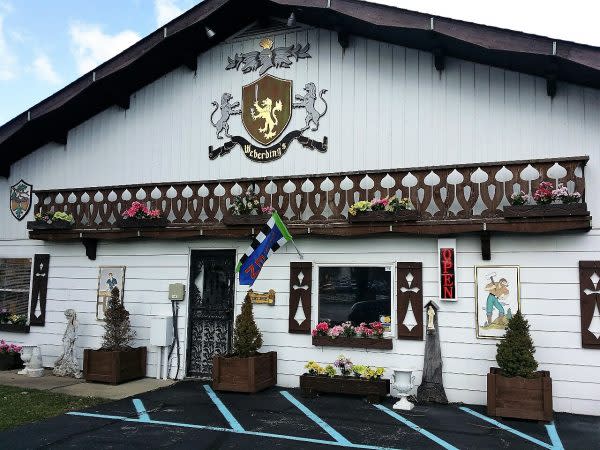 WeWeberding'sarving Shop
On the way home, we stopped at Weberding's Carving Shop, a Batesville treasure for 75 years. Weberding's was founded in 1942 by William J. Weberding, who started carving at age 6. His legacy has been passed down to his three sons, who continue to operate the business today. When we stepped into the shop, we were treated to a warm welcome, a bit of history and an invitation to explore the large display rooms.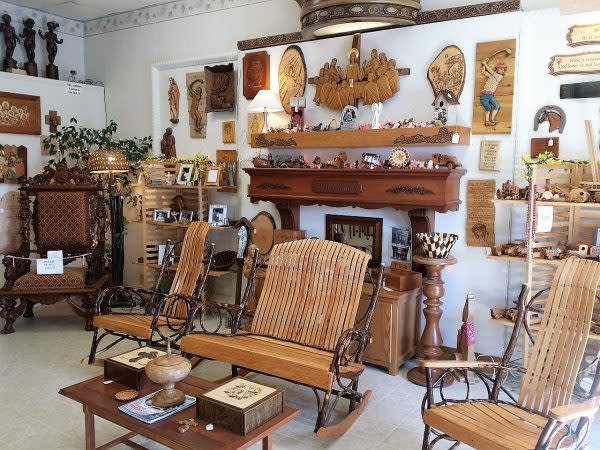 Just a Sample!
Weberding's specializes in custom furniture, church furnishings, wood carvings, statue restoration, antique furniture restoration/repair/refinishing and more. The shop has a vast selection of wall art of all sizes for your home or business, including some of your favorite Indiana colleges/universities.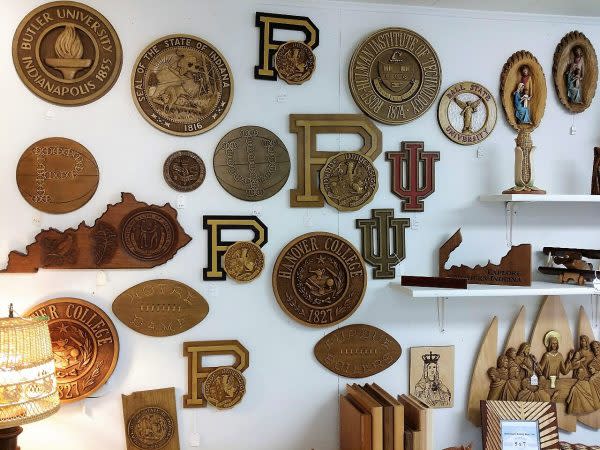 Find Your Alma Mater
If you are a nativity collector, you'll find all sizes to choose from, along with many religious carvings. There are all sizes and shapes of cutting boards –which "are the perfect gift or beautiful addition to your kitchen.
If you appreciate beautiful wood carvings, are looking for something meaningful and unique for your home or need a special heirloom restored, Weberding's Carving Shop is the place you'll want to visit.