You do things for your kids when they're young, like sitting through the same Disney movie over and over 18 times in a single week. It's why a lot of parents are familiar with the whole Disney pantheon. It's how I became familiar with Mary Poppins, even though I had seen it once when I was a little kid.
When my oldest daughter was young, I watched Mary Poppins a few times with her, always getting caught up in the story, the ability to combine animation and live action back then, and even Dick Van Dyke's horrible English accent.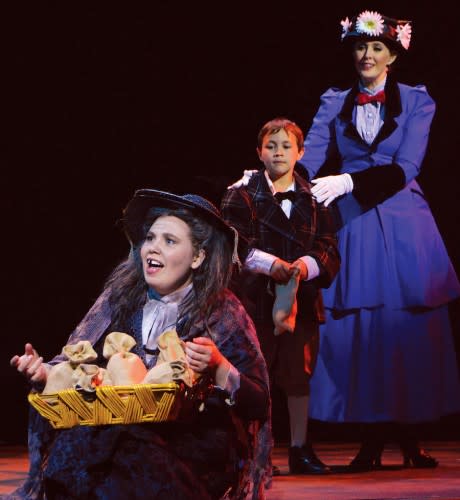 The Bird Woman (Chelsea Leis), Logan Sejas (Michael Banks), and Cara Statham Serber (Mary Poppins)
But it wasn't until Saving Mr. Banks came out that I realized Mary Poppins was about anything other than a fun-but-no-nonsense nanny making a couple bratty kids behave. After Saving Mr. Banks, I saw Mary Poppins in a whole new light.
It's that same light that casts itself on the Beef & Boards' production of Mary Poppins this May and June. I was able to take the entire family to see the show this past weekend, and I was mightily impressed.
This new stage version of Mary Poppins focuses more on Mr. Banks and the difficulties he had growing up with his nanny, Ms. Andrew, although he fails to recognize the many, many emotional problems she saddled him with.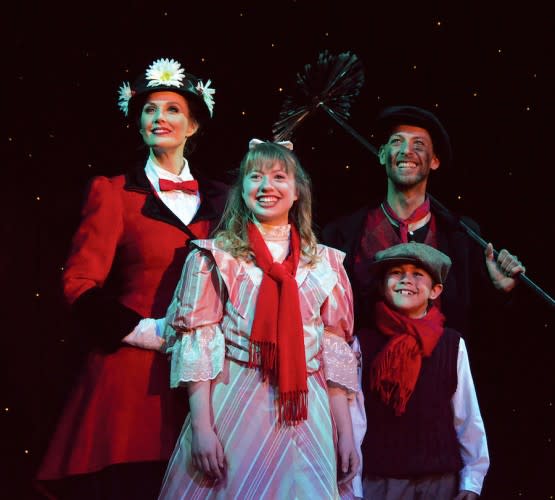 Mary, Bert, and the kids sing, well, something catchy.
In the first half of the play, Mr. Banks believes his children are a distraction and the responsibility of his wife. His job is to bring home the bacon, which he is to provide for his wife, who apparently had children to give her something to do. The play does not shy away from the patriarchal sexism of England in the early 1900s, although they've toned it down quite a bit.
Still, the attitude of "Father knows best" and "Long live the British Empire" come through loud and clear, as well as the idea that nannies raise children, and are not to bother their parents.
"I never saw my parents more than once a week," boasted Mr. Banks, when telling of how his nanny raised him. His children are naturally worried about him, and sad that he never got to see his parents very often. They clearly love their father, even if he is a pompous ass.
However, Mary Poppins is a redemption story, and the stage version is no different. (Look, Mary Poppins was made in 1964, so if you don't know the ending by now, that's not my fault!) George Banks learns that not only was one of his early glimmers of humanity — "I trust a good man more than I trust a good idea" — right on target, but Mary Poppins and his children save him from what was sure to be a miserable future.
While Beef & Boards tried to stay true to the original, there were a few differences between the two. There were a few new characters, and there were no dancing penguins or an animal kingdom soccer game. But the song "Feed the Birds" is still my favorite, and I choked up. I did again at the end when Michael got his very own kite, and his father said he would fly it with him — the British version of a father and son playing catch. (Yes, Erik is a sucker for a happy ending. Just don't push it.)
I've been going to Beef & Boards as a Visit Indiana travel writer for five years now, and I have to say that Mary Poppins is my very favorite performance so far. And that's counting The Foreigner (#2) and Lend Me a Tenor (#3). It takes a lot for a show to supplant a favorite comedy, but Mary Poppins absolutely did it.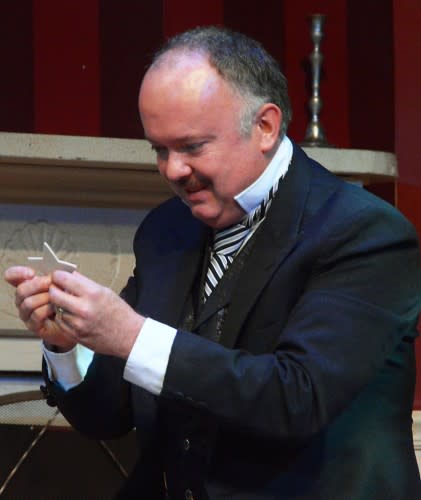 Mr. Banks (Eddy Curry) finds his ginger star. He used to hide them from Ms. Andrew when he was a boy.
The entire cast was brilliant, but I want to draw special attention to Cara Statham Serber as Mary Poppins and Eddy Curry as George Banks. While I loved the entire cast, and recognized several regulars and favorites, these two stood out in their performance on Friday night.
This is one show I'm absolutely happy to endorse, recommend, and take you by the hand to go see.
I'll just have to excuse myself a couple of times. It's no big deal. I just got something in my eye.