I love American history. I love presidential history. I love 19th-century architecture. I love touring historic mansions. And for all of those reasons, I made it a point to visit the Benjamin Harrison Presidential Site on a trip to Indianapolis earlier this year.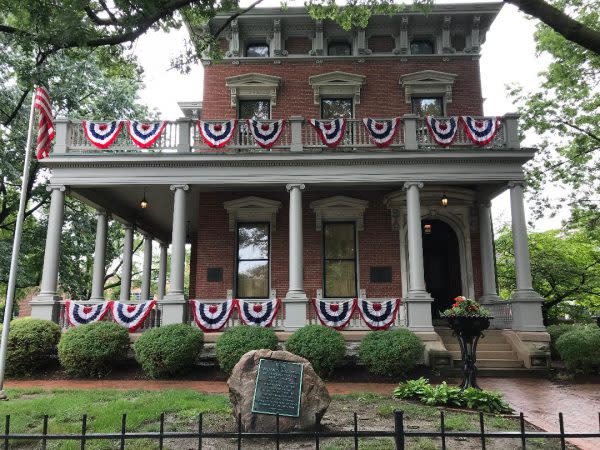 The home of 23rd President Benjamin Harrison is open year-round for tours.
Harrison was the 23rd president and his former home, located in the Old Northside Historic District of Indy, is open year-round for tours. The guided tours begin on the hour and half hour and last about an hour and 15 minutes, taking you through three levels of the 16-room Italianate Victorian family home of Harrison, his wife, and two children.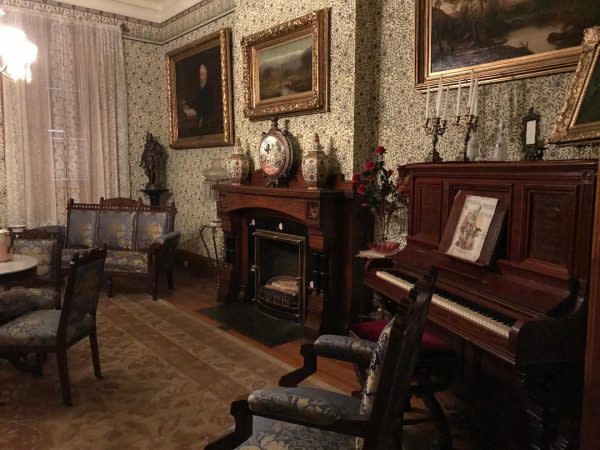 I'm always fascinated by touring historic homes and elaborate mansions by all the details in woodwork and decor, but in the simplicity in other features in comparison to how we live today. This home cost around $24,000 to build and two years to construct. Made of Indiana limestone, it had 23 light fixtures and featured running water, a rare luxury in American homes when it was completed in 1875.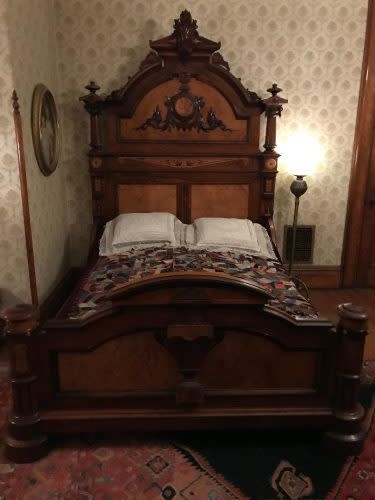 Many of the furnishings and other items were once owned by the Harrison family.
What struck me the most about the home was how much of the furnishings and other contents were original. In many cases, historic homes that are restored and open for tours or used for events contain a small amount of original items from the former owners. Often, a collection of period furnishings obtained from a variety of sources make up the bulk of what you'll find there. If there's something original, it's the exception. At the Benjamin Harrison Presidential Site, you're probably more likely to find something that belonged to the family than not.
Among the hand-crafted architectural pieces in the collection are ornamental door knobs, door panels, molding, and hinges. Artwork throughout the home includes vases that were wedding gifts and a Centennial walking stick given to Harrison as the sitting president 100 years after George Washington.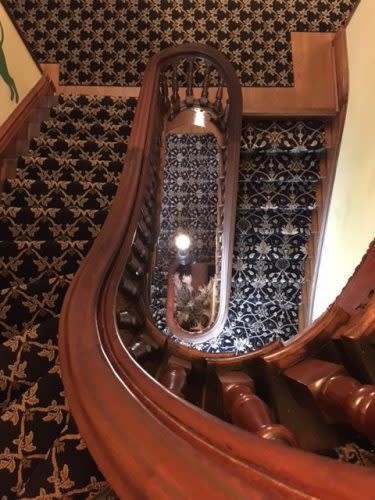 Benjamin Harrison Presidential Site
There are furnishings and accessories from around the world throughout the home. Among the centerpiece items are an upright piano circa 1890 by J & C Fischer of New York and Harrison's rosewood Renaissance Revival bed with a large Egyptian medallion on the headboard.
Portraits, dishes, statues, artwork, letters, political memorabilia and many other personal items that belonged to the family are on display in the home.  Many of the decorative the serving dishes you'll find on display were hand-painted by Harrison's wife, Caroline Scott Harrison.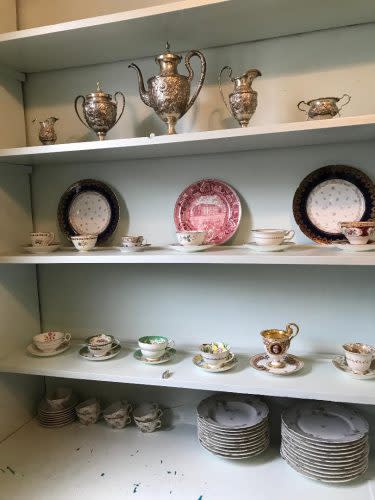 Dishes that were hand-painted by Caroline Scott Harrison are on display in the mansion.
A ballroom on the third floor has been converted to an exhibit space with rotating displays on everything from historic fashion to presidential pets. The historic gardens on the grounds are maintained by volunteer gardeners and can also be explored while visiting the site. For more information on the home and on tours, visit bhpsite.org.