There are endless ways to prepare them, and everyone has a favorite, but where is Indiana's best burger? We need your help finding the Best Indiana Specialty Burger. With 32 burgers to choose from, your decisions will be difficult, but voters get to select their five favorite Indiana burgers! View the results of prior Best of Indiana voting and cast your ballot on this year's other two categories, Best Indiana Museum and Best Indiana State Park.
From the shores of Lake Michigan to the rolling hills of Southern Indiana, diners around the state enjoy amazing burgers at local eateries. We took nominations and ended up with 32 to choose from with descriptions below! You might need to plan an epic road trip for "research"! Already know which burgers your want to vote for? You can see the full list and cast your votes here.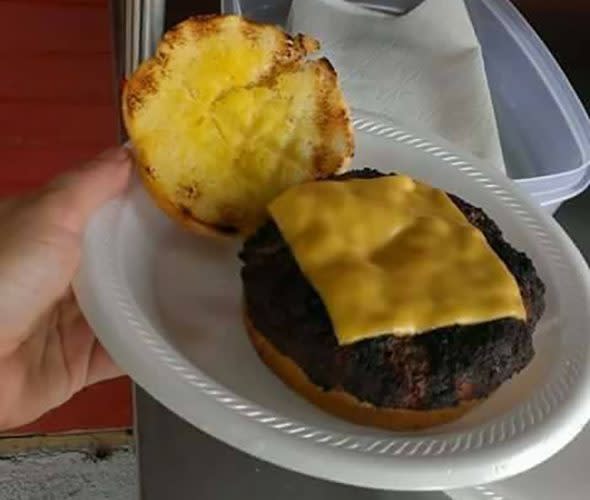 1 lb. Meathead
1 lb. Meathead - Mecca Tavern, Parke County The monstrous 1 lb. Meathead burger is made with top sirloin beef.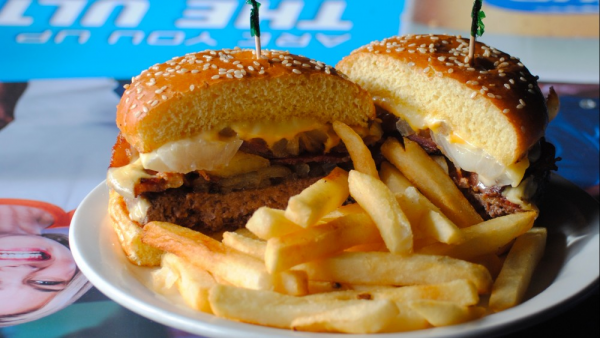 The Becky Burger
The Becky Burger - The View Tavern, St. Joseph County Topped with American and Swiss, Grilled Onions, BBQ Sauce and Bacon. Named after The View Tavern's owner, The Becky Burger was the winner of the Northern Indiana Burger Wars in 2014.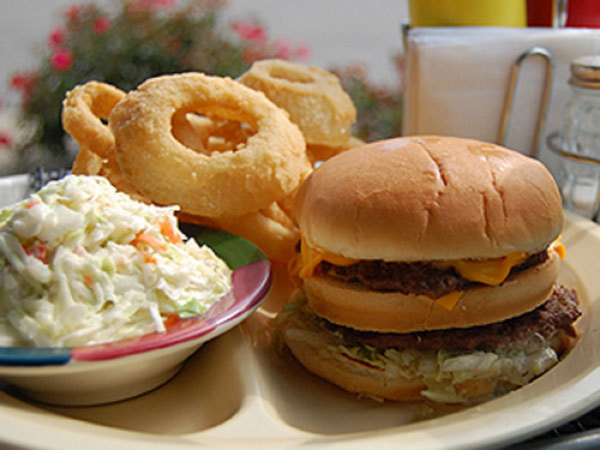 Big Buster
Big Buster - Don Hall's Hollywood Drive-In, Allen County A Fort Wayne favorite for over 50 years. Hall's original double decker features cheese, shredded lettuce, and their special sauce.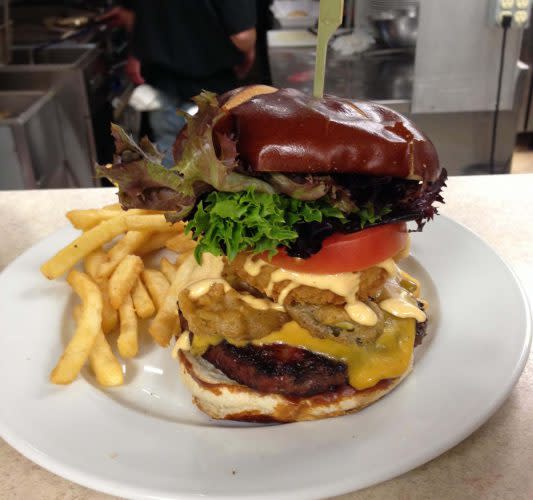 The Big CopperTop
The Big CopperTop - CopperTop Tavern, LaGrange County Topped with bacon jam, cheddar cheese, fried pickles, onion straws, lettuce, tomato, and bistro sauce on a pretzel bun.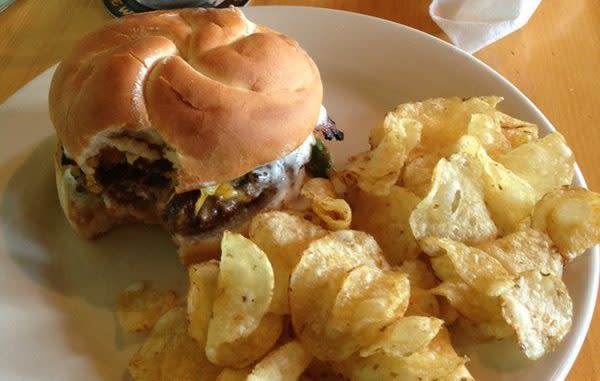 Big Mouth Burger
Big Mouth Burger - Big Woods, the Original, Brown County This is a hand-pressed ground beef patty topped with twice-smoked bacon, Big Woods' signature (in-house smoked) pulled pork, onion jam, bistro sauce, and cheddar on a brioche bun. Super tasty!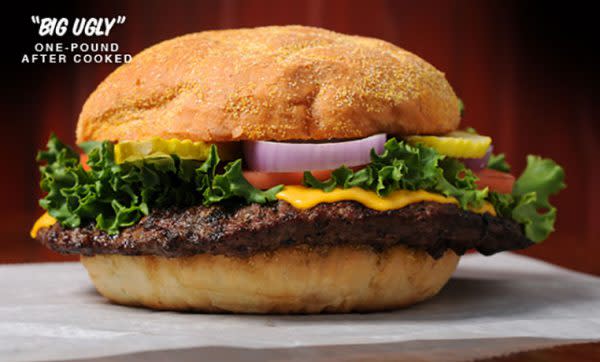 Big Ugly
"Big Ugly" - Bub's Burgers & Ice Cream, Hamilton County One pound of meat makes this burger quite a challenge; get your photo on the wall after eating.
Bloody Mary Burger
The Bloody Mary Burger - The Local Eatery and Pub, Hamilton County Tastes like a delicious Bloody Mary drink wrapped up in a burger. It features dry aged beef, bloody mary dust, habanero jack cheese, bacon, pickled baby zucchini and horseradish ketchup.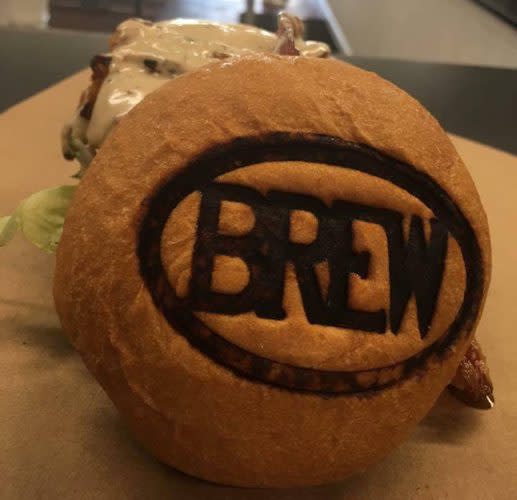 Brew Burger
Brew Burger - Brew, Dubois County The 8-ounce hamburger includes smoked bacon, cheddar cheese, coffee bbq sauce, and is topped with a brioche bun and perfectly crispy onion ring.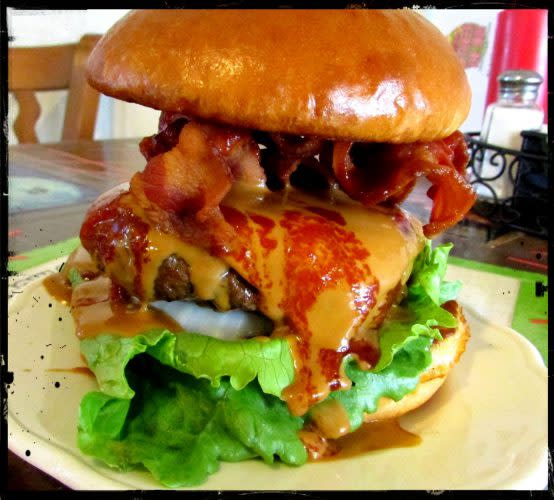 Cookie Monster
The Cookie Monster - Between the Bun Burgers, Dogs and More, Johnson County This half-pound burger is marinated in house seasonings and includes lettuce and onion, and it is topped with pepper jack cheese, cookie butter, smoked bacon and a sriracha drizzle. Served on a brioche bun.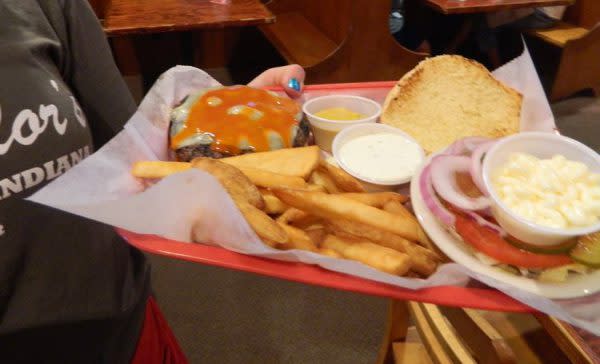 Cream and Crimson Burger
Cream & Crimson Burger - Opie Taylor's, Monroe County 1/2 pound burger smothered in Buffalo sauce and mozzarella cheese.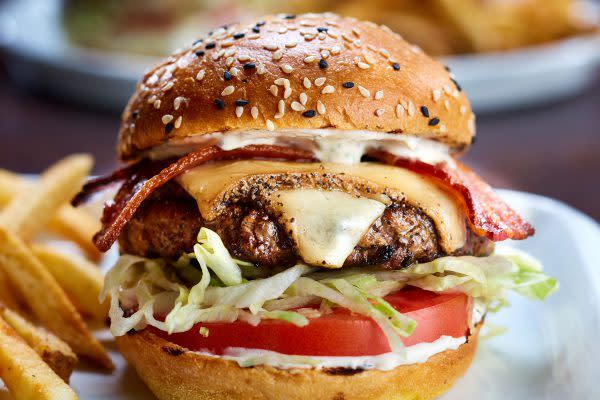 The Prime Degree at Burger Study
Prime Degree - Burger Study, Marion County St. Elmo Steak House dry-aged beef topped with applewood smoked bacon, black pepper BellaVitano cheese, lettuce, tomato, and black pepper aioli.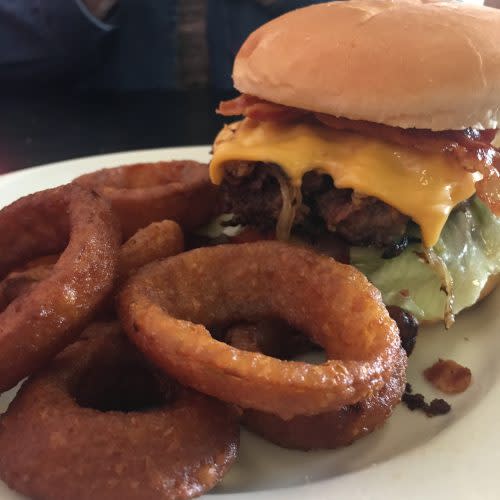 Double Bacon Cheeseburger
Double Bacon Cheeseburger - Leroy's Place, Madison County Serving the freshest burgers since 1920's, the Double Bacon Cheeseburger at Leroy's Place keeps locals coming back!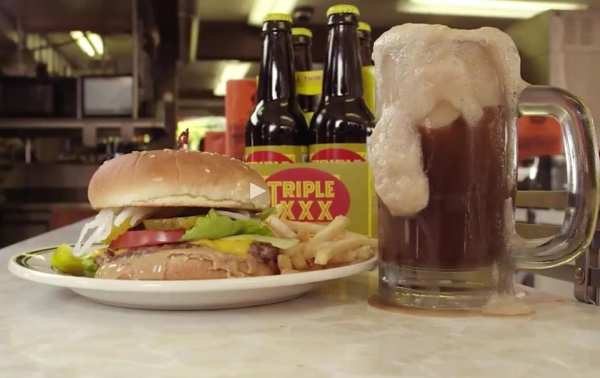 Duane Purvis All-American Burger
The Duane Purvis All American - Triple XXX Family Restaurant, Tippecanoe County A 1/4lb. chop steak, thick, creamy peanut butter, American cheese, lettuce, tomato, pickle & onion on a toasty sesame bun. This burger is the one that choosy KIDS will choose.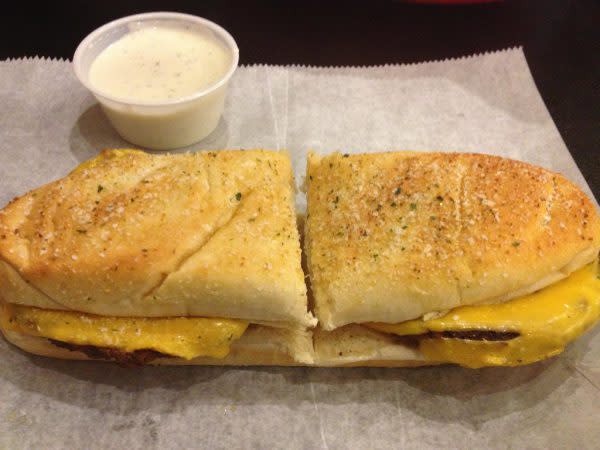 The GCB
GCB - Marvin's, Putnam County A campus tradition for decades at DePauw, students and alumni can't get enough of the garlic cheeseburgers at Marvin's.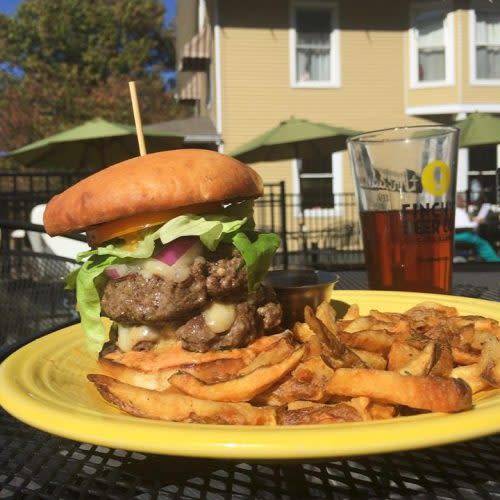 GD Bacon Burger
GD Bacon Burger, The Dapper Pig, Vanderburg County Venison/ground beef blend, local bacon, provolone cheese, arugula, and flaxseed mayo.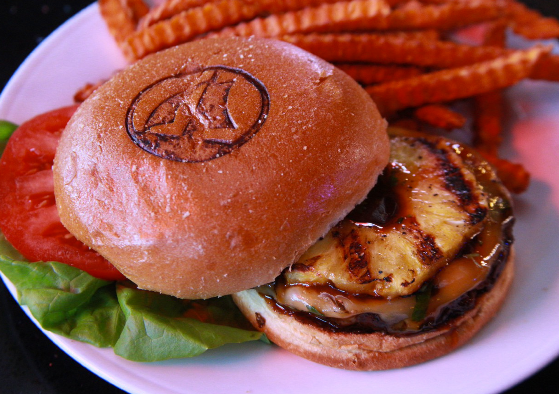 Hawaiian Burger
Hawaiian Burger - The Lakehouse Grille, Marshall County This 1/2lb USDA prime angus beef is topped with swiss, fresh grilled pineapple, special house teriyaki sauce and served on a brioche bun.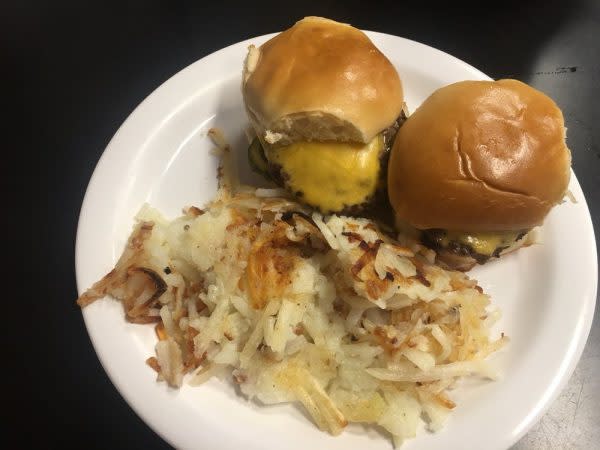 The Hinkle Burger
Hinkle Burger - Hinkle's Hamburgers, Jefferson County The recipe is a secret, but they're exceptional! Little chopped fried onions maybe?
Korean Crunch BBQ Burger
Korean Crunch Burger - 4th Street Bar & Restaurant, Bartholomew County If you ask natives of Columbus who has the best burger, many people will tell you to head to 4th Street Bar & Restaurant. One of their most creative (and delicious!) burgers is the Korean Crunch BBQ Burger, topped with house-made kimchi slaw, slivered carrots and radish, topped with Korean BBQ Sauce.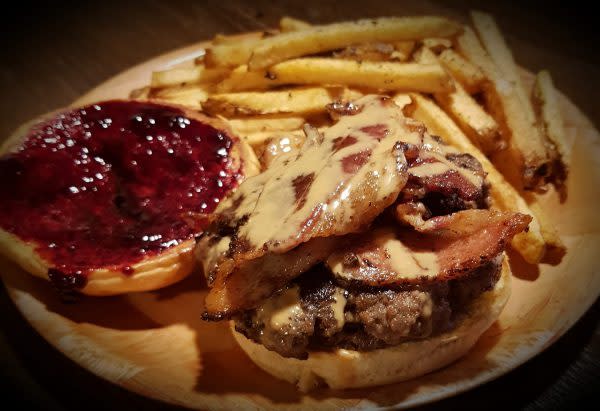 Leif Erikson Burger
Leif Erikson Burger - Ironside Viking Tavern & Eatery, Johnson County A delicious sirloin patty with peanut butter, thick cut bacon and blackberry preserves. Just as delicious as it sounds!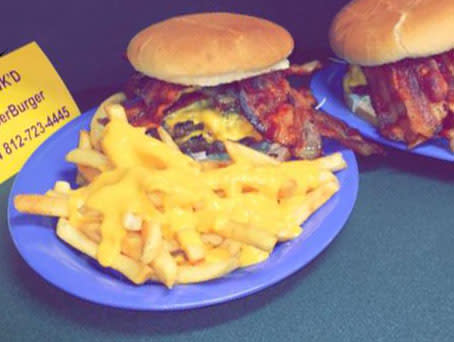 Newk'd
Newk'd - Superburger, Orange County Named after the local athletic director, the Triple Newk is a Bacon Cheeseburger made with three quarter pound patties made with locally raised 90 % lean grass fed beef, three layers of cheese and three layers of bacon!
The Oasis Burger
The Oasis Burger - Oasis Diner, Hendricks County Oasis Diner's signature burger is topped with pulled pork, BBQ sauce, coleslaw, pickles and cheddar cheese on a toasted bun.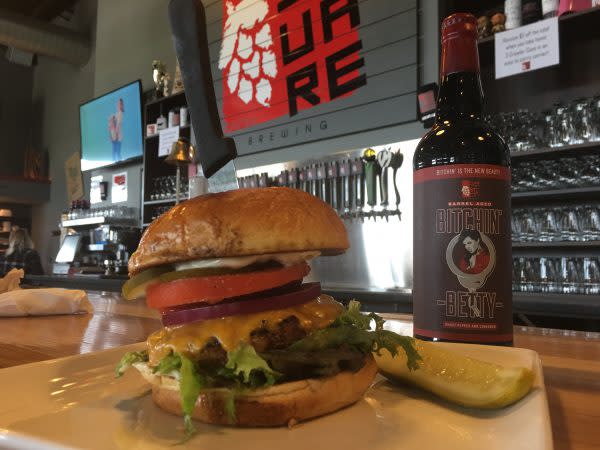 Off Square Burger
Off Square Burger - Off Square Brewery, Lake County 1/2 lb black angus beef topped with stout carmelized onions, sauteed wild mushrooms, smoked gouda and white truffle aioli.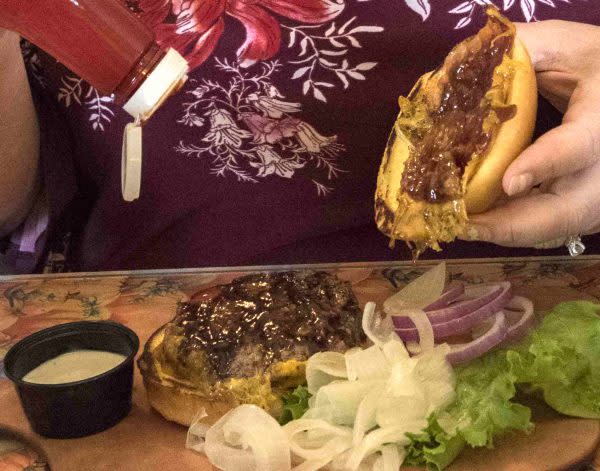 Otis's Whiskey Burger
Otis's Whiskey Burger - Mayberry Cafe, Hendricks County A classic burger smothered in the Mayberry Cafe's house recipe whiskey BBQ sauce with bacon, Cheddar Cheese and sautéed onions.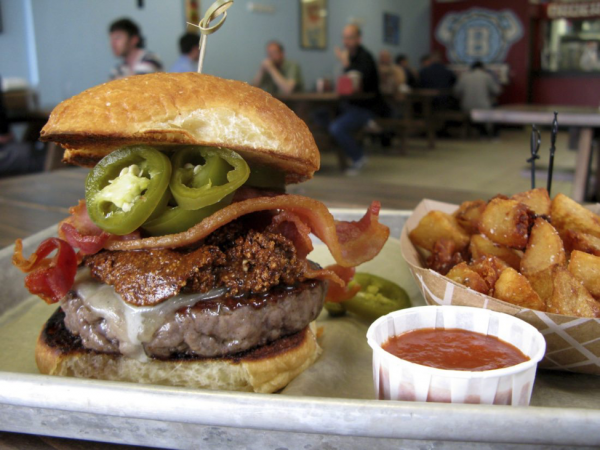 PB Burger
PB Burger - Bravas, Allen County Homemade peanut butter, bacon, pickled peppers, mayo, white cheddar smothered over a patty on a pretzel bun.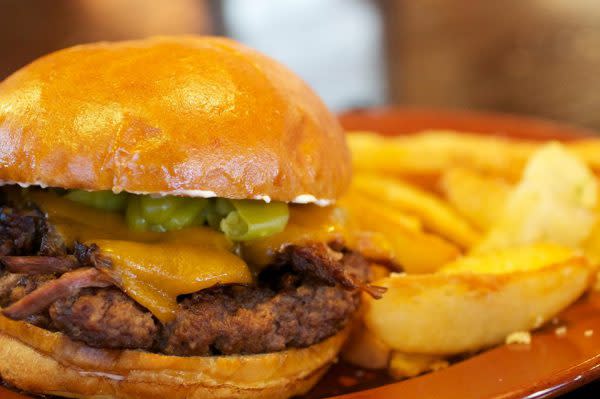 Pot Roast Burger
Pot Roast Burger - Industrial Revolution, Porter County Burger patty topped with Pot Roast topped with cheddar cheese, horseradish sauce and pepperoncinis. Served on a Brioche bun.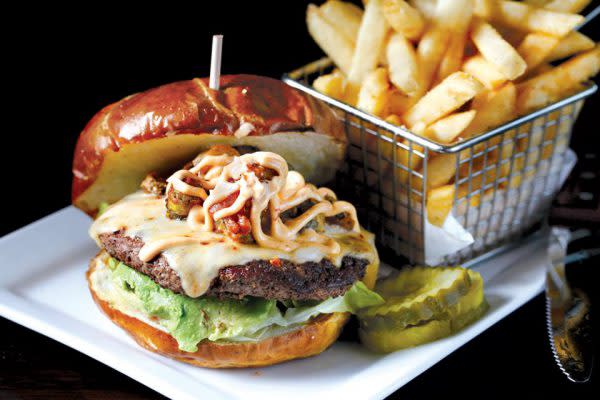 The Santiago - Burgerhaus, Porter County Jetset to a sensational mix of chipotle Monterey, avocado, tomato, butter lettuce, chipotle mayo and fried jalapeños on a pretzel bun.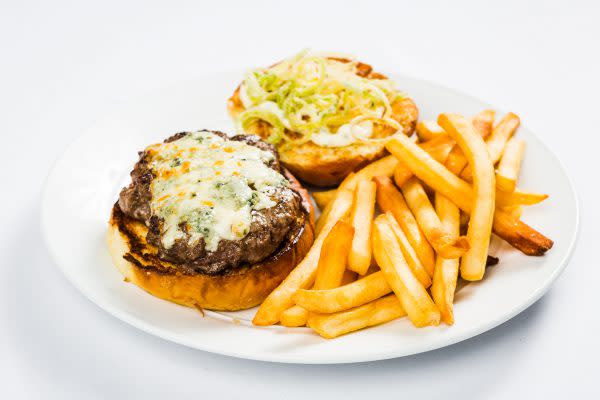 Signature Ballard's Burger
Signature Ballard's Burger - Ballard's in the Atrium, Orange County 8 oz Wagyu beef patty, frizzled leeks, gorgonzola cheese and chive aioli all on a house-made brioche bun.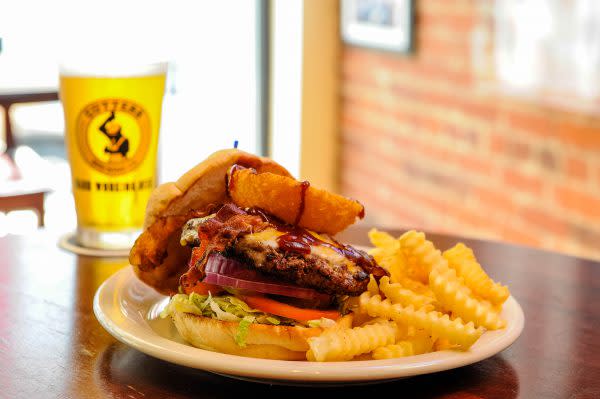 Southwest Burger
Southwest Burger - 33 Brick Street, Orange County 1/2-pound burger served with BBQ sauce, crispy smoked bacon, cheddar cheese and topped with crispy onion rings.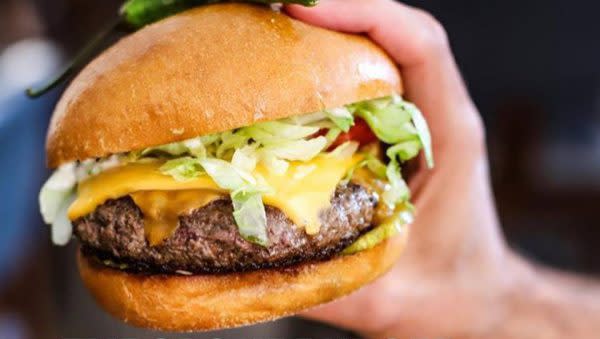 Spoke Burger
The Spoke Burger - Spoke & Steele, Marion County This burger is incredible. With a combo of brisket, short rib beef from a local farm, and chuck on a bun from Amelia's and piled high with cheese, it doesn't get better than this burger.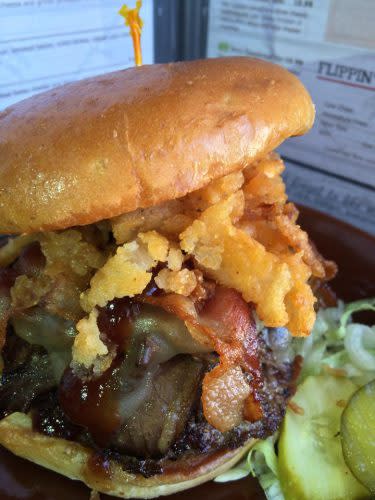 Stella Moo
Stella Moo - Flippin' Cow Burger Joint, Elkhart County Start with a double steakburger, then add smoked brisket, smoked bacon, onion straws, pepper jack cheese and an alehouse BBQ sauce. And it's all held between a toasted wheat brioche bun.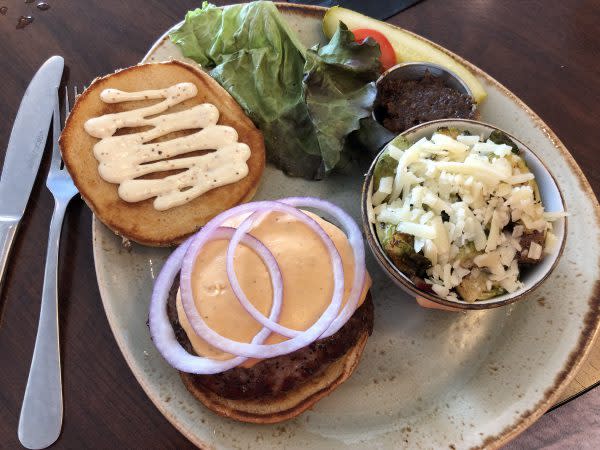 Ultimate Beer Burger
Ultimate Beer Burger - Teays River Brewing & Public House, Tippecanoe County The Ultimate Beer Burger from Teays River is a mouth watering 8oz. burger patty. The hob mayo, beer cheese and onion jam add a distinct flavor to the already beer marinated patty. With the first bite, you will taste an explosion of cheesy, beer-alicious dreaminess!
Now that you know