Pick a trail, any trail, and start hiking... you can't go wrong when Indiana's spectacular fall foliage is on display! These are some of the prettiest the state has to offer...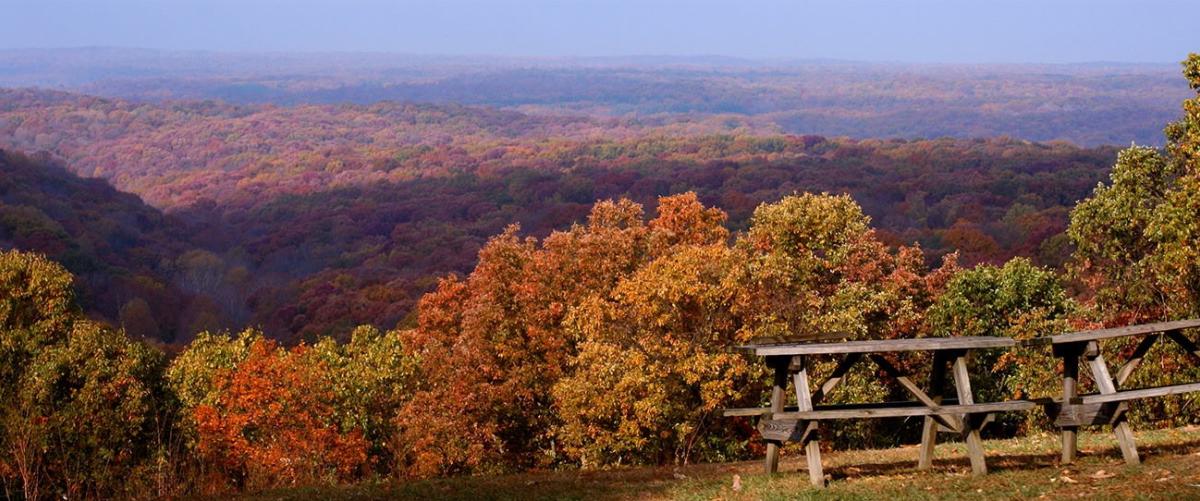 Trail 2 / Brown County State Park
Moderate / 2 miles
Trail 7 / Brown County State Park
Moderate / 1.5 miles
If you happen to be visiting Indiana's largest state park during peak fall foliage, you can set off on pretty much any path you like knowing they're all going to boast some spectacular seasonal scenery. There are a couple of standouts, though. Starting and concluding behind the Abe Martin Lodge close to the north entrance gate, Trail 2 offers a quintessential slice of Brown County's stunning natural beauty, showcasing work done by the Veterans Civilian Conservation Corps Company 1557 back in the 1930s as the park was taking shape — namely, stone bridges, retaining walls, staircases and a small amphitheater cut out from the area's indigenous limestone. Climb the fire tower if you're feeling limber for the most breathtaking 360-degree view of Indiana's "Little Smokies." Back on terra firma, Trail 7 encircles the lovely 17-acre Ogle Lake, meandering through hilly wooded terrain and connecting to Trail 4 over to the Nature Center and Ogle Hollow Nature Preserve. Be ready to deal with traffic and crowds, especially on October weekends, and make sure your phone is fully charged up before you head out. You'll want to take plenty of photos here.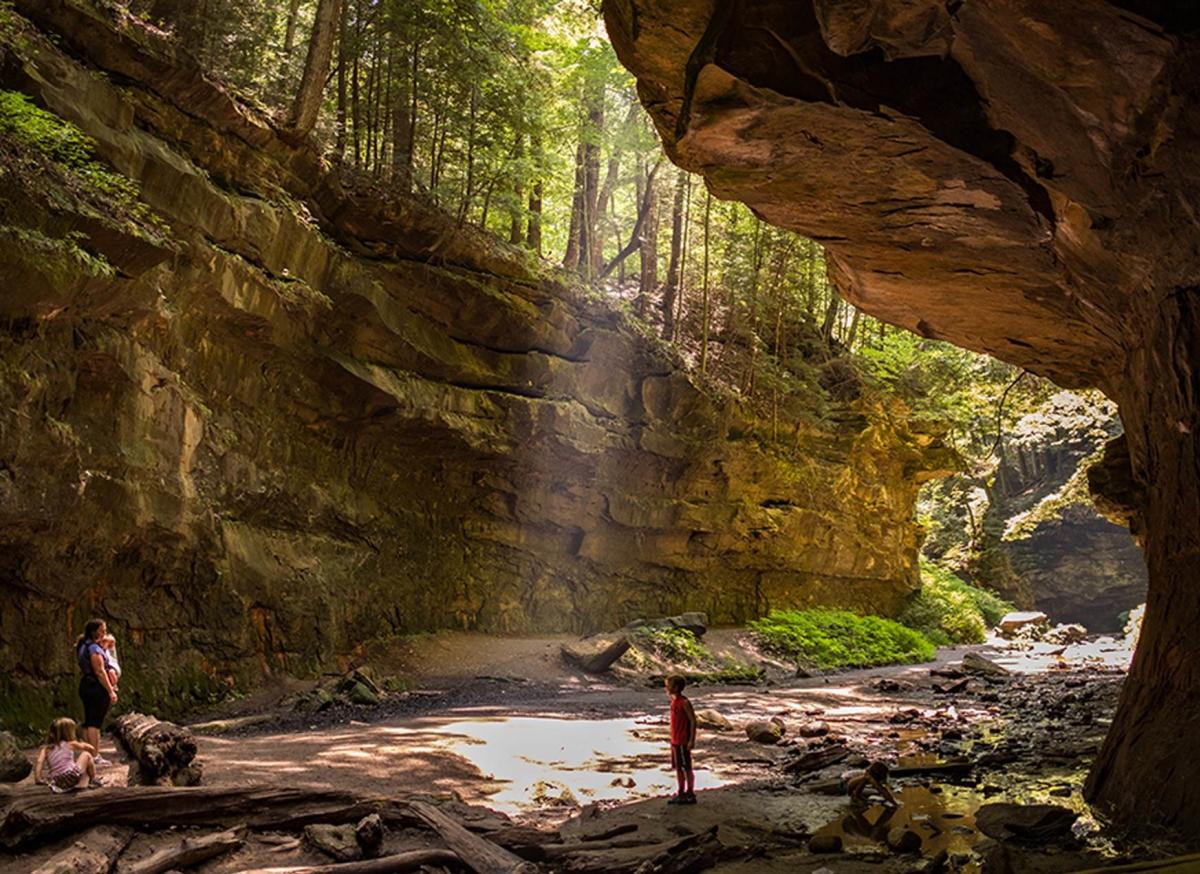 Trail 3 / Turkey Run
Very rugged / 1.7 miles
In west-central Indiana near Marshall, Turkey Run claims some of the most distinctive geological features the state has to offer — namely, deep Mansfield sandstone canyons, gorges, and ravines lined with hemlock stands, old-growth beech, and walnut trees. Not for the faint of heart or weak of the constitution, Trail 3 is often considered one of the biggest hiking challenges across the state park system. After you cross a suspension bridge, the trail traces Sugar Creek through the Rocky and Bear hollows, passing unusual landmarks like a rock alcove known as the "Ice Box" and the "Punch Bowl," a pothole carved out by swirling pieces of Canadian bedrock carried down by the glaciers. Expect to encounter several wooden ladders and navigate steep inclines, and note, some sections may be slippery or even impassable after a hard rain.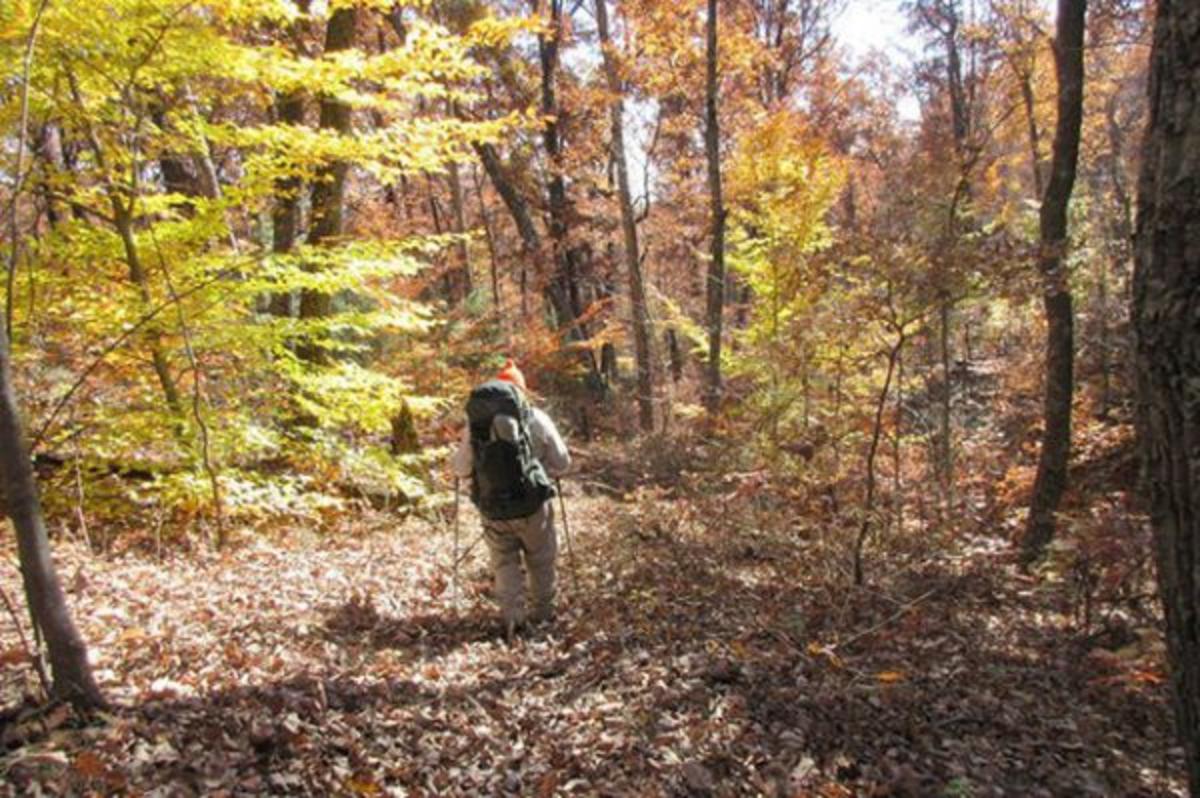 Jackson Road Trailhead to Pixley Knob / Knobstone Trail
Difficult / 7.2 miles
Sometimes called the Little Appalachian Trail, Knobstone through the south-central part of the state is the longest continuous footpath in Indiana, covering 48 miles all told through 42,000 acres of state forest. The out-and-back section between Jackson Road and Pixley Knob is gorgeous this time of year thanks to a colorful tree canopy that includes hardwoods and evergreens. You'll access the best views on top of Round Knob, a protruding high bluffed ridge jutting out from the wooded landscape, and from an overlook where you might be able to glimpse the Louisville skyline on a clear day. Definitely not for beginners; the stream crossings, the distance, and the elevation drops and rises on this path are guaranteed to get your heart pumping. Hiking poles are recommended.