In my opinion, the best place to be in central Indiana on July 4 at 10 pm is within a couple miles of Region's Bank Tower in Downtown Indianapolis. Oh sure, there are fireworks around Geist, in Plainfield, or in Franklin. Every city and town has its own fireworks display.
We always went to the show in Muncie when I was a kid; when I lived in Syracuse, Indiana, we went out on July 3 in my in-laws' boat every year — the town council used to get mad because the Lake Wawasee Property Owners Association used to throw a bigger, better fireworks party than the town actually did.
Of course, when you're younger, or live in a small town, you're sure that your city puts on the best fireworks show in the world.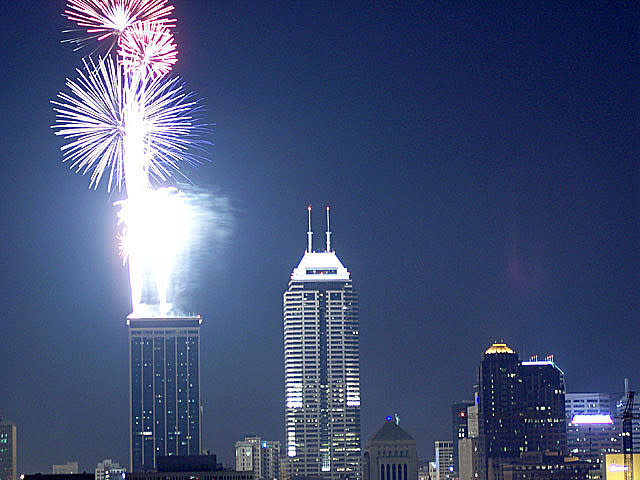 So it goes now that I live in Indianapolis. I can say that, without a doubt, Downtown Indianapolis throws the biggest, best fireworks party I've seen in my 46 years, and that includes several shows at Disney World. There may be bigger fireworks' displays in places like Chicago or New York, but I've never been there at the right time, so Indianapolis still has my vote as the biggest and the bestest.
This year, the Donato's Downtown Freedom Blast — they always have to have name sponsor for it; I swear if I ever win the lottery, one year you will watch the Erik Deckers' Downtown Freedom Blast — will take place at 10:00 pm. The rockets will fire from the top of the Region's Bank Tower (official motto: "I sure hope we're insured"), and will be set off to music, which you can hear on FM 93.1, 97.1, or 105.7, all inspired to jerk your tears and tug your heart.
There are also a few activities going on in the hours leading up to the fireworks.
The Indiana War Memorial Grounds kicks things off at 6:30 with music at the Indianapolis Colts stage, there's the Indiana Craft Beer Garden, featuring beers from six different breweries, and there will be Donato's Pizza (oooh, I get it!), chips, and soda available (cash only, please).
Georgia Street is finally coming into its own as a party destination, with their first IndyPendence Day Street Festival Concert for Cancer. Puddle of Mud, Sick Puppies, Hoobastank, and Alien Ant Farm will perform from 1:00 – 10:00. Tickets are $20. Visit the IndyPendence Day website for more information.
The Indianapolis Indians face the Louisville Bats at 6:05, and every fan gets a rally towel. Plus you have a great view of the Downtown Freedom Blast — sorry, Donato's Downtown Freedom Blast — when the game's over.
My friend, Lindsey Manfredi, is playing with her band Kaleidostar at the 12th Annual Rooftop Celebration/Fountain Square Music Festival. The celebration runs from 7 – 10:30, and tickets are $70 (you must be 21 and older). They'll actually be playing music all day in Fountain Square, but if you want a rooftop view of the Downtown Indianapolis fireworks, shell out $140 for you and your sweetie, and head upstairs.
Photo credit: Xander Cook (Flickr, Creative Commons