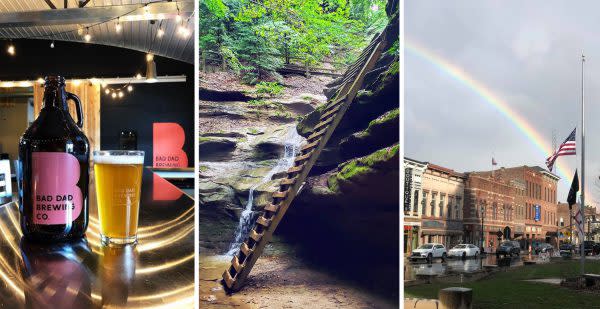 The results are in! Lt. Governor Suzanne Crouch and the Indiana Office of Tourism Development (IOTD) announced today the winners for the Best of Indiana 2019 people's choice campaign. The winners are:
Best Brewery: Bad Dad Brewing Co. – Fairmount, Grant County
Best Hiking Trail: The Ladders Trail (Trail 3) at Turkey Run State Park – Parke County
Best Main Street: Franklin – Johnson County
"It was another record setting year. We had 45,768 votes in this year's categories," said Crouch. "All the nominations were fantastic and Hoosiers should get out to visit our wonderful hiking trails, breweries and main streets."
View the Top 10 Lists for all Three Categories.
Best of Indiana 2019 – Breweries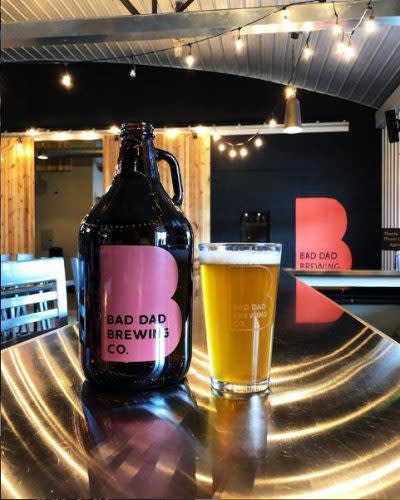 Bad Dad Brewing Co., was voted Indiana's Best Brewery.
Hoosier breweries consistently rank as some of the best in the world at prestigious competitions, like the Great American Beer Festival and the Brewers' Cup. At Bad Dad Brewing Company in Fairmount, it's a family affair. It was started by a dad and his sons. They said they wanted to build something worth experiencing and they believe beer can bring people together. With names like Socks & Sandals and Ask Your Mother, the brews have unique names and unique flavor profiles. Visit Untapped for fan rankings of Bad Dad beer and the brewery's website for a current list of what's on tap.
A piece of history was transformed when it became Mad Paddle Brewery in Madison, which placed second in the voting. The Wade brothers transformed a feed mill, built in the late 1800s, into the brewery and taproom. It opened in 2018 and now the Wade's have over 20 beers canned or on tap.
Quaff ON! Brewing Company's beers are distributed all over Indiana, but it was started in 2012 in Brown County. It's part of the Hard Truth Hills Company. The owners said they started it in response to the demand for iconic craft beers. Now the brand is one of the most popular in the state, finishing number three on the Best of Indiana list.
Best of Indiana 2019 – Hiking Trails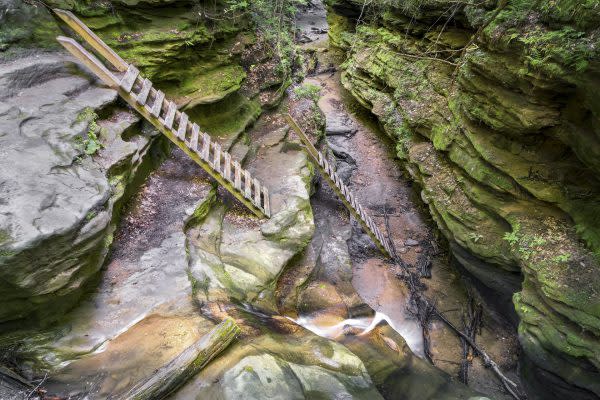 The Ladders Trail (Trail 3) at Turkey Run State Park was voted the Best Hiking Trail in Indiana.
Indiana offers more than 3,600 miles of local, state, federal and non-profit trails open to the public. That's why IOTD asked the Indiana Department of Natural Resources to help find a variety of trails across the state and off the beaten path.
The Ladders Trail, also known as, Trail 3 at Turkey Run State Park was voted the Best of Indiana for hiking.
This is a very rugged 1.7-mile trail that offers some unusual hiking opportunities. It follows the cliffs along Sugar Creek and returns to the ridgetop by a series of ladders. It then takes hikers to the "punch bowl,"a large pothole formed by glacial erractics. It winds past a steep rock wall on the way back to a suspension bridge.
Number two on the list was Trail 2 at Turkey Run State Park. This rugged 1-mile trail follows under cliff edges, taking hikers through Box Canyon and Gypsy Gulch before intersecting with Trail 1.
Rounding out the top three was Trail 2 at Clifty Falls State Park in Madison. Trail 2 is three miles long, with only one way in and one way out. It's primarily the stone bed of Clifty Creek and is very rugged.
Best of Indiana 2019 – Main Streets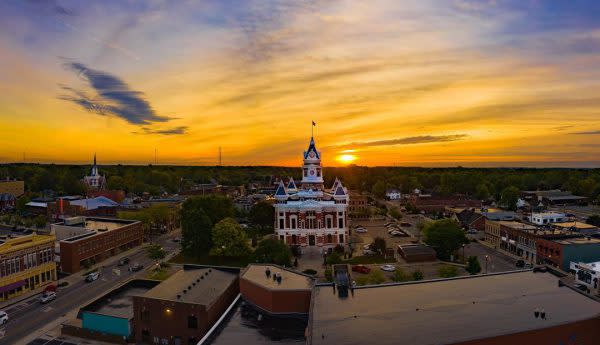 Franklin, Indiana was voted the best Main Street in Indiana.
IOTD enlisted the help of the Indiana Office of Community and Rural Affairs (OCRA), which oversees Indiana's Main Street program, to select a list of towns and cities offering the ideal Main Street destinations. All of the top 10 are part of OCRA's Main Street program. Voters selected Franklin in Johnson County as having the best Main Street in Indiana. Franklin has made significant changes to its downtown over the past few years. Officials said this has brought numerous new businesses to the downtown area, including restaurants and shops. Franklin is considered a walkable downtown that resulted in more activities and festivals on the square. Victorian mansions line King and Jefferson streets, giving it that quaint hometown feel.
Located along the Ohio River, in Jefferson County was voted number two in the main street voting. Madison is known for its historic buildings, rich history, unique businesses and shops, and its beautiful scenery, parks, and recreational activities. Madison's Main Street program was one of the first nationally accredited main street programs in the country.  
Downtown Angola tops the list at number three. The main feature of its downtown is the New England style public square with the Soldiers' Monument at its center. Angola has also invested heavily in quality of place initiatives, like their Art Alley, Brohaw theater renovation and large events, like Cruise to the Monument car show. Business are also flocking to the downtown with 11 joining last year, to bring the total to 141.
"The top two main streets are nationally accredited Main Street communities, and Franklin is a great example of multiple groups working together for the betterment of the community," said Misty Weisensteiner, director of Indiana Tourism. "If you haven't visited any of these local spots that made the list, I encourage everyone to explore a new one."