Our 2020 Best of Indiana campaign has come to a close, and after two months of voting, our readers have selected the best unique sleep in Indiana. From historic hotels to jail cells and from B&Bs to tipis, the top 10 list includes an array of incredible experiences across the Hoosier State. See if your favorite made list below!
Grant Street Inn is Bloomington's signature boutique hotel, providing a restful and retreat-style backdrop. The property dates back to 1883, when the Ziegler House was built by Dean of the Indiana University School of Law. A century of history followed before Grant Street Inn opened successfully in 1991. There are now 40 luxurious rooms inspired by the building's history but tailored to modern-day comfort. Rooms range in style from victorian-chic to modern, old-world elegance. Find your favorite and keep coming back again and again! Book your stay at the Grant Street Inn.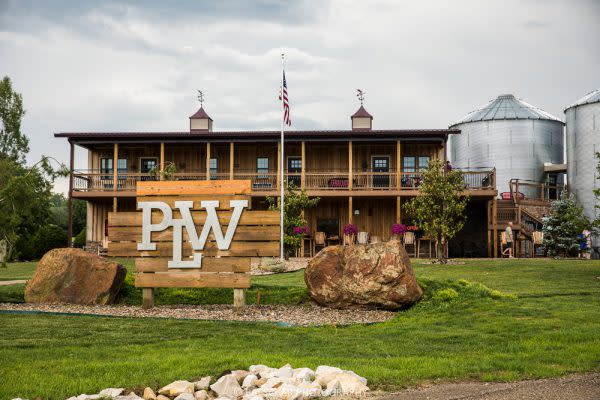 Patoka Lake Winery boasts one of Indiana's premier tasting rooms with over 20 wines to choose from. However, it's more than just a winery, as the lodging accommodations are one of the coolest around. Attached to Patoka Lake Winery is a pair of two-story Silo Suites decked out with an array of amenities. Before you ask, yes, the suites are round! Book your stay here.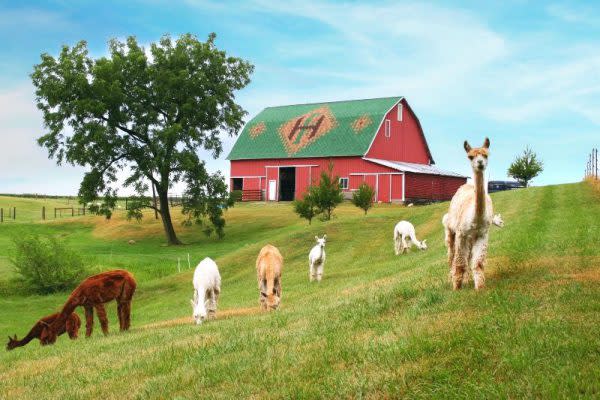 Heritage Farm is a working alpaca farm with over 50 alpacas you can interact with! It offers five lodging options, including a modern guest house. For a pioneer experience, check out the 1850's authentic log cabin. There are also goats, a horse, and chickens on the farm. Heritage Farm welcomes you to help with the daily chores! Learn more about the farm here.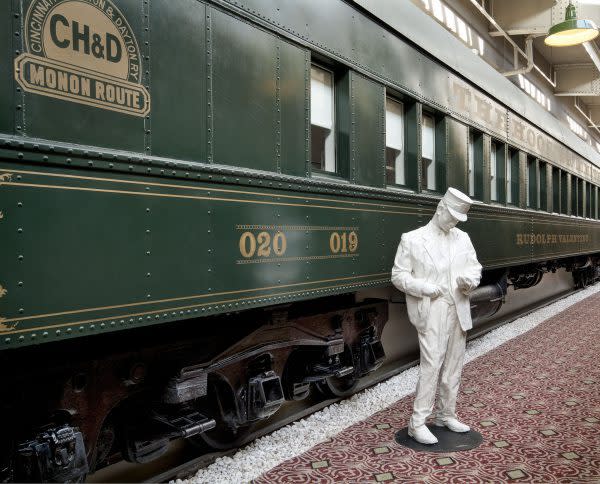 Crowne Plaza in Downtown Indianapolis was originally America's first Union Station, which was built in 1888. Each space in the hotel has been converted into upscale accommodations and the station's Grand Hall now serves as a ballroom with 60-foot ceilings and 3,200 square feet of original stained glass. Thirteen 1920s Pullman train cars have been converted into guest rooms named after influential people of the past. The train cars hold two rooms each and provide one of the most unique lodging experiences possible. Book your stay at Crowne Plaza Downtown Union Station.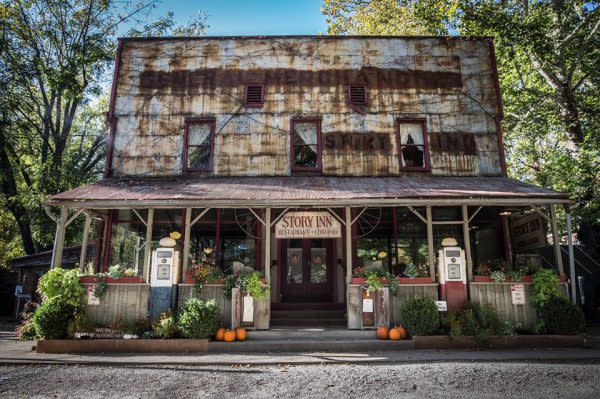 Have you heard about the tiny town in Brown County? That would be Story! The community dates back to 1851 as a lumber town founded by George Story with a church, grain mill, blacksmith shop, two general stores, a post office, butcher shop, and some homes.  The entire town was purchased by Rick Hofstetter in 1999. Today, the centerpiece of Story is certainly the beautiful Story Inn. There are now 18 original rooms or cottages that were once homes or working facilities for Story's original residents. Each is decorated with Victorian-era furniture, photos, and other antiques. Find the perfect room for you here.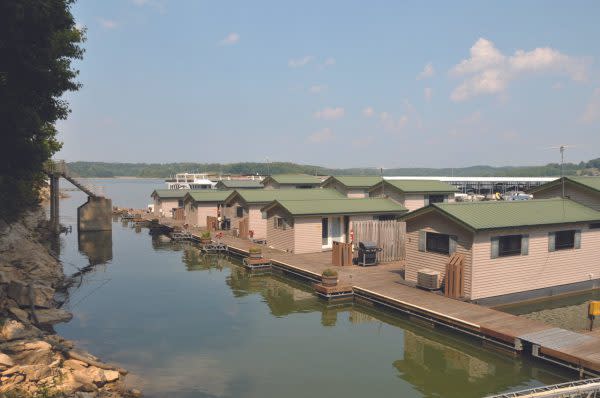 Patoka Lake is the only place in Indiana with floating cabins! Choose between a 2 or 3 bedroom cabin for this memorable on the water experience. Each cabin has its own 12′ x 20′ deck, gas grill, deck furniture, and private boat slip. Learn more here.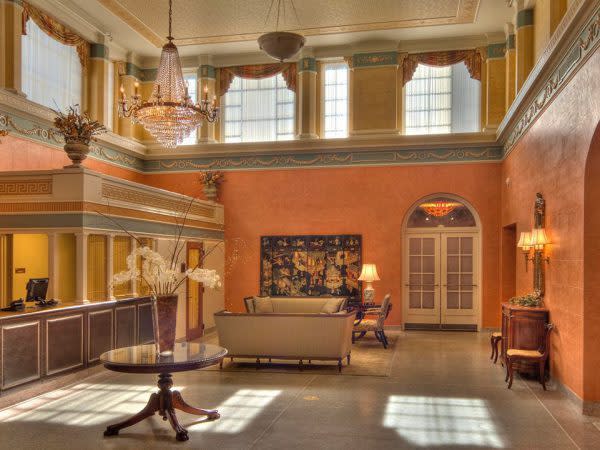 Downtown Wabash is home to a magnificent and historic hotel, Charley Creek Creek Inn, which turns 100 years old in 2020.  Opening in 1920, Charley Creek Inn fell into disrepair but was restored in thanks to an effort led by the late philanthropist Richard Ford. The restoration has "restored Charley Creek Inn to its former glory," where "timeless elegance meets small-town luxury." The hotel features 30 guest rooms (including deluxe suites, full suites, and junior suites), meeting spaces, private dining rooms, the Big Four Ballroom, the Cloud Club (on the roof), the Wine and Cheese Shoppe, and the Ice Cream and Candy Shoppe. Begin your reservation.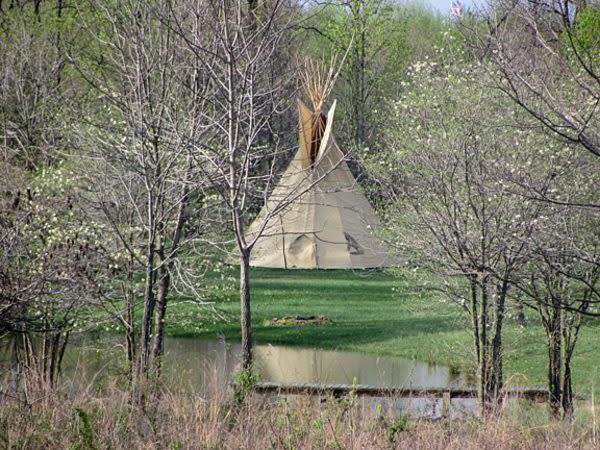 Sleeping Bear Retreat rustic tipi
For an unforgettable rustic camping experience, Tipis at Sleeping Bear Retreat won't disappoint. Each Tipi has four cots with access to picnic tables, shelter house, charcoal grill, and firewood. Its location among 50 beautifully wooded acres in French Lick makes Sleeping Bear Retreat the perfect weekend getaway. There's not much more to it than that! Click here to begin making your reservation.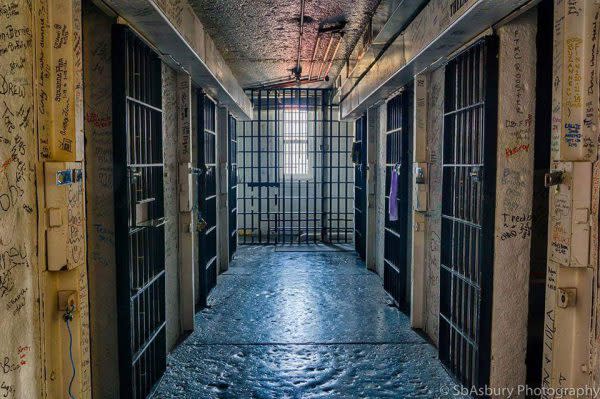 Most people don't overnight in jail by choice. You can here!  The Old Jail Inn in Rockville offers five cell-block rooms in the building that housed the Parke County Sheriff's office and jail from 1879 to 1998. Choose from the Dillinger, Al Capone, Thelma & Louise, Elvis, and Jesse James cells. If a jail cell isn't your thing, try one of the inn's suites with more privacy and comforts of home that still have the barred doors. Reserve your comfy night behind bars at the Old Jail Inn.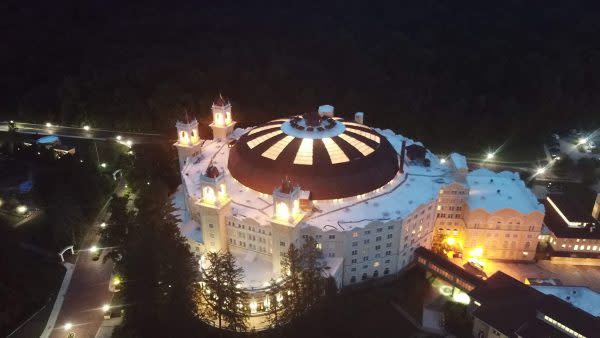 French Lick Resort is made up of two opulent hotels – French Lick Springs and West Baden Springs. Both have been beautifully and carefully restored to their original grandeur, yet are completely welcoming to today's travelers. French Lick Resort is full of fun with a casino, world-class golf courses, spas, and indoor/outdoor pools. The exquisite West Baden Springs Hotel was once known as the "Eighth Wonder of the World" for its breathtaking six-story free-span dome. If you want the full experience, a historic trolley takes you back and forth between the two incredible hotels. Learn more about a French Lick road trip.