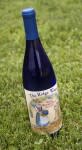 Switzerland County's The Ridge Winery will present a Bicentennial wine tasting at the Switzerland County Visitors Center in Vevay. The event will take place on First Friday, May 3, from 6-9 p.m. The center is located at 128 West Main Street.
Vevay-Switzerland County is having a 200th birthday and they're popping the cork on a special edition wine to celebrate!
The Switzerland County Visitors Center in Vevay will host the county's award-winning winemakers Tom and Mary Jane Damaree of The Ridge Winery for a Bicentennial wine tasting. The event takes place on May 3, from 6-9 p.m. during Vevay Main Street's First Friday. The Visitors Center is located at 128 West Main Street.
The Demarees' have produced the sweet red grape blend table wine in celebration of the 1813-2013 Vevay-Switzerland County Bicentennial. The wine is presented in a cobalt blue bottle and features a label designed by artist Donna Weaver.
A Switzerland County Indiana Artisan, Donna Weaver is also a sculptor-engraver who once worked for the U.S. Mint. Weaver designed and sculpted many state quarters, commemorative coins and gold medals. Although retired since 2006, she continues to participate in the Mint's Artistic Infusion program and designs for specific coinage projects.
The wine tasting is free and open to the public, although no youths will be permitted in the designated tasting area of the Visitors Center. The special edition wine will be sold for $14.95 per bottle. A 10% discount is available for four or more bottles, with a 20% discount per case or more. The Ridge Winery will make a donation to the Bicentennial organization from the sale of each limited production bottle. A complete list of Bicentennial events is listed on their website at http://www.vevaybicentennial.org.
Visit Switzerland County--the Birthplace of the First Successful Commerical Winery in the United States--and let the celebration begin!
For more information on the wine tasting, Switzerland County lodging, eateries and events, contact the Switzeland County Visitors Center at 812-427-3237 or log on to http://www.switzcotourism.com. Switzerland County Tourism-Vevay, IN, is on Facebook.