Over the last four years, I've taken my two daughters and my wife on my local travel writing trips. This time, it was my son Ben's turn. We were heading down to Bloomington, one of my favorite cities in Indiana, and the one I always play "What if I lived here?" whenever I visit.
The trip had been planned out for us by Erin Erdmann at Visit Bloomington, and she made arrangements for our stay, complete with a 2 page itinerary. I hadn't been to several of the places on our list, so I was looking forward to introducing Ben to one of my potential retirement cities.
Lilly Library
Our first stop was the Lilly Library, which houses many rare books, manuscripts, and special collections. We especially wanted to see the Slocum Puzzle Collection. Rather than the jigsaw puzzles you might be thinking of, these are a historic and geographic collection of different kinds of puzzles you might have seen 70 years ago in Indiana, or 100 years ago in France. There were puzzles for us to try and others for us to just look at. My favorite was the collection of very intricate locks. They would have been designed by apprentice locksmiths as their final project before they finished their apprenticeship and became master locksmiths.
Locks from the Slocum Puzzle Collection in the Lilly Library
The Lilly Library also had, during our visit, a collection of full-color illustrated medical oddities in a variety of books throughout the main hall. You can peruse the different fascinating and disturbing (and icky!) illustrations that were hand-drawn by various medical illustrators as many as 100 years ago. We took in a few of the illustrations before I got icked out and we decided to leave.
Campus Visit: Ernie Pyle Hall, Journalism Department
When I was a student at Ball State, I nearly became a journalism major. As it happens, I have been a newspaper humor columnist for 19 years, and something of a media history buff.
Ernie Pyle was a Pulitzer prize winning journalist during World War II who died in combat in April 1945 on a remote Pacific island. He hailed from Dana, Indiana, and was a graduate of Indiana University's journalism program. Since Ernie Pyle Hall was very close to the Lilly Library, we stopped in for a quick look and to pay homage to Pyle, one of the original, and most famous, embedded reporters.
In the main hallway of the building are dozens and dozens of notable photos taken by different IU alumni throughout the years. We saw Will Counts' famous photo of desegregating schools and the Little Rock Nine, and the photo of IU basketball coach Bobby Knight throwing the chair. I pointed out to Ben that these were famous photos, both then and now, and they were taken by people who had graduated from this very building.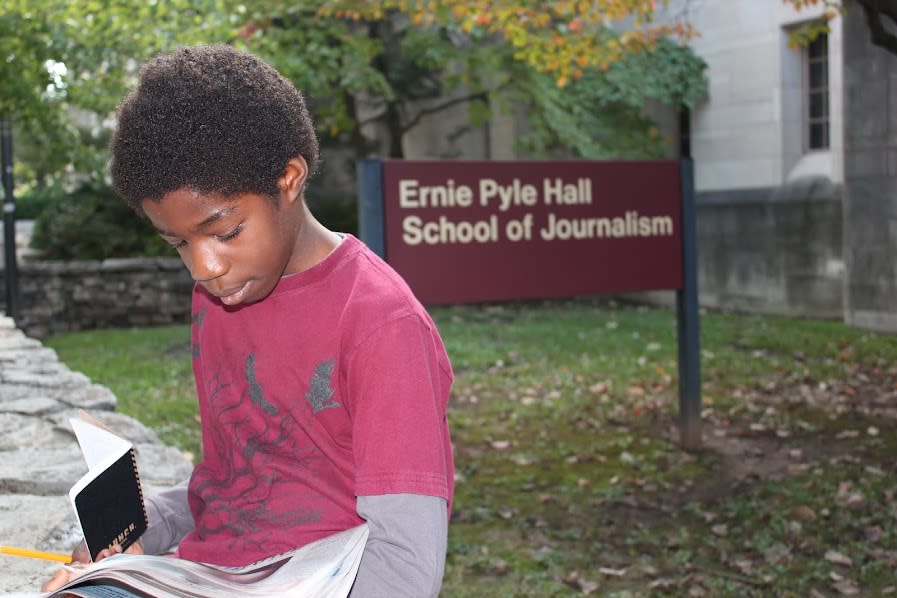 Ben reads a newspaper in front of Ernie Pyle Hall School of Journalism He studied the photos, and I could tell he was thinking. He wouldn't tell me what, but when he gets like this, he's usually imagining and considering, rather than being bored. The quieter he is, the more interested he is. We walked around the building as I told him about some of the history we were seeing on these walls. My thought was that he might find himself walking those halls again in about eight years, so I snapped the above photo of him looking at a newspaper to share with him when he graduates.
Shopping at the Briar & The Burley
There aren't many men's stores around. A hardware store here, a sporting goods store there, but those are supposed to appeal to everyone, regardless of sex.
But The Briar & The Burley is a real man's store. A store for the man's man!
You walk in and it just smells manly. As soon as the door closed behind us, Ben took a deep whiff of the leather and tobacco and sprouted a wispy beard. The store is filled with premium luggage, leather briefcases, walking sticks, pipes and pipe tobacco, an entire wall of imported cigars, and even a cherry red Ferrari in the car corner, which is filled with all kinds of racing and Ferrari memorabilia.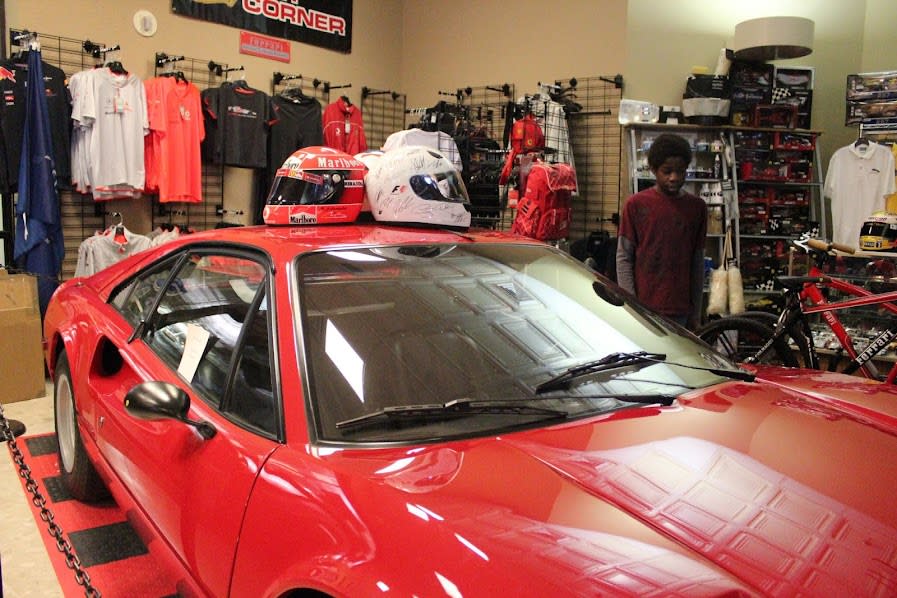 The Ferrari at The Briar & The Burley. No, they wouldn't let me drive it. We spent a lot of time admiring the different walking sticks, discussing why certain walking sticks were better than others, and explaining why I would want the "heft of a bronze knob" more than a wimpy plastic dog's head for a walking stick. Ben also regaled me with his impressions of a doddering old man, which he said I would quickly become if I had actually purchased a walking stick. I tried to explain to him the difference between a walking stick and a cane, but when you're ten, it's a moot point.
We stopped here before lunch, so we would be good and hungry for one of my favorite restaurants in the city, the Irish Lion.
Lunch at the Irish Lion
Years ago, any time I would visit Bloomington during a sales trip, I always made sure to come here for lunch or dinner. We weren't able to do our intended stop at one of the local pizza joints, so I called an audible and we hit the Irish Lion instead.
Since there was a football game that day, the downstairs part of the restaurant was pretty full. Plus, Ben was only 10, and because there's a bar downstairs, we couldn't eat there anyway. However, the upstairs is family seating (as is the outdoor patio), so we headed up the looooong flight of stairs and found we were only one of three tables seated upstairs. It was fairly quiet that day, which was nice, because we were both a little tired from getting up early on a Saturday.
We started with the Blarney Puffballs, a Bloomington favorite. These are deep-fried potato balls made with a cheese and garlic mixture. I couldn't talk him into the escargot. For lunch, I had the fish and chips, because that's what I always get at Irish pubs (and especially here), while Ben had the BLT. We were trying to keep things somewhat light, so we decided to skip dessert. We were supposed to eat at the Crazy Horse, which is right next door, for a pre-game snack.
Fish and chips at the Irish Lion. It is the standard by which all Irish pubs are judged. After lunch, we walked around downtown Bloomington for a while, stopping in at the Game Preserve, a gaming and puzzle store, two bookstores, and up and down Kirkwood Avenue, dodging all the families who were in town for Parents' Weekend and the nationally-televised IU-Missouri football game.
Nap Time At The Hotel
We had a room at The Hampton Inn on Walnut Street, just a couple miles north of downtown, and within a short drive or long walk to IU Memorial Stadium. We were scheduled to go to the Wonderlab Museum of Science Health and Technology, but we had spent most of our day walking, so we were pretty tired.
We checked into the hotel and decided to watch a little TV and relax. We thought we might try to get to the Wonderlab tomorrow (we didn't), but we (mostly I) needed the rest.
Pre-Game Snack: Crazy Horse Restaurant
After an hour or so resting up, we were back downtown to walk around some more, take in the warm summer/fall day, and do some people watching. Erin Erdmann had recommended we visit the Crazy Horse, so we walked along Kirkwood looking for it.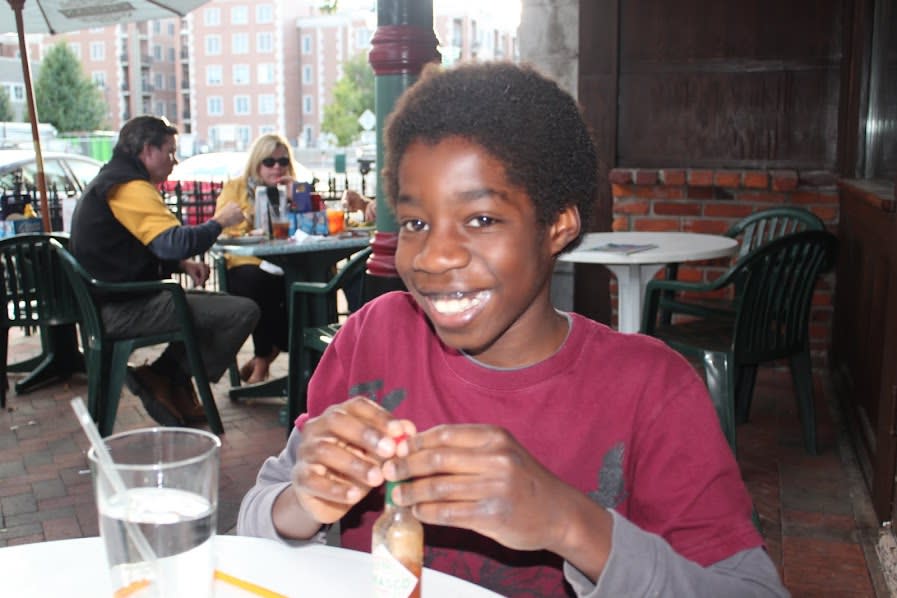 Ben wondered what it would be like to dab some Tabasco sauce on his tongue. I dared him and he did it. This is pre-dab, of course. In fact, we walked a lot longer than I expected, because I didn't quite remember how to find it. I knew I had eaten there at some time in the past, but I couldn't remember where it was. We walked for about 20 minutes on Kirkwood before I finally checked my phone and discovered that it was right next to the Irish Lion. We still managed to get to Crazy Horse a couple hours before kickoff.
The restaurant was surprisingly not as crowded as I would have expected for 6:00 on a Saturday. We got to sit outside, watch some more people, and we ordered — as per Erin's enthusiastic recommendation — some buffalo chicken wings. Of course, we were still full from lunch, despite all our walking, so we weren't able to appreciate them as much as we would have liked. But we gave it the old college try.
Indiana University Football, IU Memorial Stadium
The last time I had been to an IU football game, I was only a couple years older than Ben. This was back in 1979 or 1980, and my middle school cross-country coach, Joe Rogers, had taken several of us to a game. So my memory of everything was more than a little dim.
And other than a few Indianapolis Colts games, the majority of my football games were at Ball State University's 22,500 seat Scheumann Stadium. IU's Memorial Stadium holds 52,929 screaming IU fans (plus a few Mizzou fans, wedged over in one corner).
Needless to say, this was the biggest and loudest I have ever heard a college football game.
Despite lingering at Crazy Horse, and trying to make a respectable dent in the chicken wings, we still managed to get to the stadium around 7:20. On the way, I had the opportunity to explain to Ben what tailgating was, why some people never actually went into the game, and what public intoxication was.
Ah, I love these little educational moments.
We parked in Section 4, found a space, grabbed our tickets and my camera, and walked inside. After we found our seats, I was surprised at how relatively empty the stadium was.
"This is a nationally televised game," I told Ben. "I'm surprised there aren't more people here."
As if on cue, the crowd began drifting in, and by 7:40, the stadium was full, and people were screaming, cheering, and clapping, ready for the game to begin.
All my years of attending a Ball State football game has never prepared me for the thundering roar of an IU football game. IU has never been known as a football powerhouse in all the years I can remember, but that doesn't stop the fans from going crazy ape bonkers for their team. The Hoosiers are like the Chicago Cubs of college football, only better.
After an opening show by the marching band, and a wagonload of fireworks (plus enough smoke to shroud the entire stadium in a sulphuric fog), we were ready to go.
I wondered if they were going to have to call the game on account of no wind.
I couldn't tell you much of what happened, only because I forgot to bring a radio so we could listen to the broadcast. I always enjoy doing that at college football games. I get to hear the hometown announcer, and everything is synced up in real time (try watching football on TV and listening to the radio — TV is about five seconds too slow). It was an exciting game, but it soon became apparent by the second quarter that things were not going to go the Hoosiers way.
Here are a few highlights and notes, courtesy of the IU Athletics Department:
Tonight marked the lone Big Ten vs. SEC meeting this regular season.
Indiana had two touchdown drives that took under 60 seconds, the seventh and eighth TD drives of the season under 60 seconds.
Fifth-year senior safety Greg Heban recorded a pair of interceptions in the first quarter, his first two of the season and the seventh and eighth of his career. He also finished with a game-high eight tackles. (Look for this guy to start playing on Sundays in 2014 — Erik.)
For the second straight week, WR Cody Latimer went over 100 yards and posted a career-high eight receptions for 136 yards. He is the first Hoosier since James Hardy in 2007 to record back-to-back 100-yard games.
QBs Nate Sudfeld and Tre Roberson combined for 377 passing yards, marking the fourth consecutive game that Indiana has surpassed the 300-yard passing mark this season and the sixth straight game dating back to last year.
Sophomore RB Tevin Coleman punched in a rush from two yards out for his sixth rushing score of the season and the seventh of his career.
The 1993 Independence Bowl team celebrated its 20-year reunion this weekend.
The IU Memorial Stadium holds 52,929 people. 52,000 screaming Hoosiers, and 929 nervous Missouri fans. This was also the night they introduced Tom Crean and the Hoosiers basketball team, which resulted in one of the loudest cheers of the night. While you may be able to get 52,929 people to scream for football, they love their basketball here in Bloomington even more.
In the end, it was getting late, and we were tired, so we went back to the hotel halfway through the third quarter (I know, I know. I violated my cardinal rule of never leave a football game early. However, it's my "cardinal" rule, and I have never left a Ball State Cardinals football game before the end). I really appreciated that the hotel was only a couple miles from the stadium, so if you're coming from out of town for the game, I strongly recommend the Hampton Inn.
We found the game on TV, and I lay back on my bed while Ben lay down on his rollaway bed. He was asleep before the end of the game, and I had to wake him up to brush his teeth.
We were up by 8:30 the next morning, ready for breakfast, and Day 2 of our adventures to Bloomington, Indiana.
Photo credit: Erik Deckers (Used with permission)