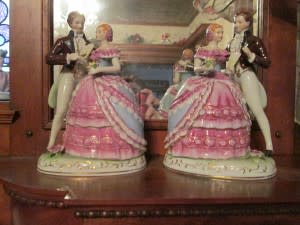 I've been in some lovely Bed and Breakfast Inns. Most of those from Indiana have been reported here in other posts.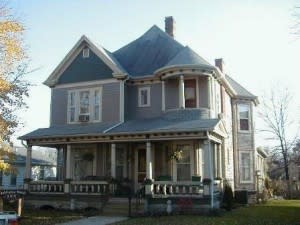 Washington Street Inn in Bluffton is restored 19th century Bed & Breakfast Inn.
As for inns with lovely interiors and an unusual theme, I have to mention the Washington Street Inn in Bluffton.
Before purchasing the inn a decade ago, Kathy Gardner, the owner, owned a collection of occupied Japanese ceramic figurines from post-World War II.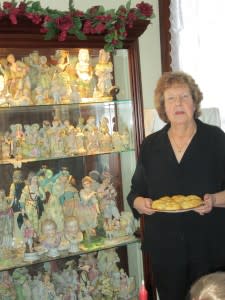 Once she had re-roofed the house that was built in the 1800s, she decorated the interior with her items on the house's two floors. They figurines are sweet to look at are you're passing through a hall or in the house's large living room.
Bluffton might be a small town in northeast Indiana, but Gardner has hosted people from around the world. Families stay who are in the area for reunions, as well as tourists for local events and business people.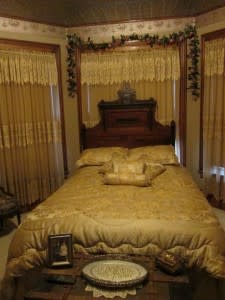 One bedroom is decorated with a special Bluffton connection. The Bliss Hotel was located on Main Street in Bluffton during the first part of the 20th century. It has since been torn down, but several items from the hotel are housed in the Bliss Room.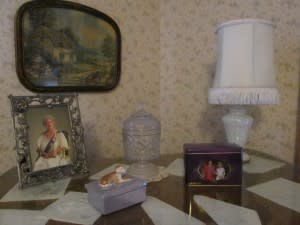 Another bedroom which Gardner calls The Royal Room is filled with items from England. "Our oldest son lived there and brought home items that reflect the monarchy," she said.
Besides overnight guests, Gardner caters meals for groups. Setting her antique wooden table with real china, many pieces of which are family heirlooms, and cloth napkins, Gardner serves tea, casseroles, tortellini salad or whatever menu the group chooses.  I can tell you she makes a lemon curd topping for her homemade English scones that is to die for!
She has served groups in her dining room varying from bridge clubs to business groups and Sunday School classes. Mother's Day and other holidays are particularly busy times. Garner maintains a certain standard of relaxation for her guests' sake. "I think people like it here because it is quiet and they can linger after a meal as long as they want to chat," she said.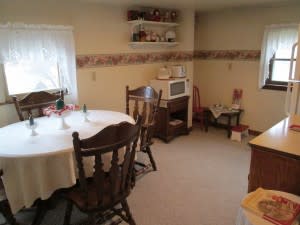 I really love this living area she created on the second floor. She stocks it with snacks and drinks. The children's table and chairs would be a perfect place to take a child who can't sleep so as not to disturb other guests.
This is also a perfect place to have as a get-away retreat. It is a quiet area close to a paved river greenway and restaurants.
Washington Street Inn, 220 E. Market Street, Bluffton IN  46714, 260.824.9070, KLGardner45@yahoo.com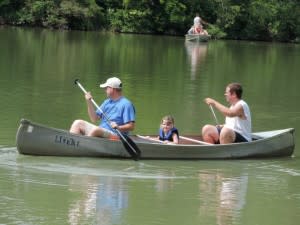 When you're in the Bluffton (Wells County) area, take advantage of the proximity of the Ouabache State Park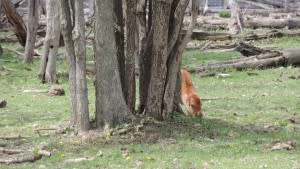 The buffalo herd at Ouabache State Park is popular.
Just a few miles away east of Bluffton, our park is famous for its buffalo herd, fire tower, swimming pool, pond, and camping facilities.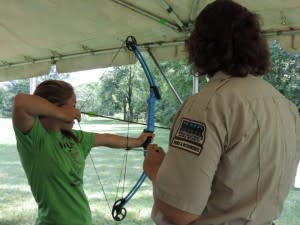 Archery events occur at Ouabache State Park.
This weekend Hoosier Lt. Governor Sue Ellspermann and Visit Indiana are kicking off the summer travel season with Visit Indiana Week May 2-10. In celebration the Indiana Department of Natural Resources (DNR) is offering a day of free admission to all state parks. This year's free admission date is Saturday, May 9.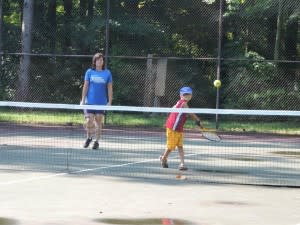 Tennis courts are available at Ouabache State Park.
This is, of course, Mother's Day weekend (you knew that, right?). The park has pavilions that can be rented. We love to picnic along Kunkel Lake at Ouabache and watch canoers cruise around the lake. We always climb the fire tower, too.Paddle boats are available for a small fee.
Plan to grab your family members and head to Ouabache -- or any other Indiana state park -- and enjoy the weather and clean, fresh air. A hike, along with some laughter and exercise, might be just the kind of day your mom is looking for.
Ouabache State Park, 4930 E State Road 201, Bluffton, Indiana. 260.824.0926