Hi my name is Makenna Imholte. I'm a junior at Butler University double majoring in Strategic Communications and Media, Rhetoric & Culture. I'm originally from a small town in Kansas but have fallen in love with Indianapolis.
Recently my mom came to visit me and wanted to go somewhere fun and different for a meal. After scouring through various Indianapolis restaurants, I decided upon Bru Burger on Mass Ave.
We arrived at the restaurant and were seated right away. While there was outdoor seating available, we chose inside. Because we sat inside we were able to absorb the atmosphere. With a mixture of rustic wood and brick along with a classic gourmet feel, this made the meal even more enjoyable. We did not feel out of place with our jeans on yet were able to have a nice meal together.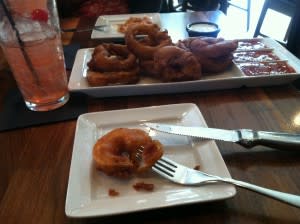 Bru Burger Onion Rings with House Ketchup
We decided to start things off with an appetizer. We chose the onion rings and had possibly the best onion rings either of us had ever had. They had a different texture than most onion rings we've had: light and fluffy with the perfect amount of crispiness. The ketchup added some tanginess and extra zest to this appetizer that was good on its own. They definitely got our taste buds watering for more.
Although faced with a tough decision, I chose the Provençal Burger and my mom went with the Garlic Three Cheese Burger. When our food arrived, we were amazed at the size of our burgers before we even dug into them. Definitely requiring two hands, they were massive burgers stacked high with toppings.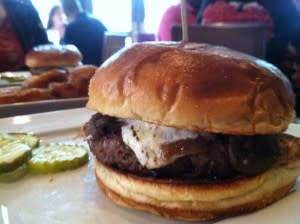 This burger, the Provencal, stacked up to its amazing look
The toasted buns created a beautiful medley in my mouth of juiciness from the burger and crispiness from the bun. My mom was more than pleased with hers as well. The cheeses were unique and flavorful.
When we were finished with our meals we felt not only nourished by the food but also supplied with happiness from the restaurant and its food.
If you are anywhere near Mass Ave and looking for food that will appeal, stop by Bru Burger for a satisfying and delectable meal.