At a time when many hotels are seeing an unprecedented drop in the number of visitors and are struggling to keep from closing, a recently-opened hotel is welcoming new guests. The hotel is a historic structure that dates back to 1929, but after a long closure and a $35 million renovation, the Union Club Hotel in West Lafayette is back as a modern boutique hotel adorned with touches that are a nod to Boilermaker life and acknowledgment of the history of the university. The hotel is situated on the Purdue University campus.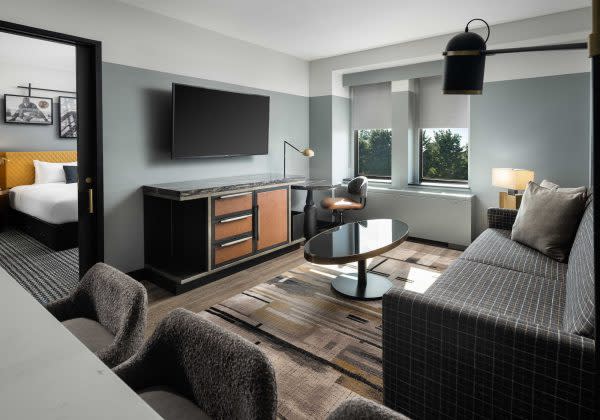 Operations resumed there in August, and I had an opportunity to check it out just weeks after its re-opening. I loved the place as soon as I walked in. It has a cool, sleek design with plenty of stylish decor and cozy nooks to retreat to. The front desk sits below a large overhead faux bookshelf with vintage images projected on it in rotation.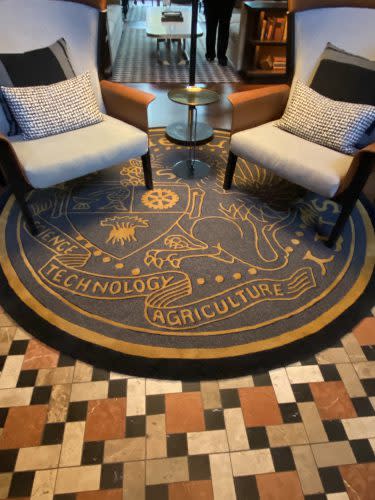 Rooms are comfortable and luxurious with cool details, like decorative pillows featuring the Purdue crest, tartan-patterned carpeting, historic photographs hanging on the walls, Caribu coffee, and Pharmacopia hair and body products. The last time the property saw updates was during a 1980s renovation. The hotel is attached to the Purdue Memorial Union. I took a little stroll to explore the stunning halls and rooms featuring intricately-detailed ceiling and wall accents and artwork with busts of past presidents.
I was equally impressed by the hotel's food/dining options, of which there are three. One is Leeps Coffee & Artisan Pastries, a grab-and-go counter offering sweet treats, coffee, teas, and more. Beside it is the Boiler Up bar with a cool whisky room and an extensive menu of classic and seasonal craft cocktails, including a Watermelon Mule, Prickly Pear Margarita, and five different varieties of Old Fashioneds. We stopped in on day two of our visit for lunch before departing. They offered a sizable brunch menu, and I tried the Brush Creek Ranch Wagyu Cheeseburger and my husband's Prime Rib French Dip. Both were amazing and served with a pile of crunchy shoestring fries.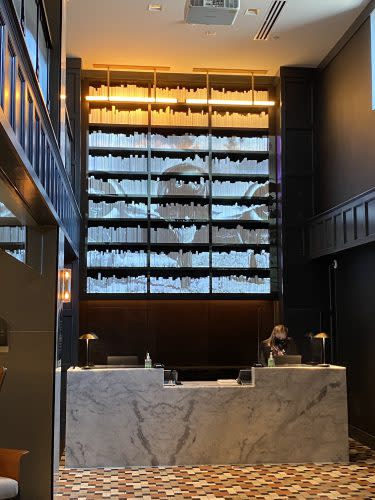 We had dinner and breakfast at the 8Eleven Bistro, and the food and service were impeccable, with high-quality seafood you wouldn't expect to find in a small Midwest college town and nicely crafted cocktails. We tried the oysters, gulf shrimp, Halibut, and that night's special of Filet Oscar, finishing off with dessert prepared by their in-house pastry chef - profiteroles and Mille Feuille. If you happen to be in the area but aren't staying in the hotel, I highly recommend stopping for a meal. It's truly one of the best I've had in the entire state.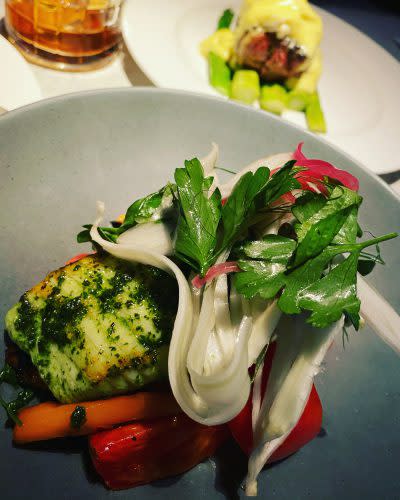 Parking was easy in the covered garage across the street, which will be nice for visitors during the snowy winter.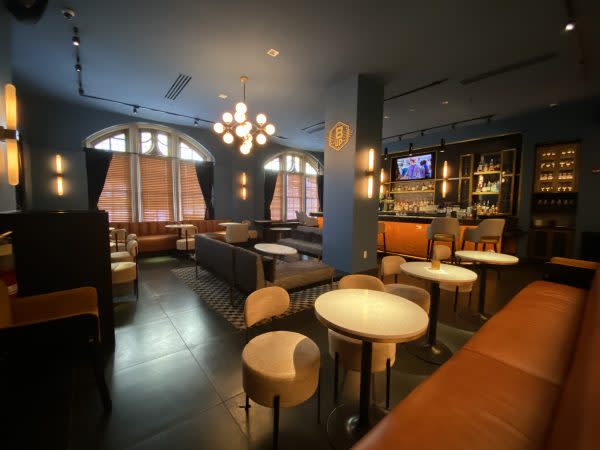 For more information on the hotel, go to purdueunionclubhotel.com.