Breweries are becoming as woven into the fabric of Indiana as racing, basketball and St. Elmo's. There are old ones like Broad Ripple Brew Pub, new ones like Big Lug Canteen, big ones like Three Floyds and smaller ones like Bier.
Indianapolis has been the central Indiana hub for the local craft revolution but Hamilton County has entered the conversation recently. Along with several new breweries, a bus tour popped up this year with five stops in Hamilton County to help celebrate Indiana's 200th birthday through craft beer. The tour runs every Sunday from now through May 22.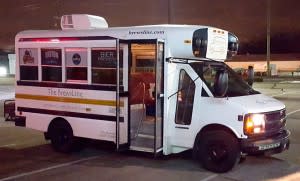 Our trip with the Brewsline started at Deer Creek, named after the music venue. It's an intimate location with a lower than average bar height that welcomes you to it. Brock, the brewer who was tending bar that night, gave us several samples, including a barleywine that was less than an hour old. My favorites were the pilsner and the Bock. The pilsner was much more flavorful than a typical yellow fizzy beer but not bitter enough to turn off anyone with a sensitive palate.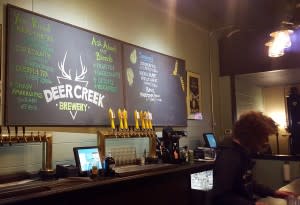 Then we headed to Westfield for a visit to Grand Junction. Thursday was trivia night so the bar was packed but we had a big table in the backroom. An owner and a couple of the brewers told us the history behind their creatively named beers like Black Hat Brigade and Squirrel Stampede. The Black Hat Brigade was hoppy but really creamy with a pleasant finish and was probably my favorite beer of the night.
I had driven past Deviate Brewing (at 96th and Michigan) a few times but never went in until this tour. After stopping there once, we're definitely a lock to go back again soon! Deviate got its name because the owners wanted to step away from what other popular breweries were doing. Most of their product is made in very small batches so they can take chances with different types of beer and ingredients. Take for example, the Breakfast Club, an oatmeal stout made with maple and cinnamon, or the Dragon's Lair, an imperial stout that has habanero and ancho peppers in the recipe.  My favorite was the peanut butter porter.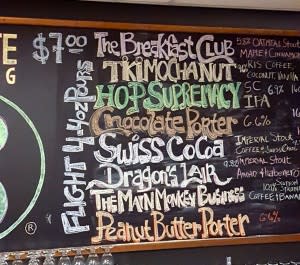 The tour also includes a stop at Sun King's Fishers Tap Room, but this time we wrapped up at Heady Hollow Brewing Co. The decor was very cool, with tall ceilings, some fun art and vintage photos on the walls. You can sneak a peek at the brew room through a window behind the bar. Named after the historic area in Fishers, my favorite beer here is called 1802 Pale Ale, after the year Fishers was founded. Heady Hollow has four current brews, with enough diversity to meet the taste of any craft beer enthusiast - a wheat, an IPA, a pale ale and a Scotch Ale.
The Hamilton County Brewery Tour is a tasty and fun way to travel through the county, expanding your palette while also learning a little local history. You can book online here for $40/person.