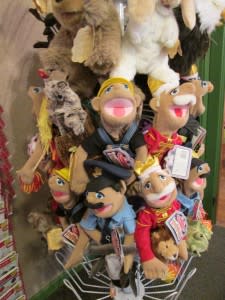 Recently I visited Wilbur's Lincolnwood Toy Store in Brownsburg near Indianapolis. I had discovered the store while viewing the list of Indiana's Top 10 Toy Stores.
The shop is based near Brownsburg's downtown area in a structure that is more like a house than a shop. Don't let the exterior fool you. Inside is a treasure trove of fun! Everything inside is not only fun but educational. That's a secret just for adults.
One of the first things I saw was this full rack of cloth puppets aka Muppets. I've loved puppets since I was a little girl. Back then, I made my own out of necessity. They didn't compare to these soft, whimsical characters.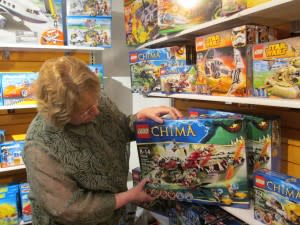 Wilbur & Becky Tague, owners of Wilbur's Lincolnwood Toy Store, are former teachers. They told me they opened the store in 2009 to offer items that can't be found anywhere else. They have all types of toys from board games to doll houses to John Deere tractors.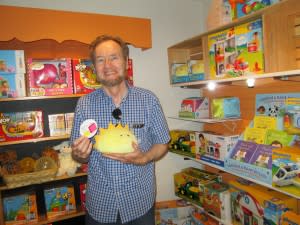 "Fun brings families together," said Wilbur. Yes, he bears a striking resemblance to our 16th president, hence the store's name. There is something for all ages here. The store's Baby Room is filled with aids like the Move and Groove that Wilbur is holding for babies of 18 months to give them a chance to roll a soft padded dice and match colors.
In just a few months, babies can graduate to playing with the store's popular Calico Critters. These are animals with human bodies. According to Becky, Calico Critters are popular with older kids as well. "We have high school girls who come in to play with them and some people collect them," she said.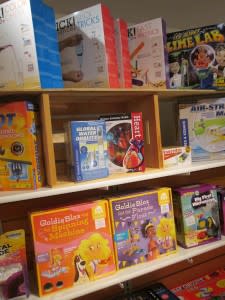 One thing I found especially exciting is the product called Goldie Blox. It's a new engineering toy for girls. The store also offers chemistry sets for home experiments. Wish something like that had been around when my daughters were young.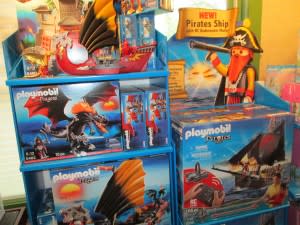 You won't find much electronic stuff here, although Wilbur admitted Legos and Playmobil now have some items with electronic components.
A local teacher offers lessons to students in juggling so the Tagues carry items to aid that skill like rings and spinning plates (not breakable!). There are also games for road trips and large stuffed animals to cuddle.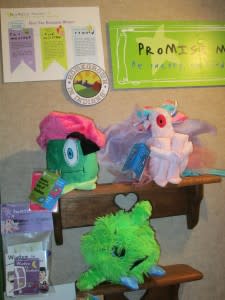 Lest we think toys are just about academics, the Tagues carry an item called Promise Monsters, which encourage children to show compassion and kindness to others. What more could you want in a 'toy'?
And yes, I did purchase a cloth puppet of a unicorn during my visit. It was hard deciding on one puppet from the dozens on hand. I predict a return visit to Wilbur's Lincolnwood Toy Store is in my future!
Wilbur's Lincolnwood Toy Store
285 W Main St
Brownsburg IN  46112
317.852.9805