Backed up against a wildlife refuge and serving food and desserts that look almost as good as they taste, you have to experience this café for yourself.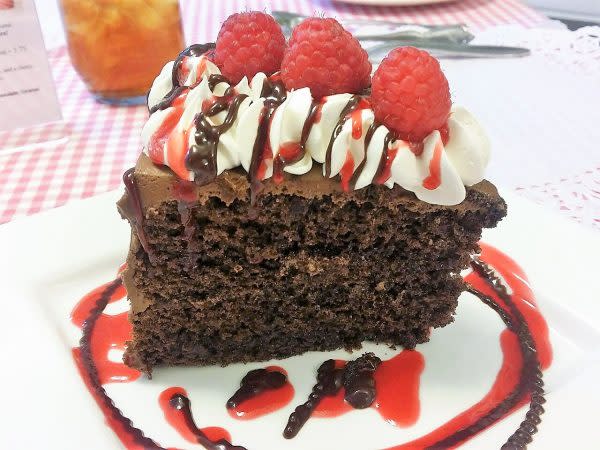 Batar first showed up on my radar a couple of years ago when I saw pictures of stunningly beautiful sugar cookies made somewhere in southeast Indiana. I checked with my food friends and found that the cookies were made at Batar Café, Shop & Sweet Shop in Seymour and many of them knew about or had been to Batar there with women's groups or ladies who lunch.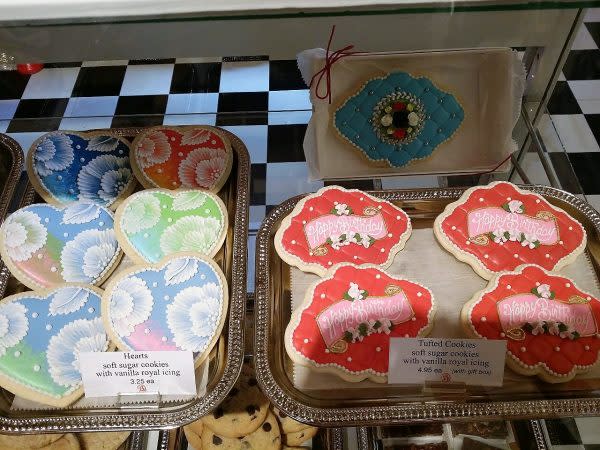 Found Them!
I had the impression that Batar was a cute place with a ladies tea kind of vibe (which it can be) so I was surprised to see families, couples, men AND groups of ladies enjoying lunch. Batar is open for lunch only, Wednesday through Saturday 11am - 3pm. It is well worth the trip!
The Cherry Room
The Café: It is bigger than I expected with 2 large dining rooms, The Cherry Room and The Geranium Room. They are bright, cheery, have garden views and are impeccably decorated to reflect the themes. The staff looks really spiffy, knows their stuff and is happy to serve you.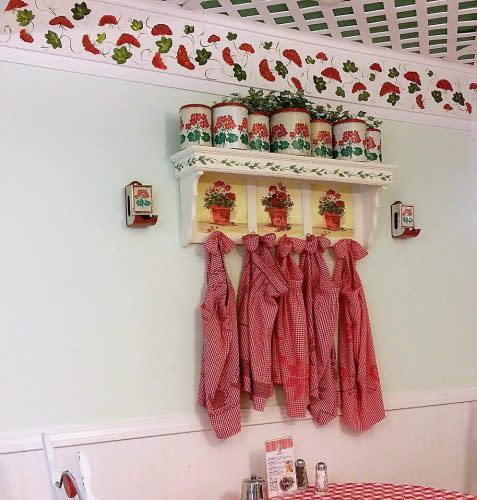 Very Cute!
The Café menu includes salads, sandwiches, soups, entrees and there is always an assortment of weekly specials. We'll get to the dessert menu later! We (Martha & I) decided to start slow - we shared the Raspberry Chicken, mixed greens topped with seasoned chicken, boiled eggs, tomatoes, Raspberry Vinaigrette along with flat bread crackers and Batar's cream cheese spread. Then we added the special a la carte Quiche and Raspberry Tea. It was the perfect choice.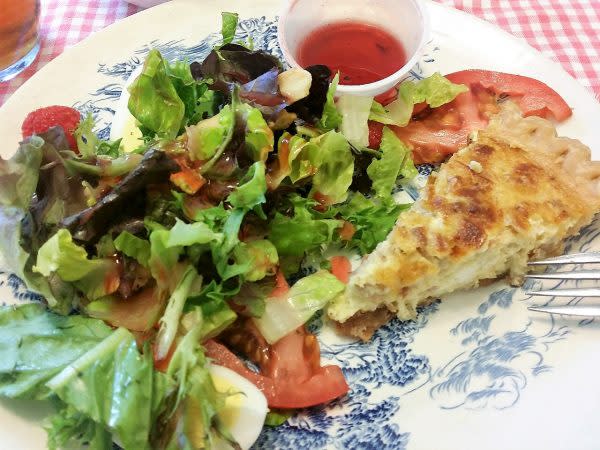 Just Right
There were 9 dessert choices (all homemade at Batar) and we wanted to be thorough so we ordered 3 - Batar Apple Dumpling, Raspberry Chocolate Cake and the new Strawberries Batar. I have no words (swooning!) but we came very close to finishing them all! I will say that we were the heroes of the dining room. Several ladies were so impressed with our massive order that they stopped by our table saying they wanted to be our new best friends and one table was inspired to order several desserts.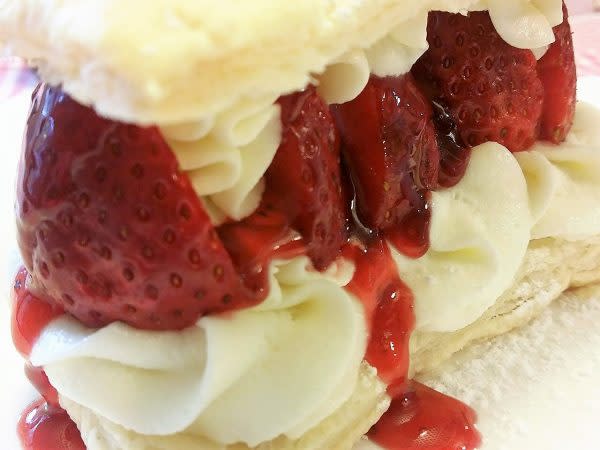 Strawberries Batar - Heavenly!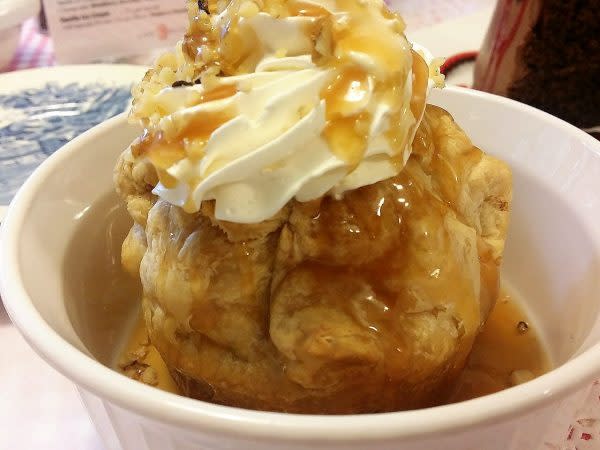 Apple Dumpling - YUM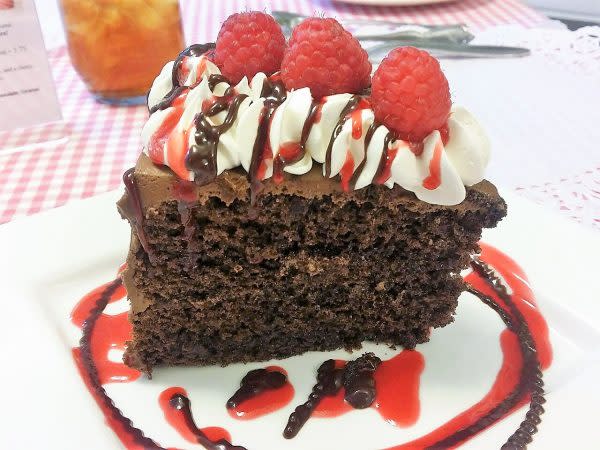 Raspberry Chocolate Cake - Delish
The Sweet Shop: My sugar cookie quest ended here! The assortment of these beauties changes to reflect holidays & seasons so you can come back regularly. And the Edible Cookie Boxes (advance orders & exclusive to Batar) are spectacular. Batar bakes & decorates everything and takes orders for your special events; they will even customize designs to match your themes.
Bata Exclusive Cookie Boxes
You can and should take home an assortment of these fresh-baked treats - cookies, bars, cupcakes, mini whoopee pies! Don't forget to try the award-winning William Dean Chocolates - my favorites so far are the Créme Brulee and Strawberry Caramel.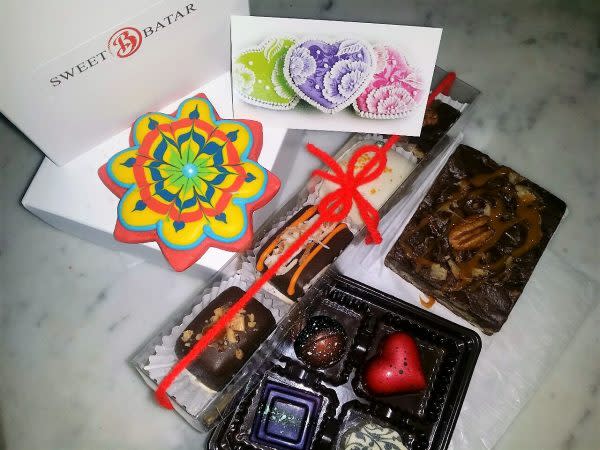 Just in case 3 desserts aren't enough!
The Shop: Check out "The Area's Largest Selection of Children's Tea Sets and Aprons". I loved the aprons for both girls and boys. Beautifully done and the pockets are filled with little kitchen gadgets for small hands. Yes, they have teapots for big girls & boys, too. And more than 25 flavors of teas & coffees for you to try.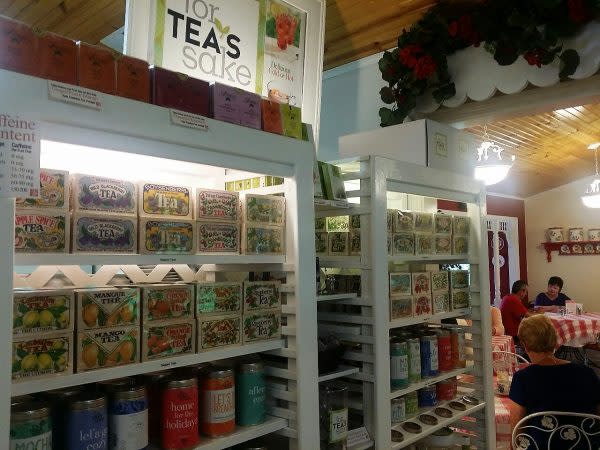 There are scented soy candles, unique home décor items and a nice collection of beautiful necklaces, rings, bracelets and earrings at very nice prices. My choice? The pearl lace necklaces, very cute.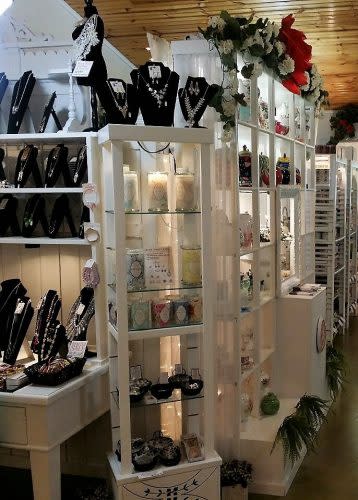 Batar is easy to find with plenty of parking - just one turn off East Hwy 50 in Seymour: watch for the sign. As soon as you turn in, you'll feel like you are miles away from the highway. To me, the setting looks like a secluded vintage summer camp - several rustic buildings surrounded by huge pine trees and beautiful gardens. Which makes sense as Batar's back yard is Muscatatuck National Wildlife Refuge. It's an idyllic setting with a relaxing atmosphere.
ANN'S TIPS: Reservations are not accepted but the wait was short - just enough time to scope out The Shop and Sweet Shop. We loved the Sweet Shop lady - she knew everything about their products, helped us pick out the best stuff and was happy to hold our choices until after lunch.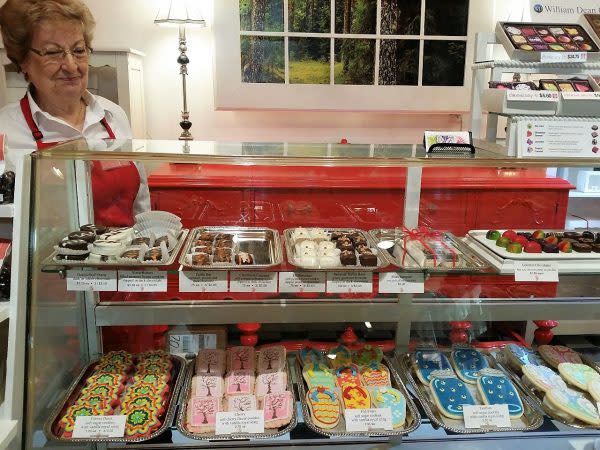 Turn off your cell phones - Batar does not allow cell phone conversations - texting & photos are ok but NO talking! Enjoy your lunch!
(I think) Dessert is mandatory!
Batar does special events, check their calendar - they fill up quickly.
If you have a group or need rental space for small wedding, meeting or special event, check Batar's new Muscatatuck Hall or Group options.