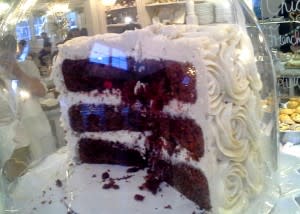 A few weeks ago, friends and I visited the Cake Bake Shop in the Broad Ripple area of Indianapolis. As we didn't live in the city, we had consulted online reviews for places to eat. We had read good reviews about the Cake Bake Shop and knew as soon as we saw the elegant café in a residential setting that we were in for a treat.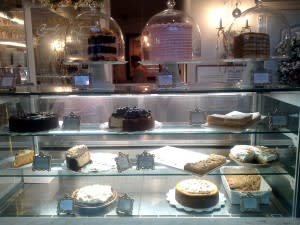 The intricate, mouth-watering desserts behind the display cases immediately caught my eye.  I had never seen such beautiful signature cakes, cookies, and cheesecakes, pie, brownies, all made daily from scratch. It was difficult to choose one item to order.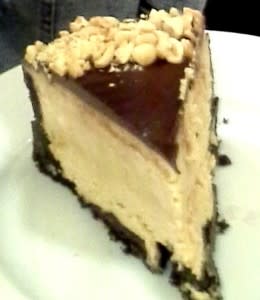 I finally opted for a slice of Chocolate Peanut Butter Mousse Pie. The first bite told me I definitely had made a good choice! My friends and I sampled each other's desserts and couldn't stop raving about the creamy, fresh quality. The café also sold coffee, tea, hot chocolate, and alcoholic beverages.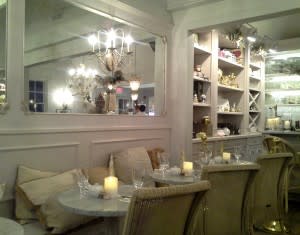 Cake Bake Shop owner Gwendolyn Rogers has outdone herself in creating an exquisite dining experience for customers. The white, gray and beige French décor combined with other palette-friendly decorations created a calm, sophisticated atmosphere.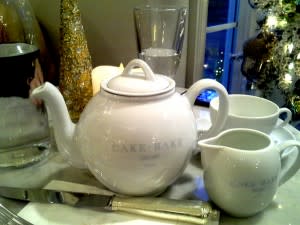 This would be the perfect place to take girlfriends or to celebrate any occasion. It's advised to make small party reservations or to place dessert orders in advance.
Indianapolis Monthly recently listed the Cake Bake Shop in its Best of Indy issue. Guess we're not the only ones who were impressed with the place.
Cake Bake
6515 Carrollton Ave.
317-257-2253