This year's Carmel International Arts Festival will be held the final weekend in September, the 28th and 29th. It's the 16th year of the festival, and it has become one of Indiana's premier arts fairs in that time. Held in the Carmel Arts & Design District at Main Street and Rangeline Road. The festival is open from 10:00 am to 6:00 pm on Saturday and 10:00 am – 5:00 pm on Sunday.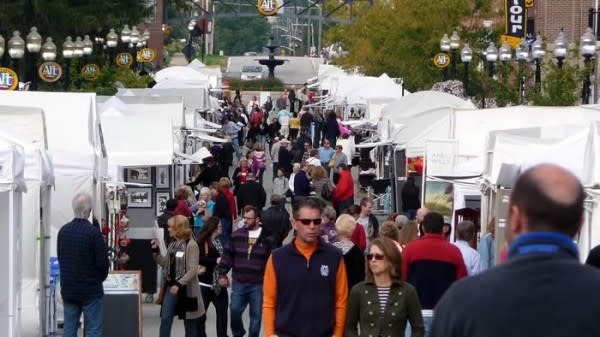 Crowd at the 2012 Carmel International Arts Festival. Photo: CIAFOrganizers are planning on over 125 juried artists exhibiting in watercolor, oil, 2D, jewelry, photography, 3D, wood, sculpture, and pottery. "Juried" means the artists have been carefully selected and chosen based on the quality of their work.
One notable addition this year, an Italian Madonnari style chalk street painting exhibit. There will also be exhibits from Carmel's sister cities, Kawachinagano, Japan, and Xiangyang, China.
There are also two stages this year for musicians and dancers. This year, Native American flutist Steve Rushingwind returns, as well as the ICCCI Chinese Dragon and Dancers. (Full disclosure, my wife will also sing both days, once on the main stage with her band, and once on the second stage with Steve Rushingwind and other notable local musicians.)
Finally, there looks to be some great food at this year's festival, including some international fare, as well as some local fair fare.
Aunt Jean's Fun Foods
Da Blue Lagoon Caribbean Cuisine
Easley Winery
Fauvergue Italian Ice and Lemonade
Mediterranean Cuisine
Oriental Grill
Sun King Brewing Company
Taste of Egypt
Urick Concessions (elephant ears and tenderloins)
Woody's BBQ
Last year, the crowd topped 30,000, and they're expecting a crowd that's as big or bigger. However, parking is free, so park wherever you can find it. (We usually park in the parking garage behind the Palladium and Tarkington Theater.)