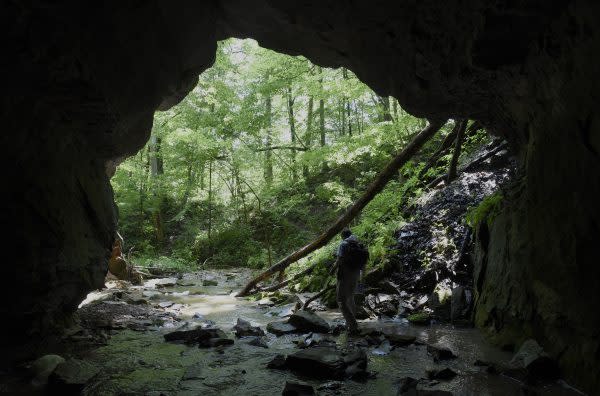 How to describe Cave River Valley Natural Area in one word? ENCHANTING! Glistening streams, dark caves and deep ravines are enrobed in a verdant array of ferns, mosses, trees and plants. A truly unique adventure awaits in this unique area located near Spring Mill State Park!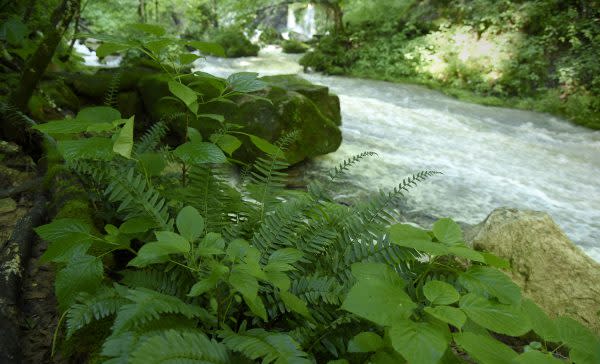 Ferns abound throughout Cave River Valley Natural Area and along the stream that comes out of River Cave.
Walk downhill from the parking lot into the deep valley opening, alive with light and greenness and dancing butterflies.  The area was a "pioneer Shangri-La" in the 1800's and into the 1900's. Dances, picnicking trout fishing and boat tours of River Cave were common activities. Water from River Cave was harnessed to grind cornmeal and make whiskey and apple cider. Remnants of past glory remain, and plans for the property continue to evolve.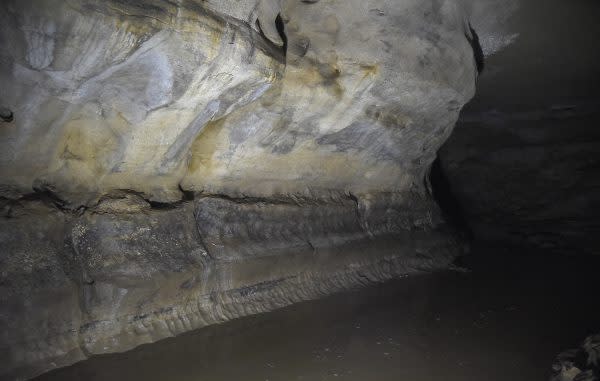 Centuries of erosion and seepage from sinkholes are visible in the limestone bedrock of Endless Cave.
The stream from River Cave cascades past ferns, moss-covered boulders and lush hillsides into the valley.  Take the ridge trail between two ravines, past Bear Cave and out to Lover's Leap for a panoramic view of the area. Then make your way to an adventure in Endless Cave.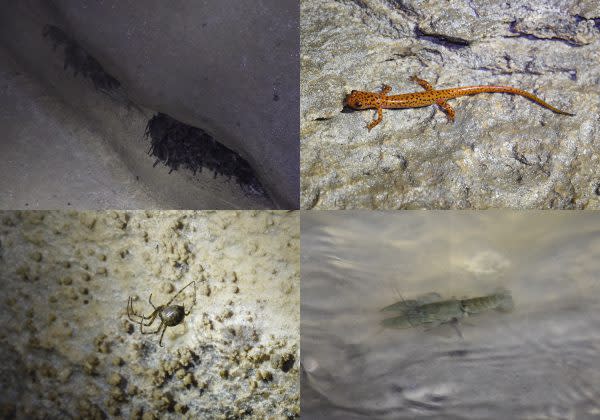 Cave dwellers in Endless Cave include (from top left): Indiana bats, cave salamander, cavespring crayfish, cave orb weaver.
Endless Cave, 6903 feet long, is a hibernaculum for the federally and state endangered Indiana bat (Myotis sodalist). The exhilarating experience of life in a cave – water lapping against rock formations thousands of years old, bats flying by, the complete darkness – reminds me just how delicate and precious life is on this lush little planet. The delight of the cool 54-degree cave environment after a summer hike is well worth the preparation to gain access to the cave.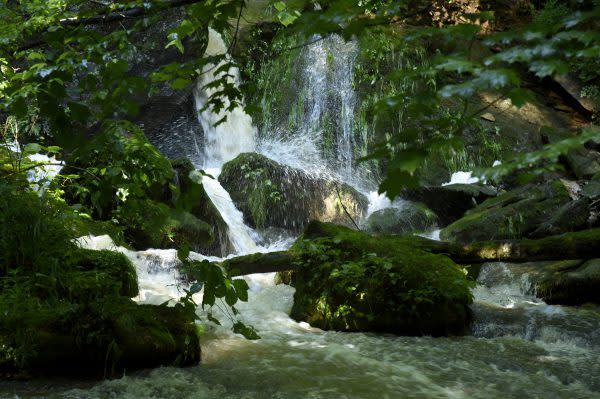 Water cascades out of River Cave after a rain.
DNR partnered with Indiana Karst Conservancy to develop visitor permits for Endless and River Caves. There is a four day lead time to get a permit. The park also schedules periodic cave tours. Access is closed in winter due to WNS. WNS, a fungus which disturbs the bats' sleep cycle, awakens bats in winter and depletes fat reserves which kills them.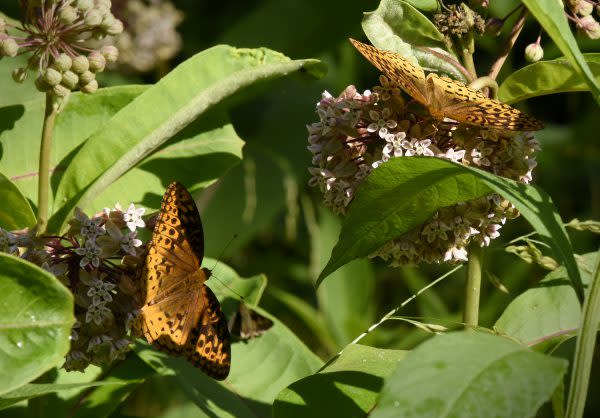 Fritillaries enjoy the morning sun in the opening to Cave River Valley.
This region of Indiana, the Mitchell Karst Plain, is "two landscapes – one seen, one unseen" wrote Division of Nature Preserves biologists Michael A. Homoya and Hank Huffman. Sinkholes on the surface funnel water and nutrients into caves and the limestone bedrock below. The 316-acre Cave River Valley Natural Area became part of Spring Mill State Park in 2009 through the work of The Nature Conservancy.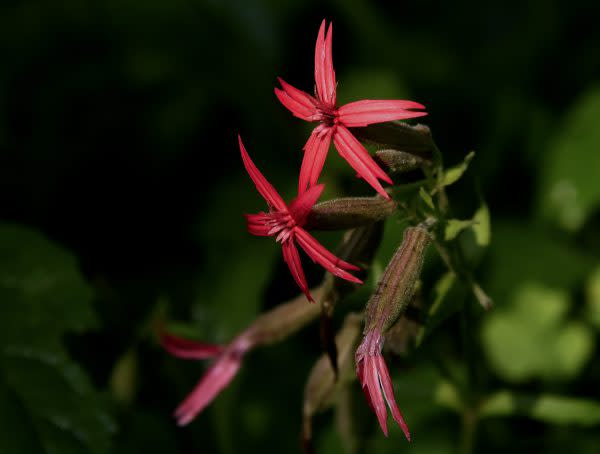 Fire pinks and other wildflowers dot the valley opening and abound in the woods at Cave River Valley.
The property is managed by the park in partnership with the Indiana Department of Natural Resources's Division of Nature Preserves and the Indiana Karst Conservancy.  IDNR Division of Fish & Wildlife, the U.S. Fish & Wildlife service and the Indiana Karst Conservancy survey and monitor bat populations in the caves. Spring Mill State Park naturalist Wyatt Williams calls the park "my favorite little spot on the planet." After a day at Cave River Valley, I'm in love with this park all over again! See more pictures from my adventure below.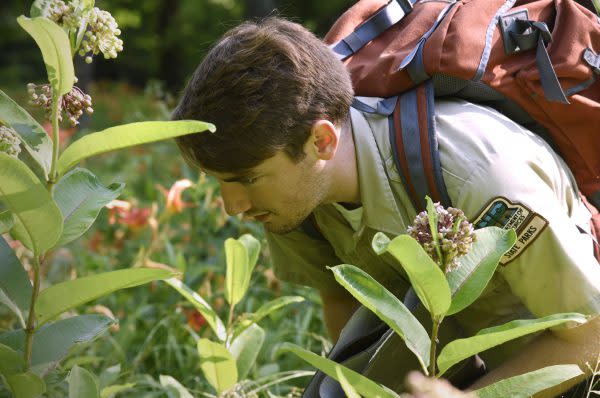 Naturalist Wyatt Williams examines some of the biodiversity in the open area of the valley.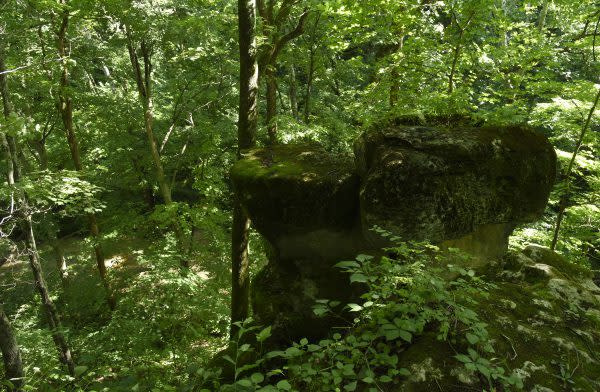 Lover's Leap on a ridge in Cave River Valley.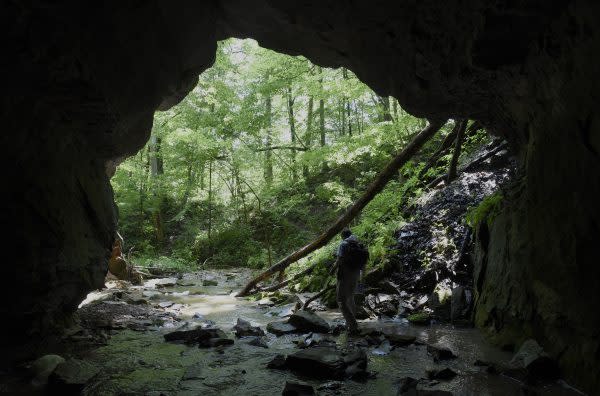 Endless Cave is accessible only with proper precautions to avoid the spread of White Nose Syndrome in bats.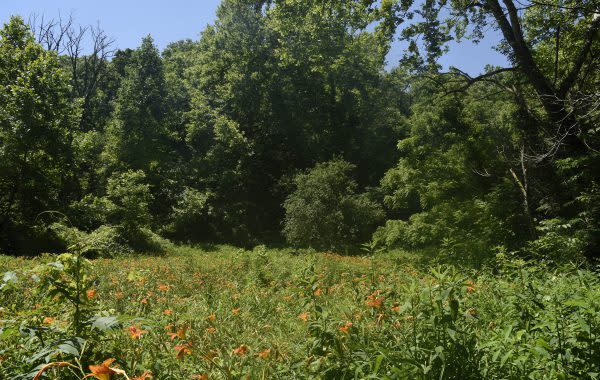 Cave River Valley became part of Spring Mill State Park in 2009 through an agreement with The Nature Conservancy.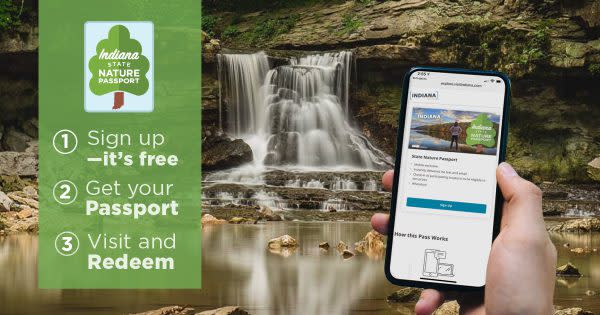 There are over 59 destinations on the Indiana State Nature Passport! Check-in and explore participating locations throughout the state to earn great prizes! The more you visit, the more you win. This program is 100% free, but property entrance fees apply when you visit. Learn More.