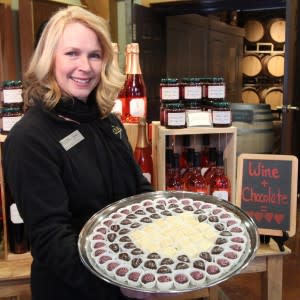 Isn't it nice that Valentine's Day falls on a Sunday?
For people in the southern part of the state that day of rest and relaxation can become a time of indulgence by participating in the Chocolate Lover's Weekend with the Indiana Uplands Wine Trail.
This is the 11th annual Chocolate Lover's Weekend for the Indiana Uplands Wine Trail. Nine wineries make up the Indiana Uplands Wine Trail located at various locales in southern Indiana.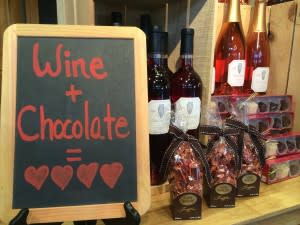 For the Chocolate Lover's Weekend each winery will offer delicious chocolate treats carefully paired with their wines. Chocolate truffles, chocolate mousse, chocolate cheese fudge...you get the idea.
Hardly anything can beat delicious chocolate, except that it's all free! No tickets necessary.
At Oliver Winery near Bloomington visitors can choose handmade chocolate truffles from Bloomington chocolatier Peacetree Mountain Truffles, Dark Chocolate Balsamic, Milk Chocolate Strawberry and White Chocolate Creme Brulee.
As if that's not enough decadence, there will be samples of Stonewall Kitchen's delicious chocolate dessert sauces. Of course, Oliver's wine will be available for purchase during the event.  You can see the yummy treats awaiting from the photos provided by Oliver Winery.
When homegrown grapes are made into wine by local farmers, it's called 'grape to glass'. If you're like me, you didn't know grapes actually grew in Indiana. Well, they do grow and have been thriving in certain parts for years, all of which means there is plenty of good-tasting wine to partake during this special event.
Other winery trails have been established in the state, but the Indiana Upland Wine Trail is the oldest. It was begun in 2003 by a farmer's co-op. I love discovering high-quality homegrown products in our great state!
Oliver Winery
8024 North State Road 37
Bloomington, IN 47404
812.876.5800
For more information about the Indiana Upland Wine Trail go to www.SunnySideOfLouisville.org/Events.