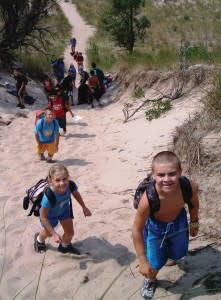 Did you know Indiana has three National Park Service sites? Notice I didn't say we had three national parks. Rather the National Park Service maintains hundreds of parks, houses, areas, sites and other places throughout the nation that are of national importance.
Indiana's three National Park Service sites are completely different, which offers great opportunities to learn about Indiana's history and diversity.
Indiana Dunes National Lakeshore , 1215 N. State Road 49,Porter.
This is not the same as Indiana Dunes State Park, 1600 N 25 E
Indiana Dunes State Park is surrounded by Indiana Dunes National Lakeshore.
The Lakeshore has been in the news lately for some big accolades. First, Indiana Dunes National Lakeshore was recently named in two USA Today 10 Best lists: #4 for Best National Park Beach and #5 for Best Freshwater Beach.
Indiana Dunes National Lakeshore was also in the Final Four of Coastal Living Magazine's Best Beach in America bracket contest. To make it to the Final Four, Indiana Dunes defeated Gulf Shores, Alabama; Grand Haven, MI; and Fairport Harbor Lakefront Park, OH. Woohoo for Indiana!
Lincoln Boyhood National Memorial, 3027 East South Street,Lincoln City.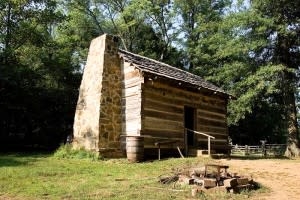 Created in 1962, this national park site located off Highway 162 commemorates the place where America's 16th president lived from age 7-21. Abe Lincoln was born in Kentucky in 1809, moved to Indiana in 1816 and lived there until 1830 when he moved to Illinois where he began his career as an attorney.
A log cabin that replicates where Abe lived with his family has been reconstructed on part of the original 160-acre Hoosier farm owned by Tom Lincoln, Abe's father.
I'd love to photograph this cabin surrounded by blooming tulips and daffodils!
Part of the site has been converted into what is called the Lincoln Living Historical Farm. Staff dress in period clothing to demonstrate daily activities at the farm as would have been done when the Lincolns lived there – cooking over an open fire, spinning, weaving, farming by hand, gardening, sewing, quilt-making, and splitting rails.
These re-enactors talk to visitors about what it was like to chop firewood, milk a cow and feed horses, chickens, sheep and cows. The farm is open seven days a week 8:00am to 5:00pm on Central Time.
**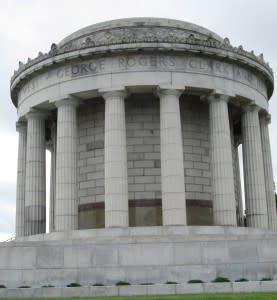 3. George Rogers Clark National Historical Park , 401 S. 2nd Street, Vincennes.
The George Rogers Clark National Historical Park is based around a huge enclosed memorial rotunda (Hint: This is a good place to visit on a rainy spring day).
My husband and I toured this place last year and were impressed with the size and scope of everything. Inside, you have to look up – way up! – to see the face of a 7.5-foot statue of the man himself. The artist Hermon MacNeil created the statue of Clark to recognize the man who had made a name for himself as a soldier and patriot during the Revolutionary War era.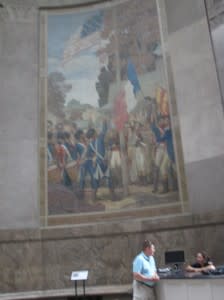 Seven huge murals hung on the walls around the memorial rotunda. They are painted oil on canvas, stand 28 feet tall and 16 feet long and depict moments of Clark's military career.
National Park Week (April 16-24, 2016) is a good time to visit the three National Park sites in the Hoosier state. Visitors can hike, bike, horseback ride or volunteer to help maintain the sites. National Park Week is always celebrated the same week as Earth Day (April 22, 2016). And its the National Park Service's 100th birthday! With Indiana celebrating its 200th birthday in 2016, there's sure to be exciting happenings everywhere!