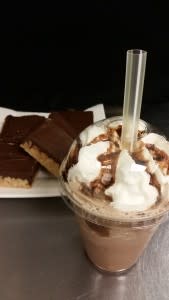 I've been waiting for a day to exalt some of my favorite coffee hang-outs in northeastern Indiana. Today, National Coffee Day, is it!
Grounds and Grains in Bluffton, 30 minutes south of Fort Wayne, is a cozy café that serves delicious drinks, sandwiches and treats like Scotcheroos. I should be a good wife and take one for my husband when I visit but I usually eat it along with my favorite drink, Mocha Frappe.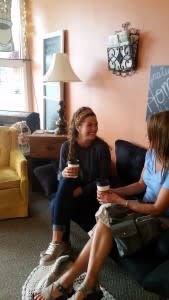 Grounds and Grains (119 S Main Street, 260.353.1477) is located across from our courthouse in the downtown area. It has an upscale retro feel which makes it easy to relax. I've met women friends here for informal chats, especially during cooler weather. I appreciate the space given to Fair Trade items for sale and have purchased several items as gifts for friends.
Tue-Fri 6:30am-5pm
Sat 8am-3pm
**
The first word that comes to mind in describing the Brew Ha Coffeehouse, 120 N Main Street, 260.248.4111, in Columbia City is funky! The back room is decorated with album covers from the 1960s and furniture probably from that era or made to look from that era.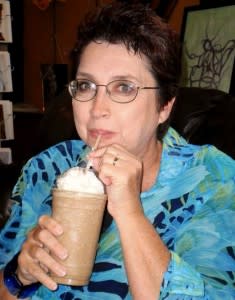 In other words, it's the perfect place for people of all ages to hang out with a delicious cup o' joe in hand. My husband could not stop smiling as he looked around and recollected when he had heard the music when it was first played on radio. Does that make us old?
The décor is not the only thing that makes this one of my favorite rest stops. The coffee drinks are fantastic! I've visited several times, the first time being when I spied the van of a local TV station parked out front. It's now a tradition when heading up north to stop in and order a coffee – my current favorite is Thin Mint Chai.
**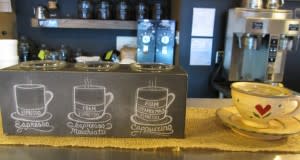 Mocha Lounge, 6312 Covington Rd in Fort Wayne (260.434.1999) is a great place to take a laptop and work. There are tables set around the large seating area with handy plug-ins. That's not the only group that visits Mocha Lounge.It's amazing to me each time I visit at the variety of people who sit at the counter to eat and chat, or congregate on couches, cradling coffee cups in hand. Young mothers, business groups, retired neighborhood locals all find this atmosphere friendly and inviting.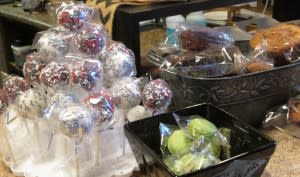 In addition to great coffee drinks, the menu contains gluten-free items and other treats.
It's not too late to celebrate National Coffee Day (hey, if you read this after the actual day, it's still not too late!). Find your local coffee shop and honor the hard work that went into those beans!